Andrew Hernandez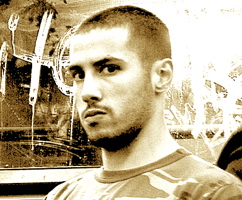 Anyone who knows me well knows that I am a huge MMA fan. (I skipped Maryland Death Festival to watch BJ Penn vs. Sean Sherk!) Now, I'm a drummer, not a competitive combatant in the UFC or another organization. But both drumming and fighting, at the professional level, take severe amounts of dedication and training (what some call practice) and a healthy dose of sacrifice.
In the fight game, they say that it's 90% mental and the rest is physical. While this may not be absolute in drumming, the theory certainly has some merit, whether you're a weekend warrior or a seasoned vet. Not every night will be your best, not every practice will play out the way you hoped all day at work. But it's from those mistakes that we find what we need to tweak and spend X amount of time "woodshedding" on.
Another component of theirs that I think we can learn from in extreme drumming is health & fitness. I'm a strong believer in good food and good exercise. To have longevity in drumming, we must strive physically. Going out every night and burning the proverbial candle at both ends has not worked out so well for some of our heroes. But bona fide legends like the late Elvin Jones (playing up until his final days) and the likes of Joe Morello and Louise Bellson (who are still performing to this day) are further proof of a beautiful possibility of a long career (and life). In Rick Mattingly's book The Drummer's Time: Conversations With Great Drummers Of Jazz, Elvin Jones (who also graces the cover) touches on eating meals that will provide him with the proper protein to perform a long set. Although Elvin could be caught with a smoke in his mouth at times, it goes to show that correct nutrition for a given situation would apply to drumming as well. Advertisement
To close, I would like to thank Modern Drummer for this opportunity. Another thing that those close to me know is that I love drumming. And I don't just love death metal, grind, or extreme music, I LOVE MUSIC, I love compositions, I love contributions, and I love those willing to just go for it. It's everyone's dream to be self-sufficient as an individual, doing what you love. But to keep at it takes a lot of love and passion and sacrifice. My hat's off to all of you who carry the sticks. May your careers be long and your lives full of health. Also…what's up, Witte! To share a page with you is an absolute honor.
Andrew Hernandez
For more on Andrew Hernandez and ASRA, go to www.myspace.com/allegedsatanicritualabuse.