Simon Phillips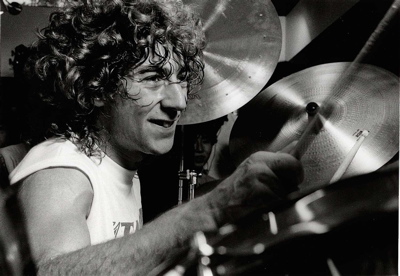 Drumming legend Simon Phillips will simply not slow down, and his star-studded drumming career continues to grow and evolve. Since Simon joined Grammy-winning, LA-based rock band Toto fifteen years ago, the group has toured relentlessly, refining their classic material while continuing to write, record, and release new, sophisticated contemporary pop music.
Toto has just released a blistering live two-CD set and separate DVD called Falling In Between Live. It features their classic hits along with high-powered, heavy-hitting material that spans the group's amazing thirty-year career. Phillips took on the role of director and mixing engineer for the bonus footage of the DVD, but not the entire project. "I produced and mixed the sound for the last Toto DVD, Live In Amsterdam," Phillips says. "But it was too difficult to get involved in mixing the new release because we were still touring at the time."
Simon has been traveling the world with Toto using a new Tama Mirage acrylic drumkit. "I tried the Mirage kit on a short tour with Toto and was astounded at how great they sounded in a live setting," he enthuses. "I then had some clear Octabans made for the kit, so now my entire live kit is clear acrylic." Advertisement
Simon is currently working on a long-awaited solo CD that he plans to release later this year. The music will feature a New York group that includes guitarist Mike Stern, bassist Anthony Jackson, saxophonist Bill Evans, and keyboardist Jim Beard. Simon will also recruit a Los Angeles group for some tracks, as well as an international world percussion group.
When he's not on the road with Toto, Simon spends most of his time as owner/operator of Phantom Recordings studio in Los Angeles, where he has recorded and mixed several projects. 2008 will see Simon on the road as a clinician, traveling through Europe and then Japan to take part in the Hoshino 100th-anniversary celebration.
To top it all off, Phillips will be headlining the Modern Drummer Festival in September. performing with his fusion band, Protocol. Simon fans rejoice!
Mike Haid