Scott Reeder of Fu Manchu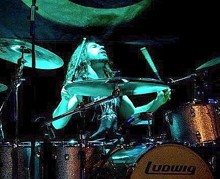 A Black Dog In Rushock
Hello to all of you. My name is Scott Reeder and I play drums for a living. And I pinch myself every day. I've been drumming for close to twenty-eight years now, the last fifteen professionally. And I've been playing, recording, and touring for the past seven years in a band called Fu Manchu. I've had many great experiences because of the drums, and I'd like to share one of the strangest ones with you, if you don't mind.
It was June 2007, and Fu Manchu was playing two nights at the Wolverhampton Little Civic in Wolverhampton, England. We'd been on tour since mid-February and were winding down the first leg of the We Must Obey tour in support of the album of the same name. Playing two nights in the same city afforded us the opportunity to actually get off of the bus and possibly see some sights, smell some smells other than each other, and taste the local cuisine (late night curry). With only seven days left in the tour before a lengthy summer break back home in California, I was lucky to have my wife join me for the last nine days, making the home stretch that much homier. We had planned the second day of our Wolverhampton residency to include a journey to the countryside in search of the resting place of one John Henry Bonham.
I'd spent the day before searching for the tiny church of Rushock Parish on maps, but couldn't locate it. In fact, no one even seemed to know that it existed. I knew Bonham was from the surrounding area, and I'd read in a magazine recently an account of his last days in Zeppelin. The article mentioned the church where his services were held, and that his resting place was in the churchyard. But I was getting nowhere with the Internet in my search for the correct route, how long it would take to get there by train or bus, or if we could even get a car there. Advertisement
I visited the bus station opposite our hotel, and one of the men working there stuck up a conversation after he heard my American accent: "Where are you trying to get off to?" When I told him, he replied, "Oh yeah, great one he was. Seen 'em at Knebworth in '79. Great show, had a couple of programs I should of held on to, worth quite a few quid now I suppose—." He then told me the easiest way to go would be to take a train to Kidderminster, about forty minutes away, and once there to try to hail a local cab driver who might know the area and be able to take us to the church. He said the area was quite rural, which actually made me happy. Even though I wanted to go, I had no interest in participating en masse in some ritual display of celebrity hero worship that usually involves leaving empty bottles or other trash in your wake as some sort of tribute, like at Jim Morrison's grave in Paris. We simply wanted to pay our respects and remain respectful.
With our sound man Gabe and my wife, Jennifer, in tow, I set off by train from Wolverhampton as the sky threatened us with a good pelting of midlands English rain. It didn't disappoint. When we had to transfer five stops up the track, we were forced to cower under the thin awnings of the rail station as the water angrily lashed the metal. I had never seen rain like this. We began to wonder if we'd made the right choice in going out into the countryside on a day that had suddenly turned from just grey and windy to downright ominous. Luckily, by the time of our arrival in Kidderminster, we had clear skies. Now we had to see if we could find a driver who new of our remote destination. Sure enough, the first taxi we came upon had a driver who knew exactly where to take us.
Down heavily wooded one-lane country roads we flew, the scenery changing from small village brick lanes to thick hedges, fields of green that stretched on for what seemed mile upon mile, and old tractors parked in front of tiny farm houses. We stopped once to get one last-minute explicit direction from an old woman who was walking her dog, and before we knew it we were parked out in front of a tiny grey stone church, surrounded by weatherworn headstones and crosses. The cab driver told us he would wait for us as long as possible, but with the meter running in English pounds, we knew we shouldn't take too long. The three of us walked solemnly through a rickety gate into the churchyard, and proceeded to the left of the church and around back. Advertisement
The gravestones thinned out as we came around the corner to the backside of a dresser-size headstone. As we walked around its front we saw the giant bundle of drumsticks that had been sitting through many a day and night outside against the grave. Someone had left a Red Hot Chili Peppers all-access backstage laminate on the corner of the headstone. Along its perimeter, coins lay in single file, a traditional symbol for the wait for the ferryman who takes you to the other side. Amid the peaceful silence of the surrounding fields I read the inscription that paid tribute to the man who was a father and husband, aged only thirty-two years when he passed. He had been gone twenty-seven years.
Many of us have certain people who've greatly inspired us to pursue our craft and our dreams. But it's easy to overlook that first and foremost they themselves are friends, spouses, and parents. When someone great passes, especially too soon, as is the cliché in rock 'n' roll, the loss we feel as fans must pale in comparison to that felt by those who are close and in some cases grew up with them on their journey to achieve their dreams. Visiting John Bonham's grave made me sad and at the same time extremely grateful for being able to do what it is that I love, whether that means touring, recording, teaching, or even going on auditions. The only reason I was standing here in this spot was because of drums. I also had the feeling that I did not want to leave, because this was as close as I would ever get to saying "thank you" in person to a drummer who has for years been such an inspiration and a blueprint for what it is that I do. But there was nothing left to do or say, so with these mixed feelings, the three of us turned to depart.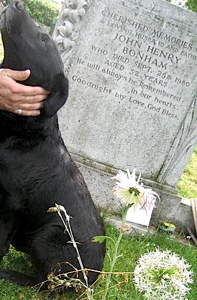 At that precise moment a large, happy black dog bounded around the corner of the church and trotted over towards us. He came right in front of the gravesite, turned a few circles, and laid down on the ground in front of the headstone. He rolled on his back and all three of us had to laugh. It was as if someone decided to send us a little levity and say, "You're welcome." Advertisement
That night was the second of two sold-out shows, and I definitely was in a reflective mood before our performance. We went on stage, and I sat down behind the drums and again said to myself, "You are very lucky." Then we proceeded to lay waste to the midlands, and I played like I was out of my body. Every accent, crash, and sweat-drenched fill seemed to just happen, like breathing. I went to bed that night with a big smile on my face, thinking about the day and that Black Dog.
For more on Scott Reeder and Fu Manchu, go to www.myspace.com/scottreederdrums or www.fu-manchu.com.