Aaron Solowoniuk of Billy Talent Tour Blog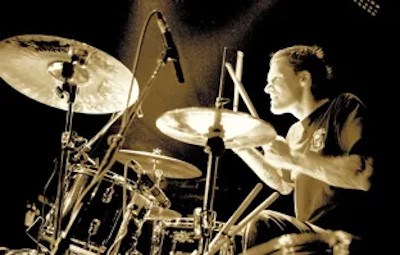 It was the beginning of February, and I'd just shoveled my driveway for the second time when I got the message about a tour offer in April. "My Chemical Romance would like you to be main support during their final tour for The Black Parade." I finished salting my sidewalk, put away the shovels, and went inside to look at the offer a little more. We'd said we wouldn't tour before a bunch of festivals in we were scheduled to play Europe in the summer. We'd settled into a good writing groove and had finished about half of the music for our third album at this point. The offer was main support for MCR, and they were playing some of their favorite places in the States: small theaters with a bunch of double nights in some great cities. We all talked about it and decided to take advantage of the opportunity. This is a day-by-day account of what happened.
March 28, Tempe, AZ. We start with the Tempe Music Festival. For me, the first day of tour is about seeing what crew guys I know from previous tours and trying to remember everyone's names. I also spend some time checking out the other drummers' gear and setups.
March 29, Tucson, AZ. This was the first real show of the tour. We get to hook up with the opening band, Drive By, with whom we'd done a small tour through the States last year, along with The Cancer Bats. The vibe is very positive, as everyone has toured together before. The show is at the Rialto Theater, which is an amazing venue. Watching MCR in this cool little place ("little" meaning it holds about 1,000 people) was amazing, and I knew that we'd made the right decision in signing up for this tour. Advertisement
March 30 and 31, Las Vegas, NV. We roll into Vegas to play two shows at The Joint in The Hard Rock Café hotel and casino. I'm a little bummed today because it's my daughter's fifth birthday. Being a drummer in a touring rock band is the best thing in the world, but missing your daughter's birthday is the worst. Birthdays, family gatherings, weddings, funerals–you name it, I've missed it. On these two days we play music and play cards, and the crew and bands are getting used to the routine.
April 2, San Jose, CA. I forgot my spare snare stand at home, so I ended up going to Jimmy DeGrasso's drum shop, San Jose Pro Drum, where they hooked me up with a new stand. I didn't get to meet Jimmy, but I hooked up the guys with some tickets to the show.
April 3 and 4, San Francisco, CA. Two sold-out shows at the Warfield. We've played at this place a couple times, and there's never a dull moment outside of the venue. The drug problem is a little out of hand in this neighborhood, and I spent a good portion of the day just looking out the window of the bus. Advertisement
April 6, Irvine, CA. We now play the Bamboozal Left festival. We get to hook up with our friends in Anti-Flag, who toured across Canada with us a while back, and it's great to see them all. And then there's Darrin Phieffier, drummer of Goldfinger and a good friend of Billy Talent. I haven't seen him play since last summer in Toronto. Darrin is amazing. First it was the Twinkie-in-the-ass routine. Then he grabs a cordless mic, jumps into the crowd, and instigates a wall of death. Then he finishes the set with two of his crew filling up the China crashes with lighter fluid and setting them on fire. Three-foot flames come off his cymbals for about sixty seconds. It was awesome.
April 8 and 9, Portland, OR. Back to the MCR tour, and this time it's two sold-out shows at the Crystal Ballroom in Portland. I feel so lucky to be playing packed shows at some of the greatest rooms in America. This place has been around for over ninety years, and even has a "floating" dance floor.
April 11, Salt Lake City, UT. Today we play at Great Salt Air, a venue in the middle of nowhere, beside a lake. Not much to do.
April 13, Colorado Springs, CO. On this day we veer away from the MCR tour and hop on a show with MXPX. We toured the States with them about four years ago, and it was great to hook up with them.
April 14, Denver, CO. The Fillmore is another amazing venue that's had every band in the world play there. Bob Bryar (drummer from MCR) makes a ramp for his remote-control car and jumps over Jon and me. Advertisement
April 16, 17, and 18, Chicago, IL. We show up in Chicago for a day off on the 16th. About a week ago we got a notice on our bus about whirly ball on the day off. It wasn't an invite, but rather a notice that anyone who didn't show up would be kicked off the tour. At 8:00 P.M., all three tour buses show up at the whirly ball court. For those who don't know about this game, these are the rules: 5 against 5. Everyone is in a bumper car holding a scooper. You race around and chase a ball and scoop it up and then try and throw it through a basket. It's a pretty awesome game. For the last battle of the night, it's MCR vs. Billy Talent. We destroy them. The next morning we all show up to the bus, and Jon and Jarret, our guitar tech, both say that at 4:00 A.M. they were awoken by their beds shaking back and forth. Turns out there was a 5.2 earthquake that morning. These two shows were amazing.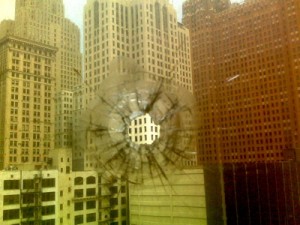 April 19 and 20, Detroit, MI.
At this point we're halfway through the tour. I get to my hotel room to get some rest and do some writing. I'm in room 824, and I open the curtains to let in some sun. Right in front of me there's a bullet hole through the glass (photo attached). I turn around and there's a small dent in the wall above the bed. I complain to the front desk, hoping I'll get upgraded to a nice room. They move me to 724. Since we are so close to Toronto (about four hours), Ben and I decide to rent a car and drive home for a day. We surprise our loved ones and get up and drive the next day to Cleveland.
April 22, Cleveland, OH. About two years ago I started putting on a concert series in Toronto called F.U.M.S. I've been living with MS for over ten years now. All money raised from these shows goes to the MS Society Of Canada scholarship fund, which helps young adults whose families are affected by MS. After our show I walk to our bus and meet a girl who tells me her mom has MS. Because of the scholarship fund we started, she will get help with her tuition when she goes to college.
April 23, day off in Nashville. When we get days off we usually park the bus in a parking lot near a mall and get one hotel room for everyone to shower in. In Nashville we were near a golf course, and I golfed for the first time in my life. I shot 93 in nine holes. Advertisement
April 24, New Orleans, LA. This was our first time playing in New Orleans, and we played the House Of Blues in the French quarter. We really see the effects of Katrina when we drove into the city. Entire blocks abandoned. Entire apartment buildings empty. The French quarter was still alive and kicking, though. I bumped in to CHALI 2NA from Jurassic 5 on the street. We played Lollapalooza with J5 back in 2003. Jon bumped into Robert Plant at a record store. This place definitely has an energy unlike any place I've ever been.
April 25, Baton Rouge, LA/April 26, Houston, TX/April 27, Dallas, TX. The next three days are radio festivals in Baton Rouge, Houston, and Dallas. We play in three different parking lots and go on at around 2:00 P.M. every day. Play with tons of different bands and once again bump in to some old friends. Finger 11 have been friends of ours for a while. On one of the nights there's a karaoke party. The drummer for F11 sings one of our songs, "Try Honesty." Ben and Ian then get up and sing one of theirs, "One Thing." I meet Tommy Lee while sitting on the stage watching MCR play in front of 20,000 people. He came over and commented on how good my seat was. Weird.
April 28, Austin, TX. We're back on the MCR tour, and today we play at Stubb's Amphitheatre. I've been buying Stubb's BBQ sauce for years, and I think it's funny that I'm now playing at Stubb's in Texas. Another bad-ass show. Bob Bryar gets up and plays "Fallen Leaves" with us. He killed it but I tell him his tempo was off. Advertisement
April 29, day off in Monroe, LA. We've been planning to have a barbecue in the parking lot on our day off for about a week now. We grab MCR's grill and stop at a grocery store and stock up on meat and vegetables. We get tons of amazing sauces in Austin and spend the whole day cooking, from 3:00 P.M. until 9:00 P.M. Jerk chicken, steak, pork, corn, and potatoes.
April 30, Birmingham, AL. Today we play at a place called Sloss Furnaces. After exploring around the furnaces for about an hour, I start overhearing the locals use the words "haunted" and "ghosts" wherever I walk. I go back to the bus and look up Sloss Furnaces on the Internet. It turns out this place is one of the most haunted places in North America. My first ghost experience was at the Roosevelt Hotel in LA. My toilet seat just slammed shut for no reason in my hotel. My second ghost experience is at Sloss Furnaces. A couple of us went into the most "haunted" area after looking at all the footage on the Internet, and I ran off by myself, kind of making fun of the whole ghost thing. I then found myself alone, walking out of a boiler area, and I say out loud, "I do believe you guys are here, sorry for making fun." As I walk outside and around a corner, I feel a rock hit me in the back of the foot. I turn around to laugh at the guys I was with for trying to scare me by throwing a rock at me, and there's no one behind me at all. It didn't freak me out or anything. It just was what it was. We play our show and spend the whole evening in the furnaces scaring the shit out of each other.
May 3, St Louis, MO. We have two days off in St. Louis and I sleep as much as I can. At this point I'm really burnt out and I just want to get some clean laundry. We play our second-to-last show at The Pageant, and the day is filled with goodbyes and good-lucks as we head into our final night. Advertisement
May 4, Columbus, OH. Last show with MCR. We all hang out quite a bit, and it's a sad day. Bob plays "Fallen Leaves" again. I can honestly say that this was the best tour we have ever been on in the States. The entire crew and band were really good to us and made us feel welcome. The venues were all amazing, and MCR's fans were great to us as well. Today is Thursday, I'm finishing this on a six-hour flight to Heathrow Airport in London, where I will get on another tour bus and drive another seven hours to a show in Belgium on Friday and then back to England for two shows, and then home on Monday. But that's another story.
Photo of Aaron by Dustin Rabin.