Mattt Kilmer with Haale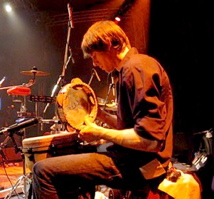 On the road again—. Over the years, I've had the opportunity to tour with many diverse bands and artists. This time, however, it seems a bit more personal. I'm on the road with Haale (pronounced like halle-lujah or jalapeño), the amazingly talented and beautiful rock 'n' roll Sufi trance-inducing songstress. We're touring now to get the word out on our new album, No Ceiling. Twenty-five shows in thirty days! (More on that in a minute.) In addition to playing percussion and drums on the album, I also had the great pleasure of producing, engineering, and mixing it. This officially marks my coming-out as a producer. My hat is now in the ring. Watch out, Ethan Johns!
I must say, it was great to have the final say in the way the finished album sounded. My drums never sounded better. As drummers and percussionists, we're usually at the mercy of engineers and producers who have their own preconceived notions of what they want to hear out of the instruments. If we're lucky, they get it close to what we like, but that's not always the case. On "No Ceiling" I played a wide variety of percussion instruments. We wanted to capture the live show energy and at the same time get a top-notch sound, so I used my live setup for the base tracking–a cajon to sit on, a djembe directly in front of me, a floor tom next to the djembe, and assorted frame drums, depending on the song.
Haale and I tracked all of the songs live as a duo and then went back and fleshed out the songs with percussion overdubs. Then we called in the band to add their sounds to the mix. We recorded in New York at a massive house ten minutes north of the GW Bridge. Our main tracking room was a huge entryway with 25′ vaulted ceilings and no bad reflections–in other words, drum sound heaven. I didn't use any rack or digital reverb at all on the drums on the entire album. If we wanted more verb, I would just use a bit more compression to bring out the room sound. What resulted is an extremely warm and powerful sound. No loops, all real, hell yeah. Advertisement
Now it's our job to bring that sound into the clubs, theaters, and concert halls. Haale is an independent artist, carving out a niche in the new paradigm of the music business. We're touring as a trio–Haale on guitar and vocals, Brent Arnold on cello, and me on percussion and drums. This is quite different from a lot of the touring I've done. It's certainly a far cry from the 2005 European tour I did with Lauryn Hill, with tour busses, private jets, and roadies–or touring in the Middle East with oudist Simon Shaheen, going to places like Beirut, Ramallah, and Jordan. We are now in a touring van, roughing it, and having more fun than should be legal.  That's not to say it's not a lot of work, which it is. There's just something about playing music that you're personally invested in that makes it a much deeper and more fulfilling experience. And the music inevitably reflects that.
Come check out Haale live if we're coming to a town near you. See www.haale.com or myspace.com/haale for tour dates. (My Web site, www.mattkilmer.com, is horribly outdated–sorry, I'll update soon!)
Take care,
Matt Kilmer