Marcus Baylor of The Yellowjackets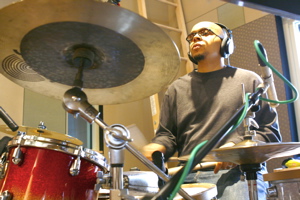 Hello, MD family! 2008 has been a blessed and busy year, with more great things to come! My name is Marcus Baylor, and I am the drummer with The Yellowjackets. I'm a native of St. Louis, Missouri, and I began playing the drums at two years old at church, where my dad was the pastor. Watching my cousin play every Sunday morning was fascinating and inspired me to nurture an interest in drums. Playing at church was the greatest start I could ever have because I constantly played and it served as a platform for me to develop a sound. More importantly, it taught me what playing music was all about: touching lives and inspiring others.
What was the turning point that inspired you to play drums? Who are some of the drummers or bands you listen to that inspire your sound?
How do you develop your sound? To me a sound is not developed through volume but through feeling, emotion, and textures, whether it's a groove or an open solo! Learning how to hit the drum allows you to bring listeners in–whether you're in a huge auditorium or small practice room. I've learned this from listening to drummers like Michael Williams (Gospel group Commissioned), Dana Davis (Gospel group The Winans), Roy Haynes, Jimmy Cobb, Tony Williams, Elvin Jones, Art Blakey, William Kennedy, Dennis Chambers, Dave Weckl, Steve Gadd, Eric Harland, George "Spanky" McCurdy, Chris Dave, Teddy Campbell, Chris Johnson, and Brian Blade. All of these drummers' styles are different, but what they all have in common is a sound. With so many talented musicians and so much great music out there, don't be afraid to learn and explore your own sound. It's your sound that will inspire others and touch lives!
What is your latest musical endeavor?
The Yellowjackets have an exciting new album coming out this May, Life Cycle, which features guitarist Mike Stern. I also produced Testimony: My Life Story, the solo debut album by my wife, Jean Baylor, formerly of the Motown duo Zhane'. Advertisement
I endorse Yamaha drums, Remo drumheads, and Pro-Mark drumsticks.
Feel free to hit me up at www.myspace.com/marcusbaylor. Check www.yellowjackets.com for upcoming tour dates! And check out some of my production at www.jeanbaylor.com and www.myspace.com/jeanbaylor.
Marcus Baylor photo by Kvon.