John Chipman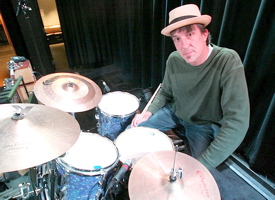 Hello, MD Blog readers. I've been incredibly blessed in life. I have many close friends, and an amazing wife who recently gave me a son, Samuel Christopher. I've been playing drums for nearly thirty years, and like many of you out there, I started out playing at home as a child and was quickly hooked on playing the instrument. I studied privately and went on to major in music at the University of Oklahoma. As my professors would probably attest to this day, I was not the most talented or the hardest-working student–in fact, looking upon those days, I can honestly say that academically, I skated by. I would spend more time learning songs for my bar bands than preparing jury pieces. Once I graduated (I'm still not sure how I managed that one), I high-tailed it to Austin, where I have lived since 1993.
Since moving here, I've slowly managed to work my way up the food chain with regards to the local scene in Austin. There have been many ups and downs, but the climb still continues to this day. This last year was certainly a highlight that I will never forget. The first half of '07, I was winding down my two-year tenure with Jon Dee Graham. If you're not familiar with Jon, you should do yourself a favor and pick up Hooray For The Moon. I was hooked on that album before I joined his band. You might have heard of the drummer on that recording–Jim Keltner. I have always been a huge fan of Jim's, and this recording is ridiculously good!
I'd also been subbing in '06 with a group called The Band Of Heathens, and during SXSW I joined up with them full-time. They were chosen as Best New Band at the Austin Music Awards in '07, and to this day things for this ensemble continue to build momentum at a pace I had yet to see in my personal music career. It's not often when you have a band with three lead singers who can all play guitars blisteringly well. This band has been nothing but a labor of love. This year, as a result of playing for so many great Austin musicians, I learned I had won Best Drummer at the SXSW Austin Music awards for 2008. Advertisement
I grew up listening to Steve Gadd, Dave Weckl, Buddy Rich, and Steve Jordan, to name a few. I will never be remotely close in ability to these guys. In Austin alone, there are more sick drummers than I can count. Google these guys and see what you can find on them: Brannen Temple, JJ Johnson, Barry "Frosty" Smith, Art Kidd, Steve Samuel, and Phil Bass. All of these guys are ridiculously good!
Again, I will never be as good as any of them. (If I were able to lock myself in a practice room, maybe I could get close.) On top of that, over the past several years the Austin area has been blessed by having the likes of Terry Bozzio, Pat Mastelotto, and Jamie Oldaker move here. Drummers are really growing on trees here.
I live to play. It's the closest thing to plugging into the universe that I know of. Music has in return blessed me, in that it is all I have to do now. This could all change in the future–you just never know what lies around the next turn in this business. Outside of the standard practice, practice, practice speech you always hear at clinics, I would like to pass on to you some tidbits of wisdom I have learned from other musicians: Advertisement
1.) Never ask of music. When you expect music to do things for you, it will not happen. Music itself is the reward. If any success or fame comes as a result of playing music, be forever thankful, because you have already experienced more than 95% of the people who have ever picked up a pair of drumsticks have.
2.) The fewer notes you play, the more money per note you are making. Save your big stuff for the last chorus of the last song in the encore.
3.) Never play in a trio with a husband and wife.
4.) Never cop an attitude. There is always somebody better than you. If you see someone who might not be up to your personal yardstick, watch even closer, they will teach you something you didn't know.
Be well, fellow drummers, racket makers, and conundrum creators. I will be on the road for much of the summer with The Band Of Heathens and would love to meet as many fellow drummers out there as possible. If you are ever in Austin, you will always find me playing (provided I am in town) with The Resentments on Sunday nights. Long Live The Saxon Pub! Advertisement
Check out bandofheathens.com or my myspace page at  myspace.com/drummeratlarge.
All of you be well!
John Chipman