Brian Bauer of Bryan Scary & The Shredding Tears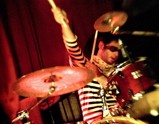 As a kid playing in the basement, I'd dance around like a wind-up doll with A.D.D. to the beat of my dad's drumming. He had done the same thirty years earlier while his father, a Dixieland jazz drummer, tapped out rudiments on a kitchen chair. I never met my grandfather, but he, my dad, and now I share having played the vintage 1966 Slingerland blue-sparkle kit I now use with Bryan Scary & The Shredding Tears.
My pops came from a blues background, highlighted by a run at keeping time for Grammy-winning harpist James Cotton. I picked up the sticks in first grade, attempting to model myself after my dad. I was like a moth drawn to a flame. I listened to all sorts of records, soaking them up for all they were worth and mimicking to the best of my ability. I was a natural, but far from first-rate.
When I turned sixteen, my parents agreed to ship me off to a summer performance program at Berklee in Boston. From day one, I was humbled by the talent around me. Instead of wallowing in my lack of knowledge and skill, I hit the practice rooms. Sometimes I'd put in eight hours, in addition to classes. Private lessons with Dave DiCenso were quite the bonus. He shared an office with Rod Morgenstern, a lefty, and I'd find myself on his kit, reworking my righty instincts in order to accomplish Dave's lessons. The entire experience in Boston affirmed to me that my future was in music. Advertisement
Bryan Scary and I grew up together in the 'burbs of Chicago. We played in a cover band in middle school, busting out tunes by the likes of The James Gang and Deep Purple. I'd often go over to his house and burn CDs from his massive collection of discs, which were housed in two behemoth travel cases. I shit you not, Scary had amassed the Library of Congress in his bedroom.
The summer after my freshman year of college, Bryan and I recorded a few drum parts in his basement for what would eventually be the foundation for his 2006 debut, The Shredding Tears. It wasn't until I bumped into him on a street corner in Manhattan four years later that I learned of his plan to release the album and form a touring band. Bryan Scary & The Shredding Tears was formed soon thereafter.
The transition from touring act to recording group for Flight Of The Knife was the most challenging musical journey of my life. We devoted three solid weeks of fifteen-hour-a-day rehearsals to prepare, and I couldn't be more proud of the results. The record is out in stores now, and I'm more than stoked about our upcoming national tour. See y'all out there! Advertisement
For more on Brian Bauer and Bryan Scary & The Shredding Tears, go to www.bryanscary.com or www.myspace.com/bryanscary.