Vincent Fiorello of Less Than Jake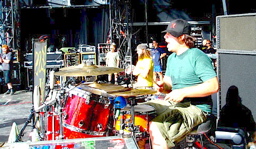 I read through all of these blogs by great drummers and superb musicians, and though it might seem like an odd forum to do this, rather than hawk my wares here I'd like to ask if any readers know about a place where drummers can donate old gear or their time and energy. Sure, there is the Save The Music Foundation, but is there something strictly drummer-centric?
I recently got in touch with my local city council to discuss donating a kit to the state prison and the local schools close by, but got the brush-off. I brought up starting my own non-profit and was stopped in my tracks because of the red tape involved.
I think that I've had a charmed life. I've played music for a living, I've toured the world a dozen times, and I'd like to give back—somehow, some way. My time is limited because of my touring schedule, but it doesn't take away my drive to try to do something that helps out young drummers. Advertisement
Are there any other drummers that feel the same way? Maybe someone has some spare gear to pool together for talented but underprivileged drummers?
If there is an existing organization, someone please point me in the right direction. But if there isn't, I'd like to help start one with a group of drummers.
Email me: vincentfiorello@gmail.com.
Listen: myspace.com/lessthanjake.