Stan Lynch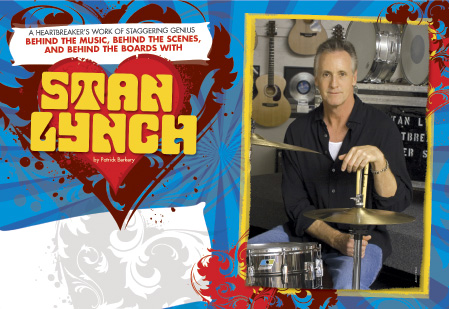 by Patrick Berkery
When Tom Petty was asked to describe original Heartbreakers drummer Stan Lynch in the 2005 book Conversations With Tom Petty, the bandleader responded with, "Stan. Now there's a book in itself."
Any book about the fifty-two-year-old Lynch would surely be an entertaining, fairly hilarious read. The Rock And Roll Hall Of Fame drummer-turned-successful songwriter/producer (for Don Henley, The Eagles, The Mavericks, Ringo Starr, and Tim McGraw, among others) and tree farmer (a gig he describes as part Zen, part holding on for dear life, and not unlike playing with Bob Dylan) is an opinionated, intelligent guy who doesn't mince words or sugarcoat memories.
For now, though, this feature on one of rock's most tasteful timekeepers–a true player of "the song"–will do, for there's plenty to discuss with Lynch.
Such as Lynch's understated work on those Petty classics. Oh, my my, oh, hell yes, did Lynch serve those songs well. Just think of "Breakdown"'s slinky pulse, the graceful fills that usher in the heavenly chorus in "Here Comes My Girl," or the swamp-funk groove of his 1993 Heartbreakers swan song "Mary Jane's Last Dance." Advertisement
There's also the matter of last year's Peter Bogdanovich–directed Tom Petty And The Heartbreakers documentary Runnin' Down A Dream. In the warts-and-all film, Lynch's multi-faceted role as steady drummer/class clown/cheerleader/ball breaker/whipping boy was discussed at some length, though his side of the story was represented mostly through older interviews.
"I didn't talk to the Bogdanovich people," Lynch says. "I just couldn't. It's like a part of my life I've actually…I won't say forgotten, because I actually still dream about it. It comes up in weird ways. But I really had to let go of it or else I would walk around constantly trying to tell people who I used to be.
"This is the first time I'm talking about it in any depth."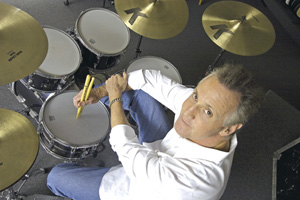 MD: The Heartbreakers worked with a unique mix of producers over the years. How was it working with an established guy like Denny Cordell [Leon Russell, Joe Cocker, Procol Harum] so early on?
Stan: He taught me a lot, sometimes in very abstract ways. I was still young and I didn't really understand what he meant by "groove" and "feel." I remember asking Denny, "What does that mean, can you quantify that"? So he tells me he's taking me to a Bob Marley & The Wailers gig, and he flips me the keys to his Ferrari. As we're driving, he's making me haul ass, and he says, "Stanley, driving a Ferrari fast, that's what a groove feels like." At the gig, Marley had the place hypnotized. Someone's passing a joint through the balcony and Denny says, "That's what a feel is." He was just being helpful in his very '70s way. Saying, "These are the things that feel incredibly good, that can't be duplicated. You'll know it when you know it." Sure enough, we went back to the studio and we got two tracks that night. I was so vibed. Advertisement
MD: Did he offer more specific advice?
Stan: Oh, yeah. Again, in his own way. I remember having a really hard time once on some track. I was playing way too much, trying way too hard. So Denny, in that perfect English accent, he blows a big cloud of smoke and says, "Stan, if you leave all that shit behind and just play the groove, they'll always misinterpret you as tasteful." That was brilliant. [laughs]
MD: What was your state of mind when you finally got the call that you were fired from the band?
Stan: Tom had basically told me I wasn't the right drummer for him anymore. He decided whatever I was doing he wasn't digging. So I wanted to put the drums down. I was feeling very insecure about them. I felt like, perhaps, I'd made all the noise I could. And I'm a guy that always wanted to be in a band. And when the set lists and all that stuff went away, I was really lost. I sat down at the drums and I didn't know whether to cry or barf.
I had a kit in my house, and I had to take it away. I just couldn't look at it. I had to take all the mementos from the band out of my house, everything. I had to forget all that. It was almost like in Men In Black. I had to hit myself in the face with one of those lights; when you wake up, you won't remember you were ever in a band. You're a guy who wants to write songs now. Advertisement
MD: And it was Don Henley who helped you on that path, right?
Stan: Absolutely. I had gotten the phone call signifying one part of my life was over. Within twenty-four hours, I was talking to Don and he said, "Man, what are you doing"? I said, "I'm probably losing it, I don't know." He said, "When The Eagles broke up, I was thirty-three. I know what you're feeling, so get on a plane." So I did. I pretty much showed up at his door the next day, and he said, "Welcome to the next chapter."
There's more to this interview! Pick up the May 2008 issue of Modern Drummer at music stores, book stores, and newsstands everywhere!