Homer Steinweiss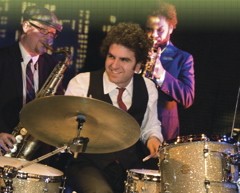 It's been quite a year for the members of much-heralded New York City funk outfit The Dap-Kings. Powered by longtime drummer Homer Steinweiss, the band recently released their third full-length album with Sharon Jones, 100 Days, 100 Nights. They also played on Amy Winehouse's hit album Back To Black. They were sampled by Jay-Z for his latest release, American Gangster. And they recorded with soul legend Al Green, all while churning out numerous 45s and assorted side projects as the house band for Daptone Records. Their passion for '60s soul music has made Daptone a modern day Motown-inspired label, disregarding almost every current musical trend for the purity of old-school recording. Click track? No way! Pro-Tools? Out of the question! Format of choice? Vinyl!
"At Daptone, the gear is all analog," Homer says. "When tracking drums, the mic' placement varies. But there's usually a sweet spot somewhere a foot or two off the ground pointing towards the snare drum but behind the bass drum. For the most part one mic is all we ever need. Sometimes a nice one, sometimes a cheap Radio Shack model."
In 2006 The Dap-Kings were hand-picked by British DJ/producer Mark Ronson to play on a handful of tracks for the latest Amy Winehouse CD, a runaway hit due in part to the Dap-King "sound" being featured on many of her hit singles. Homer reflects, "I remember leaving the studio after that session thinking that we had just recorded some really good stuff. But we had never heard of her, and never expected the sounds we were using to end up on the radio. I am so used to hearing a certain sound on the radio, especially the way the rhythm section is produced, and it's just not what we do." Advertisement
Check out the soul excitement that is Daptone at www.daptonerecords.com.
Jeff Schaller
Photo credit: Kristin Burns