Chachi Darin of the A.K.A.s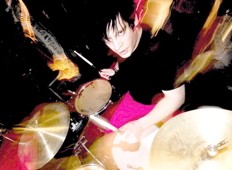 Hello, fellow drummers and MD online readers! My name's Chachi Darin, and I play drums for the Philadelphia-based band The A.K.A.s. I just got home from a six-week US tour preceding the March 18 release of our new record, Everybody Make Some Noise. After a few days off, it's time for some regional release shows, then back out for another full US tour highlighted by a stop at the Bamboozle Left Festival in Irvine, CA.
I've been a fan of drums, drumming, and drummers for as long as I can recall. I guess my initial interest was sparked somewhere between witnessing the Buddy Rich vs. Animal drum battle on The Muppet Show and hearing Shout At The Devil for the first time. Eventually I joined the school's band program and came home with a bell kit, a Ludwig Acrolite snare drum, and a couple lesson books. After a few semesters, the band director pulled me aside and said, "Maybe you should consider another instrument next year; you might not be cut out to play drums." Needless to say, I spent the following summer practicing as much as possible. That determined woodshedding led me to a section leader and first chair spot the next year. I was going to play drums or else! Now several years later I've been asked to contribute to the online version of Modern Drummer. How do you like that?
During my teenage years I studied rudiments and stick work with players from DCI drumlines like Santa Clara Vanguard, Star Of Indiana, Madison Scouts, and Canton Bluecoats. (I incorporate a lot of the stick twirls and spins I picked up around that time live.) I played for several musicals, show choirs, jazz orchestra, etc. I was a stereotypical band nerd until I'd go home at the end of the day, put on the headphones, and jam along to the sounds of Led Zeppelin, Black Sabbath, AC/DC, Van Halen, James Brown, Parliament Funkadelic, The Misfits, The Sex Pistols, The Cure, and The Stooges. Looking back, I wouldn't trade any of those elements or experiences. Advertisement
I feel fortunate that our shows are mainly all-ages, and I often get to talk to kids who are new to drumming or considering picking up "the percussive arts." I consider drumming a craft and a privilege to be pursued with equal parts discipline and fun. I encourage new drummers to learn the basics any way they can, play along to their iPod to develop feel and timing, watch as many different players as possible, never be afraid of the term "less is more," and never ever hit drums at Guitar Center unless you're actually trying out something you might buy! Ha ha! Above all (and this is why you'll frequently find me standing on top of my Pearl Masters, twirling my sticks, and unabashedly sneaking in fills from "Moby Dick" and "Rat Salad" at the end of the show), I've learned it really is about having fun and enjoying the moment.
Cheers to everyone who took the time to read this. I look forward to writing more in the future. Feel free to say hello to me via myspace.com/theakas or myspace.com/chachidarin.