Paul Garisto and his days with the Psychedelic Furs, Iggy Pop, etc.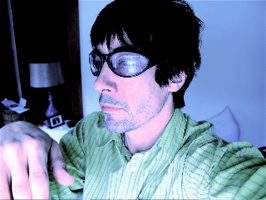 Hi all! I've have been reading all the wonderful posts by drummers contributing to the Modern Drummer blog and thought, Why not chime in?
So the task then becomes what to write about that hasn't already been discussed in recent blogs. Well, in the past few weeks, I've had a few accomplished and talented musicians/drummer friends express their feelings about getting through the bouts of little or no work that we all encounter–if you freelance long enough. Now, I was lucky enough to land a national tour at a young age about a year after I moved into New York City to pursue my drumming career. How excited I was to step onto that tour bus for my first time as we rolled out for a tour of the US! That was over twenty years ago, and I remember those feelings of excitement and gratitude like it was yesterday. To move out of the basement where I practiced as a child and onto the tour bus was a dream come true. It was an experience I will always cherish.
Once that tour came to an end, it was time for the artist I was working with to record a new album. To my surprise, I was asked to play on it, and we started rehearsals shortly thereafter. By the time we got into the recording studio, I was thinking, Wow, I'm going to be on a major-label record! We spent the first day getting sounds, and I was loving life! I couldn't believe this was happening. Touring, recording–I was on my way!
When we started tracking the second day, for some reason it just didn't feel right. It was a very long day and not much was kept from that session. As I was getting ready to head to the studio on the third day, my phone rang and I was informed that the bass player and I have been replaced. Sorry guys. Advertisement
Crash! My first lesson in the reality of the music biz: You can be replaced just like that–overnight. Like I said, I was young, inexperienced, and I had so much to learn about recording and playing drums. It took a few weeks to get over it. Those irrational thoughts, like "I suck and I will never work again," were hard to shake.
But I soon got back on my feet, started practicing again, and got up the courage to make some phone calls to find out about any upcoming auditions. Several months went by with very little work. Then, out of the blue, I got a call to audition for a band out of England called the Psychedelic Furs. Long story short, I landed the gig and headed off to England for a nine-month world tour. I stayed with the Furs for five years, and we pretty much kept working the entire time. Then I decided to take a huge leap of faith, and left the band.
Once again, I went three months or so without working. The phone didn't ring, and I got depressed as the thoughts crept back, "I will never work again." Finally, I got a call to do a one-off show at the Limelight in New York and I reluctantly accepted. Why not, I had nothing better to do? I didn't feel like I performed particularly well that night, but as I walked off stage my friend came running up to me and told me "Iggy Pop is back stage. He wants you to play with him." "Very funny," I said and kept walking. But my friend stopped me, saying "No really, go talk to him." With my knees shaking, I tried to act cool, and I went to talk to Iggy. That conversation went something like this: Iggy said, "Hey, you want to play with me? I answered "Ah, okay." And I did, recording and touring with him for the next two years. Advertisement
I had a good run for a while, to say the least. But in the following years, I made some pretty bad choices just to keep playing. I took gigs that I didn't believe in or that I didn't fit into. This had an acute negative effect on my outlook and my playing. After a few major disappointments, I decided that I could not deal with the music business and playing drums was no longer the love of my life. Playing felt more like a vehicle to pay bills. I had lost track of why I started playing to begin with. So I stopped. By chance, after two years off, I got a call to play for Bree Sharp. While I was recording her CD, I realized just how much I missed playing drums. I have a gift, and I needed to get back out there for the right reason, which was what inspired me to play when I was a kid–the love of music.
I guess what I'm getting at is this: The reality is that few musicians get the opportunity to work in this business. And only a select few work constantly throughout their careers. For me, it has been a roller coaster ride. There were years of consistent work, followed by months of down time with nothing on the horizon.
Somehow, the love of playing keeps me going. Somehow, I summon up the strength during the lean times to keep practicing, which eventually turns negative thoughts into positive actions. Listening to drummers like Gary Chester, Hal Blaine, Jim Gordon, and Jim Keltner never fails to revitalize my love of playing and the quest to create. I've been blessed with a long career. This year I have four CD's coming out that I am very proud of. On one I play bass, and on another I play hand drums for the first time. I will be touring Europe. And I recently started teaching drums, which is an amazing experience. Advertisement
As a result of trying new situations, I have grown as a drummer and a person. Playing music offers constant challenges and growth. If I'm not placing myself in challenging situations in life, in music, and on the drumkit, then I'm on my way out. I'm grateful for the opportunity to be a part of it all. And now, it's back down to the basement for a few hours of practice. After all, if I can't pull it off, how can I ask my students to?
To contact Paul, go to www.myspace.com/paulgaristo.