The Great Levon Helm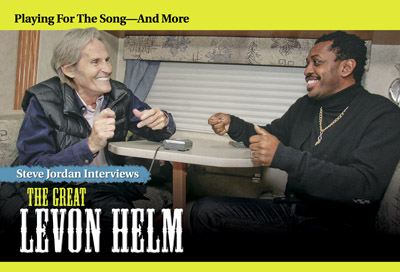 Story by Ken Micallef
Photos by Paul La Raia
"You have to play some good music to get the people on the floor. I want to hear the meat. Until you can do that, it's suspect to me."
There are certain truisms that all drummers, regardless of style, adhere to, believe in, and espouse. Play good time, for one. Never overplay, of course. And always–always–play for the song. That last one can mean different things to different drummers. But if there ever was a drummer who undeniably embodied the concept of playing for the song, that drummer would have to be Levon Helm.
Perhaps the greatest singer/drummer to ever play a backbeat, Helm has dedicated his entire career to playing for the song. Not only has Levon played and sang on some of the most legendary rock 'n' roll hits of all time, he's stamped those songs with an indelible style and sense of swing, unerring groove, and musicality that's practically unparalleled (and these days, practically unheard).
Helm came to prominence first as a member of rockabilly legend Ronnie Hawkins' backup band, the Hawks, who a few years later accompanied Bob Dylan on his ascent through amplification. Levon finally became famous as the drummer, vocalist, and mandolin player for the Band, as the Hawks were renamed while supporting Dylan during his infamous Woodstock phase. Advertisement
Lauded as an apparent reaction against the prog rock, psychedelic rock, and proto metal that seemed to dictate the music of the late '60s and early '70s, the Band reinvented rock 'n' roll, drawing on American roots music and injecting it with a serious dose of songcraft and organic musicianship. Today, it can be hard to appreciate the massive impact the Band had on an entire generation of musicians. They inarguably influenced rock gods Eric Clapton and George Harrison to reevaluate their musical direction. They single-handedly kick-started the genres of roots rock and country rock. And they gave stylistic birth to the Eagles, and even influenced the Beatles' White Album.
Seasoned road dogs well before the 1968 release of their debut album, Garth Hudson, Richard Manuel, Rick Danko, Robbie Robertson, and Levon Helm proceeded to score numerous top-twenty hits, including "The Weight," "Up on Cripple Creek," "Rag Mama Rag," and "The Night They Drove Old Dixie Down." After ten years, eight albums, and two decades of criss-crossing the world together, the Band called it quits. Their final concert, filmed for posterity by Martin Scorsese as The Last Waltz, is widely acknowledged to be one of the greatest concert films ever.
In the Band's wake, Helm staked a successful solo career, leading several all-star bands on albums like Levon Helm and the RCO All Stars (1977) and American Son (1980). As always, Levon's powerful vocals and Deep South drumming could be heard in the music's real rock 'n' roll grooves, his Arkansas roots and characteristically rustic drumming providing the link to another time, another era. Advertisement
"I truly love to hear very accomplished and highly evolved drumming from those who are dedicated to pushing the envelope," says Jim Keltner, revered drummer with George Harrison, John Lennon, and Bob Dylan, among many others. "It's thrilling to hear and watch. But a great thing I've noticed is that, when asked about Levon, those drummers who've heard him play all say how much they love and appreciate what he does and how he does it."
Levon was diagnosed with cancer in the late '90s, but after a long recovery period, he returned, performing with his band at the now legendary Midnight Rambles. Held near Levon's home in Woodstock, the Rambles have played host to many musical stars and friends, including drummer/producer Steve Jordan, who Modern Drummer enlisted to interview Levon for this exclusive cover story.
Jordan, currently producing Los Lonely Boys and Solomon Burke, explains Levon's magic this way: "Levon plays the song. He was born with this beautiful rhythm. When you have a brilliant musician like Levon who has an inherent take on music—he's a great singer, he's a composer—with that combination you can't lose. His drumming is gorgeous, and his interpretation of the song is magnificent. He has that feel and he knows how to get that sound. I just love what emanates from the drums when he plays." Advertisement
And with his new Grammy-nominated album, Dirt Farmer, bringing Levon's heartfelt vocals and cut-to-the-bone drumming to an entirely new audience, playing for the song—Levon Helm style—can be appreciated like never before.
Steve: One of the unique things about you musically is the independence between your vocals and your drumming. A lot of drummers who sing kind of go with how they play. There are a lot of great drummers who sing, like Don Henley, Phil Collins, the drummer for Rare Earth [Pete Rivera], and Walter "Clyde" Orange, the Commodores' drummer who sang "Brick House."
Levon: And the Holmes Brothers' Popsy Dixon.
Steve: A whole lot of them. But the thing that you do that nobody else does is you sing completely independent of your drumming. Your phrasing and everything are like two completely different people. You actually lead more than any other singer/drummer, but your pulse is also driving the band in a completely different way. When you played with the Band, for instance, you had control of that groove. But your vocals were completely independent and you were driving the top and the bottom. How did you start playing and singing? Advertisement
Levon: With the Hawks, with Ronnie Hawkins, they would always pass the microphone around. I would sing two or three songs every night. Ronnie wanted everyone to participate that way. And by the time we started doing it as The Band, I was trying to sing the middle part, sing the tonic of the song, because Richard Manuel and Rick Danko could do all them wonderful harmonies. You couldn't tell when Richard was going from natural voice into falsetto, he would go so high. And Rick could sing in many different places.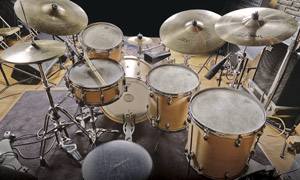 For me, it was just a reflection of the drum, to try and sing the middle part, the tonic part of the song. Make it as flexible but as strong as possible, to hold the harmonies so you could have something to hang on to.
Steve: The tonic a lot of the time ends up being the melody…
Levon: …and play the downbeat and the backbeat with it. And try to sing off those two beats mainly.
Steve: It doesn't sound like it's being framed within the beat. It sounds like you're a completely different person.
Levon: What I like to do is, if the song is in a street-beat kind of a feel—pretty much a straight-8th thing—I'll sing in more of a shuffle rhythm. Then you get the two rubbing against each other. Advertisement
Steve: Now that's rock 'n' roll. The shuffle against the straight 8th is the key to rock 'n' roll.
Levon: That's what Earl [Palmer] taught us. He would do it in the same song. He would play the shuffle and the straight 8th. I kind of copied from Earl, I'm sure. And just to sing in that place and hold down the rhythm section—get in that right place and then bounce on top of it.
Visit www.levonhelm.com.
There's more to this interview! Pick up the April 2008 issue of Modern Drummer here, at music stores, bookstores, and newsstands everywhere!