Gil Sharone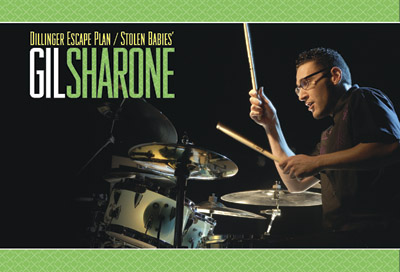 by Michael Dawson
Even at this early stage in his career, energetic twenty-nine-year-old drummer Gil Sharone has a lot to talk about. After all, his respectable résumé already includes stints with funk/ska/metal masters Fishbone, 2 Tone ska creator Dave Wakeling of The English Beat, Jamaican reggae legend Eek-A-Mouse, and sharp-tongued vocalist HR of hardcore punk innovators Bad Brains.
While those experiences are more than enough to solidify the drummer's rank among our industry's "A-List," in the past eighteen months Gil's career has virtually exploded with other high-profile gigs that has had us all shaking our heads in disbelief. In the fall of '06, Gil–who was still relatively unknown outside his hometown of Los Angeles–was invited to perform at the prestigious Percussive Arts Society International Convention. Then on the first day of last year's Winter NAMM show, Gil got a last-minute call from his friends at Orange County Drum & Percussion to fill in for an injured Travis Barker for a European tour with the drummer's Blink-182 spin-off group, + 44.
Soon after returning to Los Angeles from that incredible experience, Gil was greeted with not one, but two emails offering other once-in-a-lifetime opportunities. "I was checking my MySpace page and I got an email from Dillinger Escape Plan wanting to know if I'd be interested in joining them," Gil recalls. "Apparently, Chris Pennie was leaving the band and Chris Hornbrook of Poison The Well recommended that they contact me. It was a pretty overwhelming email. Then the same day that they offered me that, my brother yelled down from upstairs, 'Dude, we just got asked to record with Maynard from Tool!' I was like, 'What's going on here? Did I win the lottery?'" And all of this went down just four weeks before the drummer was scheduled to hit the road with his genre-blending theatrical metal band Stolen Babies in support of modern rock mavens Lacuna Coil. Advertisement
As you can see, there's a lot going on in the world of Gil Sharone. So rather than try to tackle everything at once, we decided to meet up with the drummer at Dillinger's rehearsal space in New Jersey (yeah, he took the gig.), to begin with a firsthand account on what it's like learning, recording, and performing the ridiculously demanding material from the progressive hardcore pioneers' latest release, Ire Works.
MD: You came into Dillinger right before the recording of Ire Works, right?
Gil: Yeah. About ninety percent of the record was already written, because they had plans of doing it with Chris Pennie. They originally wanted me for the tour. But when I called Greg [Puciato, Dillinger's vocalist] back the next day, he said that in a matter of those eight hours everything had shifted. Now Chris wasn't going to be playing on the record. That was when this opportunity made much more sense. Doing the tour, I would've just been playing somebody else's stuff. But this was an opportunity for me to be recorded with Dillinger.
MD: It had to be challenging preparing for a record when you're in Los Angeles and they're on the east coast.
Gil: Yeah. I was on my own with the material. At first they sent me some songs with programmed drums. One of those was "Lurch." They were like, "Let us know if you can play this, and we'll take it from there." I heard it twice, and it started to make sense. So I called them back and said, "Yeah, I can do that. I need to learn it. But physically I can do it." Advertisement
MD: How long did it take to learn the material?
Gil: It usually didn't take more than a week for the songs to get in me. But the more intricate and complex stuff required some extra attention. So I charted some of those things out.
MD: Since you joined the band at the last minute, and you were about to head out on tour with your band Stolen Babies, you couldn't have had a ton of time to learn the material.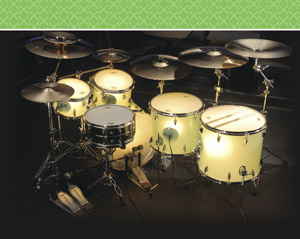 Gil: I was home for four weeks before I left for the tour. So I had that time to spend with whatever songs they could send to me. I had "Lurch," "Fix Your Face," and "Party Smashers." The rest I had to learn while I was on the road. Basically, I would get back to the hotel at three in the morning after a Stolen Babies show and listen to Dillinger's stuff for an hour or so. Then at soundcheck the next day, all I did was shed Dillinger grooves. [laughs]
MD: Were you learning exactly what was programmed on the demos?
Gil: Pretty much. The songs were already very structured, but I wanted them to be my own. So I added things wherever I could. But most of the time, certain rhythmic patterns are the songs. So whether it was Chris, a machine, or me, it was going to be played the same basic way.
MD: Had you met the rest of the band prior to the recording sessions?
Gil: No. The first time that I met everybody else was when I got to the rehearsal studio three days before the recording. Everybody was skeptical until the first note. We started with "Fix Your Face," and everyone was floored. The energy in the room, the performance, and the chemistry was like I'd played with these guys all my life. That was when all doubt was gone.

There's more to this interview! Pick up the April 2008 issue of Modern Drummer at music stores, book stores, and newsstands everywhere! Advertisement