Dan Lamagna of Suicide City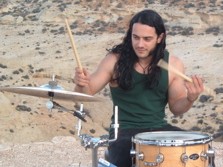 What's up drummers? First off, thank you for reading this! I'd like to share with you some of what has been going on in my life the last few months. It's been studios, stages, and teaching for me. Here's a little background: In 2004, I started playing with a band called Suicide City. We toured the US pretty extensively in 2006. We play a blend of goth, rock, and metal, with a very intense and entertaining live show. We've toured with everyone from Taking Back Sunday to Gwar. So, as you can imagine, we're a hard band to describe. For the past few weeks we have been working on demos of new material, while working with Zen Media Group on possible release options for the follow up to our 2005 EP, Not My Year. The band has a few festival appearances coming up as well as east coast dates through May.
From time to time, I also get invited to play with other artists. I really enjoy that part of my life and will pretty much play with anyone. Last year I played on The Autumn Machine, the debut record from Silent Fate. And recently I started recording their sophomore effort. The possibility exists that I will be joining them for a Midwest run scheduled from March 15th to April 1st. When I'm not on the road, I teach. And hopefully this year will begin doing clinics. I've had lessons with Jojo Mayer, Joe Morello, and Fred Klatz–just to namedrop a little–so I like to think I have some tried and true knowledge to share. So if you are curious about what I've been up to, check out my Web site. There are links to Myspace pages, YouTube channels, the companies I endorse, the people I've played with, contact info, tour dates, and of course–music!
Thanks again for reading.
For more on Dan, visit www.danlamagna.com. To check out Suicide City, log on to www.suicidecity.com.