Dylan Wissing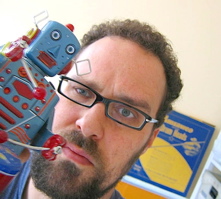 2007 was an extremely busy year for me. I played eighty-four shows in the Northeast, Midwest, Mid-Atlantic, and New Orleans, with several recording projects and a zillion songwriting sessions and rehearsals. I'm keeping a current schedule and blog at myspace.com/dylanwissing.
My biggest recording of the year was my first major-label session, for a hip-hop artist named Novel on Capitol/Rowdy Records (the track "Wild West" from his upcoming release The Audiobiography; listen here). I also recorded three tracks for Kanye West, and am waiting to hear if the project is moving forward. (It's a movie he's working on.) Both sessions were recorded with Ken Lewis (Kanye, John Legend, Beastie Boys, a zillion others), who I've been working with for several years. In addition, I've been recording with independent artists throughout the year, largely through producer Paul Schellack and Capture Sound Studios in Brooklyn: Linda LaPorte, Bitterweed, John Schmergel, and others.
I've been doing a lot of live work with my three primary groups, as well as working as a sideman with several others. My band Skidmore Fountain (very cool indie rock from Brooklyn) released a full-length disc titled Break (Triple R) this past summer, and has been hitting the road in support. The album made Top 25 on the FMQB charts, with a nice review in CMJ, and Skidmore is hard at work on a follow-up disc for 2008. Here's a live clip from one of our tours. Advertisement
I've been working with Soul/Blues singer Kirsten Thien for the past three years, with a lot of touring up and down the East Coast. She's definitely building a following, and we're working on a new record for 2008. (Her previous was recorded just before I started working with her.) Here's a live clip from a Baltimore festival we played this past summer.
I continue to play with NYC stage legends The Niagaras (I've been with the group since 2004), and I'm probably playing more shows with them than anybody. (It's a hell of a live act.) In addition, I'm working with lead singer Robert Whaley on a new project called Comic Tales Of Tragic Heartbreak, which is a twisted quasi-cabaret act with really cool old-school R&B underneath. I'm also singing some backup with them (a first for me).
As a sideman, I've been playing with graphic design superstar Chip Kidd (he's the world's foremost designer of book jackets, and a drummer himself), New Orleans pianist Noah Levi (he's a protégé of Doctor John), Nashville-based singer/songwriter Joe Rathbone, and singer/songwriter/sitarist Indro. I also did a benefit at Joe's Pub in NYC for breast cancer research (I was the house drummer for several acts), and a retirement ceremony for the president of Sarah Lawrence College at the Hudson Theater in Times Square (a five-hour event, learned from scratch that morning). It's an extremely talented group of artists, and I love the variety. Each group definitely demands something different, both in terms of equipment and musical approach. Advertisement
In 2008 I'll be doing plenty more of the same, playing with my various groups and recording. I've also begun playing with two groups, Quitzow and Setting Sun, and will be touring the West Coast with them in February. I'm really looking forward to all of it.
Someone once told me that it takes five years to get established as a musician in New York City. I'm into my third year of working into the scene, and am really feeling that I'm starting to get somewhere. (I moved in 2003, but my first two years here were spent primarily with my old band, Johnny Socko.) Thank you so much for your support!
Dylan Wissing
For more on Dylan Wissing. email him at dylanwissing@sprintmail.com, or go to www.myspace.com/dylanwissing.