Craig Pilo with Frankie Valli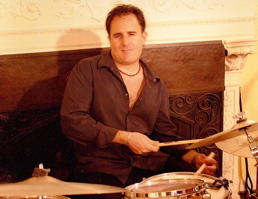 Hello, MD readers!
It's always a pleasure to punch in with my fellow drummers and the MD community. We are all fortunate to belong to a group that takes interest in one another, shares and swaps ideas, and above all, makes friends! I'm beginning my third year of traveling with Frankie Valli and thought I'd write a quick blog about some interesting things I have going on!
Frankie continues to enjoy a lot of sell-out crowds fueled by eighty tour dates a year and the success of Jersey Boys, the Broadway show about the life and times of Frankie Valli & The Four Seasons. We mostly tour the US and Canada with Frankie, but there is a rumor of a short European tour in the spring of 2008. The drumming is pretty exciting, but part of a much bigger picture–the music. We play some pretty big venues, so the drumming needs to be supportive and energetic, yet volume-conscious enough to fit into a vocal group. I play a lot of the fills heard on the original recordings, and my own fills on some of the tunes that Frankie has reworked or updated. Like most gigs, the drumming is very important, but not the reason people come to the show. People come to see Frankie and hear his music.
If people want to hear my drumming, I now have a solo CD called Just Play. Just Play features Mitch Forman and Ed Czach on Fender Rhodes, Tom Kennedy, Dave Enos, and Keith Hubacher on bass, and Doug Webb and Roman Dudok on sax. I wrote three of the tunes myself and arranged all ten that appear on the CD, which also features three videos. Ed Czach and Dave Enos join me on the video portion of the CD, and both deliver stellar performances. I really wanted to include live video, because I always appreciate a good live performance over one that has been Pro Tooled to death. The drumming on the CD is a fusion of all my influences, and I hope everyone will be as happy with the final result as I am. I wrote some notes on each individual tune in detail on my Web site, www.craigpilo.com, if you're curious beyond what's written here. Just Play was completed last May and can be purchased at Amazon, CD Baby, or iTunes. Advertisement
Last year in between touring with Frankie and recording my own CD, I also performed with Edgar Winter, Player, Angela Carole Brown, and Margo Reymundo, and I did several other recordings here in Los Angeles. Angela and Margo, two of the artists I recorded for, have plans to release a CD in 2008. Wearing a few different hats on the drums was an amazing challenge and a wonderful opportunity that I hope to repeat in 2008. In addition, I had the opportunity to meet a lot of people and some great drummers during my travels. Please swing by craigpilo.com for my schedule and email!
Craig