TJ Snow of CorpuS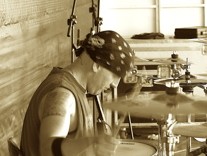 Hello, MD readers. I was thirteen when I got my first Modern Drummer magazine. I had just started to learn how to play drums, and every month I looked forward to getting the magazine to read more about drummers like Tommy Lee and Will Calhoun. I knew then that I wanted to be a rock drummer.
Drummers with aggressive, hard-hitting styles have always influenced me. It started with Peter Criss at an early age and then progressed to Mike Bordin, Sean Kinney, Vinnie Paul, and Morgan Rose. I've always been impressed by drummers who not only have technical ability, but bring showmanship and flare to their live performance. In the past, I've played in many different bands, from funk to heavy metal groups. I am currently the drummer for a hard-rock band called CorpuS.
CorpuS has been around for five years. I've been playing with them for a little over a year. We're currently finishing up our sophomore album, the first one that I've recorded with the band. We'll be heading to L.A. in January to record with platinum producer/engineer Bradley Cook (Foo Fighters, Tool, Counting Crows, Everclear). Advertisement
Laying down drum tracks for the album was a smooth process. This was the first time that I've had the opportunity to be a part of the songwriting process. In the past I've come in at different stages of the recording process as a hired gun.
Drumming for CorpuS has been a natural progression for me. My drumming style seems to be a perfect mesh with the band. This was made much easier by the fact that we are all currently into the same style of music, such as Seether, Nirvana, Chevelle, and Three Days Grace.
This is the most fun I've ever had playing drums. I feel blessed to have had the opportunities that I've had. I would never have thought that in a year's time, we'd be opening up for bands like Saliva, Powerman 5000, and Drowning Pool. I'm looking forward to what comes in the future. Advertisement
You can check out my drumming on three new tracks, "Rectified," "When I Need You," and "Change," at www.myspace.com/onlycorpus, and be sure to check back in February when we're out of the studio.