Update: Roger Taylor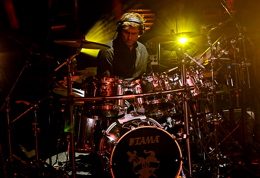 by Billy Amendola
It shouldn't be much of a surprise that Justin Timberlake, Timbaland, and Nate "Danja" Hills signed on to co-produce Duran Duran's latest CD, Red Carpet Massacre. After all, the band—keyboardist Nick Rhodes, singer Simon Le Bon, bassist John Taylor, and drummer Roger Taylor (guitarist Andy Taylor decided to bow out for this one)—have been on the cutting edge of contemporary sound since making their debut twenty-nine years ago.
During the past three decades, the group—who People magazine once crowned "the prettiest band in rock"—have placed twenty-one singles on the Billboard Hot 100 chart, placed thirty singles in the UK Top-40, and sold more than 85 million records. They've also won two Grammy awards for their music videos. ("Rio" topped a global AOL survey for the Best Music Video Of All Time.)
MD caught up with Roger Taylor while he was in the UK rehearsing for a string of Broadway concerts to debut Red Carpet Massacre. Typically, all the shows were wildly successful, especially considering that the group opened with a set comprised entirely of material from the new album—a bold move for any band. Of course, the second set featured all Duran Duran's classic songs, and that's when the crowd really went nuts. But let's begin our visit with Roger talking about that great new album… Advertisement
MD: How was it working with Timbaland on the new record?
Roger: It was a very interesting experiment, because I don't think he's ever worked with a full band before. I think he's just used to programming all the tracks for an artist and delivering the finished piece of music. But we have a history of working with dance producers and working with the technical side of things, so it was actually quite a good fit for us. We've used drum machines and programming in the past, and always mixed it with live instruments, so it was fairly familiar territory for us.
MD: You might have even taught him a thing or two….
Roger: [laughs] I hope so. He mentioned that he wanted to move away from just hip-hop and start producing some more rock bands. I know for a fact that he'd love to work with Coldplay.
We're always trying to move forward. We always like to push the boundaries a bit; we don't like to get stuck where we were. The last album, Astronaut, was all about the five original band members getting back together again, and the album had to kind of represent that original five. But we've moved into a more experimental area, and I think the new album had to be very different from Astronaut. And if you listen to Justin Timberlake and Nellie Furtado's last CD, they were kind of moving into a new wave area, with a contemporary edge to it. I think that's another thing that was very attractive to us: We could feel that moving more into our direction. It was a perfect combination really.
MD: I like how you incorporated all this live.
Roger: Thank you, that means a lot coming from another drummer. Drum-wise, it's a mixture of programmed drums, with a V-Drum kit, and quite a bit of organic drums.
I have my Tama acoustic kit set up in front of me, and I'll play some of the songs very organically on that "real" kit, but I've also got my V-Drum kit to my left, which is a full TD-20 setup. I also took samples from the album and put them into a Roland sampler, and I'll trigger them. So I'm actually playing the original samples from the album. I'm also experimenting with using triggers on my acoustic kit. Advertisement
MD: That's similar to what you've done in the past with the Simmons pads.
Roger: Yes, but I've moved a step further by actually playing a whole kit rather than just pads. I've always combined electronics into my kit. This is the first time I've got a full sit-down electronic kit that triggers samples. There's a whole box of tricks going on there.
And I've always played to a click on stage. Nick is always running sequences, and I've always had to keep in time with what he's doing. So I'm fairly comfortable with that live. And it's very relaxing sometimes; you don't have to worry about tempo, you can just get dig into the groove, you know you're always going to be on exactly the right tempo. I like playing to a click.
MD: How do you prefer to record your tracks?
Roger: Initially we'll jam as a band, get all the changes and the structure of the song, and then I'll record my parts when no one else is around. I've found that everyone has an opinion. "Hey why don't you try this" or "just do that on the hi-hat" or "hit that cymbal…." [laughs] So I like it to be nice and quiet with just me and the producer or engineer. I like to figure it out myself. Advertisement
MD: Did you have your hands in any of the programming, or did you leave that all up to the programmers?
Roger: They had an amazing programmer, Nate Hills, and that's his bag, so we worked what we do around what he was doing. Nate would be in the control room firing off these beats from his MC-5000, and we'd be in the studio just kind of jamming the songs. And then the song would be put down to the programming. Then we'd add bits and pieces afterwards and just try to combine everything together. It's a whole new way of doing it.
MD: It's the modern-technology way—some people love it, some people hate it—but it's cool that you're combining both.
Roger: Yes! If you think about the way records are made these days, it's very different from how we were making them twenty years ago. Today we'll usually go with Pro Tools, play a few bars of a song, get it chopped up, and it's regurgitated as a drum track. Whereas back in the day, you'd go in there with a drummer and even if the track was ten minutes long, you'd have to play the whole thing. If you messed up right at the end, you'd have to do it all over again. We even used to record our 12″ dance versions live. There'd be like ten-, twelve-minute versions.
I'm a big fan of dance music, actually, and I think that's because it all emanates from the beat. You go to a club and it's all about the sound of the bass drum and the hi-hat—when the hi-hat comes in, the changes in its pattern. That's where it all emanates from. Advertisement
MD: Were any of the earlier Duran Duran tracks written around the drums?
Roger: Quite a lot of it was written around the drums. "Hungry Like The Wolf" and "Wild Boys," came from something Nick and I were doing together. I'd play him the chorus groove on the toms, [sings] and the song would kind of be written around that. I think it was quite an important part of our sound. In the '80s drums were a huge part of everyone's sound. There are a lot of great drums around that era. I heard Phil Collins' "In The Air Tonight" on the radio today, and that must be one of the most recognizable fills. You could play that fill for anybody, and they could tell you what song it's from.
MD: And they'll air drum that fill every single time.
Roger: Exactly! So that's quite an achievement for a drummer.
MD: I remember the Power Station song "Some Like It Hot" having that effect.
Roger: Power Station was a great group—actually, I've got a funny story about that song. John and Andy went off to do that Power Station record, and John calls me up and says, "We want you to come do something on one of the tracks." He said, "We'll fly you over on the Concord, we'll put you up in a hotel." So I get flown to New York City, and I'm staying in some amazing hotel in a beautiful suite. I'm there for four or five days, but I still haven't heard from anyone. So I called and I spoke to Bernard Edwards—he produced the record—and he says, "Yeah, we'll be ready for you tomorrow." The next day comes, still no call. A day later, still no call. Finally, a week later, they ring me up: "Okay, come over to the studio now." So I went off to the studio and they put up the track "Some Like It Hot" and said, "We want you to get your Octobans out and play on this track." So I got the Octobans out and did that part on the chorus—it's gated Octobans, basically. That takes me maybe ten minutes, and they say, "Yeah, that's it. You're done." [laughs] So I was flown into New York on the Concord, stayed at the Carlisle Hotel for like ten days, all to do this ten-minute piece. That was the '80s for you.
But [Power Station drummer] Tony Thompson was a very big influence on me. Tony is sadly missed. His playing on all those early Chic records and everything that Nile Rodgers produced was just great. Tony has some of the most recognizable drum tracks in the history of drumming, like "Addicted To Love" by Robert Palmer. I think that's what makes a great drum track. Tony was of that. "Upside Down" by Diana Ross is another. We hung out with Tony and Nile and Bernard through the early '80s. They were like gods to us—huge influences. When we came to New York and met them, they taught us so much about playing and production. Advertisement
MD: Nile Rodgers produced Duran Duran's Notorious.
Roger: Yes, that came later on with Steve Ferrone. I'd left the band at that point. Steve is an amazing drummer. He's made some fantastic records with Duran. He has that beautiful slinky hi-hat, and plays so powerfully, but also really delicately in the way that he tickles those hi-hats.
MD: Speaking of the drummers in Duran, Sterling Campbell was in the band for a two-year period.
Roger: Yes, that's right. I was impressed—he's also very good. He's playing with Bowie now, isn't he?
MD: Yes, and he's been back with the B-52's. Also, when I saw Duran Duran a few years back, Joe Travis was playing.
Roger: Yeah…Duran had some great drummers in the intervening years.
MD: When you were on break from the band, did you play your drums, or was it, "I've had enough"?
Roger: I always had a kit set up. It was still very much part of my life. I'd jam with people, and I had a little bit of a band going at one point. But the fame and the celebrity of Duran Duran kind of overtook the music. I joined the band because I wanted to be a musician, but by the end of 1985 it was all about being a celebrity, and it just got to a point where I didn't want to be involved anymore. It was supposed to be a short break, but it ended up being some years. But it was great to come back to the band with maturity, and I think our audience is more appreciative of the music now. We used to go onstage and you couldn't hear yourself play. Unless you were there, it's hard to explain how loud our audience was.
MD: I remember when the band was recording at The Power Station studio here in New York City, and it was chaos. I'd be at a sessions in a different room at the time, and there were people camped outside in the street, waiting to see the band. Advertisement
Roger: Yeah, and it was like that everywhere. It was like that outside our houses. We had people camping outside our front door. It was ridiculous. It got to where it was very difficult to live a normal life.
MD: How did it feel when you came back together after all those years?
Roger: It was really cool to make something work again. We hadn't really hung out with each other for almost fifteen years, and to go back into our past and kind of reignite has been fantastic. And for it to work well with my colleagues has made the past few years incredible.
MD: Has your playing changed over the years? Do you find that things that were more difficult back then are easier now?
Roger: I think I've loosened up. I used to be kind of tight in my playing, and I can hear that as I've matured, I've loosened up a lot. I would like to think I've definitely improved tenfold since I was first in the band. [laughs] Advertisement
MD: Can you offer any practice tips?
Roger: I don't really practice that much now on my own, because we spend so much time rehearsing and playing as a band. But when I was growing up I'd play along with various records, which I found was the best practice. I think you learn to be part of a song by playing with records. You learn to serve the song. I think if you just sit there practicing and practicing on your own, you're going to get great technically, but when you play with a band, it's a completely different thing. So that would be my advice: Listen to all your favorite records and just jam along to them.
MD: Any tips on working with a bass player?
Roger: Give them space and room to breathe. John is quite a busy bass player who grew up on all these funky disco grooves. There's a lot going on there, so I give him space. You get so many drummers that just don't listen. They're doing their thing—rolls or whatever—and they don't listen to what the bass player is really doing. You've got to learn how they play and to anticipate what their next lick's going to be.
MD: Besides Tony Thompson, who else were some of your influences?
Roger: Charlie Watts. I saw the Stones last year at Twickenham, after not seeing them for some time. Charlie just rocked the place, he was fantastic. He had this great organic snare sound. It's great to see that he's still doing it. Another influence is John Bonham, of course. You listen to those records even now, and he was absolutely the best. I think some of the greatest drummers are not the most technical players in the world—like Ringo Starr. But Ringo was doing exactly what was required for The Beatles. I think I've always gone more towards the kind of drummers who were doing that type of playing—more song-oriented players. Advertisement
MD: What was the Twelve Drummers Drumming project in 2002 all about?
Roger: That was a Christmas card for a UK charity [The National Society For The Prevention Of Cruelty To Children] that was going to include all these famous drummers photographed together. The funny thing was, I had never met Roger Taylor from Queen. We're on the same record company, we've got the same name, but we never crossed paths. So I thought, I'm going to finally get to meet Roger Taylor from Queen! So I turn up at the studio and there are a few of the other drummers there, but no Roger" And they say, "Oh, he's coming next week. We're going to shoot everyone separately and join them up in the photograph afterwards." So I never got to meet him back then. But I went to see The Red Hot Chili Peppers at Hyde Park a couple of years ago, and I finally did get to meet him there. Speaking of, that's another incredible drummer—Chad Smith. I think he is probably one of the best drummers today. I also caught Ringo's son Zak [Starkey] playing with The Who. Wow! I didn't realize he was so good. He had this really good style about him—fantastic player. I also went to see Abe Laboriel Jr. in LA recently playing with his father. There were like thirty people in this tiny club in LA. He's the true meaning of the word "awesome." I was sitting about ten feet away from him, and it was something to behold. His dad is a great bass player as well.
MD: Let's talk about gear. What are you using in addition to the V-Drums and Tama kit?
Roger: Zildjian cymbals, Pro-Mark sticks, and Aquarian heads.
MD: How about tuning? Any thoughts?
Roger: Tuning is just by ear for me. In the '80s it was about deadening the drums. You went in the studio and it was like, "Okay, tape them up, take all the ring out." But now I like a lot of ring, so I try not to do too much dampening and just tune to my ears. If you play for long enough you start to hear what you should be hearing. I don't have any specific methods.
MD: When did you start playing drums?
Roger: I got my first kit when I was thirteen. But I had kind of been bashing around on things for a few years before that. I saw someone playing drums on television, I can't even remember who it was, but I thought, "That's what I want to do." I saved up all my pocket money over the next couple years and finally got my first kit. Advertisement
MD: And obviously your parents were supportive, because, as drummers, we all know you need supportive parents.
Roger: Oh yeah, and you need supportive neighbors as well. [laughs] And I had very good neighbors. I used to come home from school every day at 4:00 and practice until 6:00, before my dad got home from work. Years later, those neighbors came to a show and told me they used to take all the pictures off the wall in their sitting room, because when I'd start to play they'd all fall off. [laughs] Bless them.
There are currently in excess of 100,000 pages dedicated to Duran Duran online, including their official Web site, www.duranduran.com.