Liberty DeVitto Checking In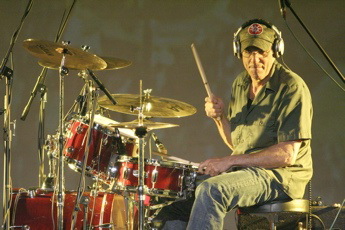 Life is different when you're playing with a famous act: You're sheltered from the fans. One of my favorite things about doing drum clinics is that I get to meet, talk, and share time with some of the people who were in the "nose bleed" seats. I find it interesting to get their perspective on the show and how they interpret a drum part that I recorded.
Working with Mapex drums, Sabian cymbals, Pro-Mark drumsticks, and Evans heads has provided me the vehicle with which to travel the world and meet and play with some of the greatest musicians on the planet. Earlier this year I was in Chile. (Check out www.myspace.com/libertydevitto to see where I jammed with some musicians from Concepcion.) I also get great enjoyment musically guiding kids through my work with Camp Jam (www.campjam.com) and Little Kids Rock (www.littlekidsrock.org).
Recently I co-wrote the song "Money In A Card (On This Christmas Day)," which was recorded by the kids from Camp Jam known as The Camp Jam All Stars. The proceeds from the recording go to benefit Little Kids Rock. The song can be downloaded from iTunes. Advertisement
This year I also received a Career Achievement Award for my work with Billy Joel and others, and also a Music Education Award for my work with the Camp Jam All Stars, presented by the Hollywood F.A.M.E. Awards held at the Whisky A Go Go in California.
Some of my recent recordings include albums by Flynsolo (www.myspace.com/flynsolo), Doug Scofield (www.myspace.com/dougscofield), Sean Kennedy (www.myspace.com/seankennedy), and Nick Harrison (www.myspace.com/nickharrison). I also play live with different bands, including The Rock And Roll Hall Of Fame house band and NYC's Hit Squad.
I've presented drum clinics in England, Australia, China, New Zealand (where they have the annual Liberty DeVitto drum competition), Chile, Canada, and the United States. My message is always the same: "It's not what you play, but how you play it!" If you're not having fun, there's something wrong. Advertisement
Have a happy holiday, and remember, if you ever see me, please stop and say hello. That's how you learn.
Cheers,
Liberty