Antonio Chiappetta of King Farook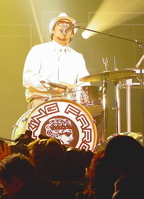 Hey, MD readers. This is my first blog, and my first opportunity to say hello and introduce myself. King Farook is my band, and we're based in Sydney and tour Australia extensively. I've been playing and working on music for many years, and I feel I have a reached a point where I've honed my unique craft, which has now become my instrument (drums, rapping, and vocals).
I've played a lot of drums–big, small–but my kit over the past few years has been nothing more than kick, snare, hats, and sometimes a crash, depending on how many stairs are involved in the load-in. Less has become my more, yet I never seem to run out of things to do on the drums. Losing my toms and other distractions were the best thing for my kit playing.
King Farook is my ideal project for showing off my playing style. And since I'm one of the main vocalists and songwriters in the group, the drums are front and center. This gives me the perfect opportunity to communicate freely with the crowd and the band. I think it also adds a different energy level to the performance. I play rowdy hip-hop grooves, metal and rock beats, disco-infused funk patterns, and drum 'n' bass breaks, and I scream, yell, sing, rap, and generally lose all inhibitions to get the crowd where they need to be. Our audience also has to endure another four members who are throwing down the same gauntlet. We've been really hitting it hard recently, shows have been big, reactions have been great, and things are constantly on the up and up with performances that never seem to stop turning heads. Advertisement
We had a launch for our new single two weeks ago in Sydney, and had some guests show up, including the amazing John Blackwell and the rest of the Justin Timberlake Band. Not only was it an action-packed two-hour show, but punters were treated to an extended encore performance with John Blackwell on my drums–and I'll tell you he laid some bricks! Thankfully, along with Justin's band came the kind reps from Tama, who, based upon John's reaction (and some of my own brick-laying skills), have hooked me up with a full endorsement, for which I am super grateful.
We have a couple of weeks before we hit our major tour for the year, which sees us playing with De La Soul at some big festivals and headlining our own massive shows. We have a heavy schedule next year, including touring our debut album, Land Of The Horny, overseas, with plans to record the next installment in the USA late next year. Check out our music at www.myspace.com/kingfarook, and if you're based in Australia, you'll be able to catch us touring our single "Zabbadouai (Back In The Day)" over the next few months. Everyone else can catch the video clip and some live clips on YouTube and at our myspace page.
Keep ya head up, King Farook coming to you soon. Stay safe over the holidays. It was a pleasure popping my blog cherry with Modern Drummer!
Antonio Chiappetta