Jojo Mayer: Revealing the Secret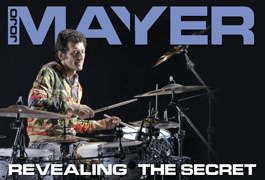 by Ken Micallef
"Proving to the world that I can play drums really well is not a priority. I'm trying to create art that touches normal people."
For years, Jojo Mayer has been regarded as a drumming shaman, a man of mystery, a technical guru existing on the outer reaches of traditional drumming logic. Perhaps best known for his work with Screaming Headless Torsos, Lunar Crush, and as a member of the Prohibited Beatz clique, which existed in New York between 1994 and 2001, Mayer is a drum 'n' bass pioneer who seemingly performs beyond ordinary drumming boundaries. He perfected a one-handed roll. He altered the sonic landscape of the drumset by adapting it for the tones and textures of electronic music. He helped develop Sabian's Fierce series of cymbals. He played man-machine drums like some whirling dervish on a magic carpet ride.
Mayer has remained busy since his Prohibited Beatz heyday, regularly gigging with his band, Nerve, and with European jazz trio Depart, and producing various rock and pop projects including his own group, Strange Balls Of Fire. He is a highly regarded Sabian clinician as well. But his reputation will forever be aligned with a new, groundbreaking instructional DVD, Secret Weapons For The Modern Drummer (Hudson). Subtitled A Guide To Hand Technique, Mayer's debut DVD may be seen by future drumming generations as the Rosetta Stone of drum knowledge. An amateur magician as well as a technical and textural drumming wiz, Mayer imbues Secret Weapons with ancient techniques and personal innovations that result in viewer revelations.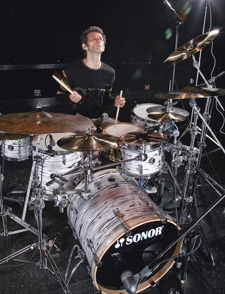 Just consider the chapter headings: "The Gladstone Technique," "Max. Control While Min. Influence Theory," "Thumb Technique In Traditional Grip," "Valving Technique," "How Fast Can You Hear?," "Flam Rudiment Analysis And Performance." To this litany of technical terms Mayer adds an in-depth study of the mystical Moeller technique and some of the best DVD production you're likely to ever see. Advertisement
On top of his mind-blowing technique, Mayer shows a serious gift for humor on his DVD, mugging for the camera while playing his drums in a variety of Manhattan locations. This is no dry, by-the-numbers production, but rather a journey through one drummer's search for the ultimate answers. Mayer illustrates the mechanics of the one-handed roll, how to play blazing fast singles on everything from a slip of paper to a pepperoni pizza, ultimate strengthening exercises–far too much to outline in a single magazine article.
Jojo was born in Zurich, Switzerland. His father was a successful bassist who held down a house gig at the influential Parisian Tabu club, before hitting the road in the early 1970s. Jojo played drums from the age of two, and was soon sitting in at Tabu with such jazz greats as Dizzy Gillespie, Milt Buckner, Eddie Lockjaw Davis, and Sal Nistico. By the time he was seventeen, he was working with jazz pianist Monty Alexander, which led to gigs throughout Europe. After moving to New York in the late '80s, Mayer practically created the city's nascent live electronic music scene, playing at now defunct clubs like Izzy Bar and Siné.
Currently Jojo is overseeing the release of Nerve's new record, appropriately titled Prohibited Beats, and making plans to record a follow-up to Depart's new effort, Reloaded. When not drumming, he also produces German TV commercials and Deutschland vocalist Sandra Klinghammer. It's not an easy workload, when you divide your time (and your clothes) between Zurich, Vienna, and New York. Advertisement
Modern Drummer spoke with Jojo Mayer at the 50th-floor penthouse of the UN ambassador from Liechtenstein. Why is this not a surprise?
MD: You're an experienced DJ and programmer. How has that made you a better drummer?
Jojo: I don't know if it made me better, but it made me a different drummer. I shifted my paradigm. Electronic music programming has made me realize that over the past twenty years it's not drummers who are the engineers of modern beat culture. It's the producers and engineers. Timbaland and guys like that are building the skeleton for popular music, not the drummers. It's not like Ringo or Cobham or Gadd or Bonham, who played a certain way and people followed that. It's programming.
How can I be close to the lions of jazz, close to those guys who inspired me to love this music, whether it's Zutty Singleton or Max Roach or Buddy or Tony Williams? Certainly not by trying to augment what they did. It's over. To take Vinnie Colaiuta, for example, and what he does, or did, and try to make it even more complex, is retarded.
MD: Isn't Vinnie the culmination or the end of a certain cycle of drumming?
Jojo: There is never an end. But to say, "I can make this even more complicated than Vinnie so not even drummers can understand it….," Vinnie has a purpose and it touches you.
So what is necessary today? With all the machine-generated stuff, what better way to confront people artistically than to play something usually played by a machine? Proving to the world that I can play drums really well is not a priority. I'm trying to create art that touches normal people. When you hit a drum you connect to thirty thousand years of human history. That's not eradicated by digital technology. [DJ-ing] let me hear the drums more as a musical and textural instrument, rather than a statistical instrument. Advertisement
Drums are statistical, but also very archaic. Of course, you can play odd meters on each limb–you just have to practice. But can that change the world, and someone's life? Can you make them understand something? That's the job of the artist. [DJ-ing] made me understand that rudiments are helpful, but I don't think that you need to know the rudiments. Drumming is not a religion, it's not the bible. It's freedom, thinking and finding your own solutions.
Programming made me a more authentic drummer and less of a peer of the guy who I admired. I owe Tony Williams very much, but right now I can do something that passes on the legacy. Mahler said, "Don't pray to the ashes, pass on the fire."
Read the rest of the interview with Jojo in the January 2008 issue of Modern Drummer.