Robin Russell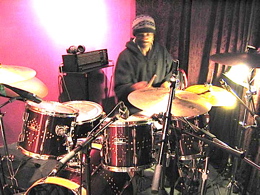 Greetings, everyone! It's been well over a year since my last submission to the MD blog, and it's good to be back. My all-drum CD Drum Beats (available @ cdbaby.com/robinrussell) has been selling well, and I am in the process of producing another all-drum CD. It's amazing and a very good feeling to see the sales coming in from all over the world. To all those who have made a purchase, thank you, I deeply appreciate you.
I continue to partake in my outdoor drumming sessions in the mountains of Los Angeles' Griffith Park, and just can't get enough of it. This past May 8 I was out at the Griffith Park woodshed and lived through the frightening experience of being caught in the middle of a huge brush fire. On that day I began to smell smoke, and then I saw ashes floating in the sky. I got up from drums, stepped from the under the oak tree, and saw a smoldering cloud of orange/black smoke coming my way. Moments later, the park ranger pulled up and advised me to leave immediately. At that point it was pretty scary. The fiery cloud was rapidly advancing towards me, and I realized that I might have to high-tail it out of there and leave my equipment to the mercy of this raging inferno. With a few blessings from above, a morsel of shelter from Mother Nature, and a smidgen of sanctuary from Father Time, I made it out, drums and all. The area was closed for three months after the fire, and I had a pretty hard time dealing with the closure. All is well now, and the area has reopened.
Playing solo gigs, teaching privately, doing some local gigs, and recording sessions here and there still occupies a portion of my time, and many of the mainstream rappers and hip-hoppers still continue to sample my drum tracks. I was recently contacted by a gentlemen name Greg Rodgers, who is very supportive of some the albums and drum tracks that I laid with New Birth back in the 1970s, in particular "Got To Get A Knutt" from the Birthday album. Greg is the percussion coordinator for the one-and-only almighty Washington Redskins Marching Band. The truth is, I am equally impressed by what Greg and the Skins organization is all about. They're on a mission, they're positive role models, and they are all champions. Advertisement
Many of us have heard and seen the Skins' percussion section in action. These guys know how to take care of business when it comes to the art of marching band drumming, and I recently discovered that there are only two professional football teams with a marching band–the Washington Redskins and the Baltimore Ravens. To me, listening to and watching a marching band like the Skins' is like taking a good dose of medicine. When they rattle off the rudiments with all that explosive/dynamic precision and rhythmic harmony, it's an exciting, entertaining, fun, and festive experience that will lift every spirit within the realm of its earthshaking rumble. By means of the fancy footwork and extravagant theatrics, the visual aspect of their performance can be just as entertaining as the musical side. To the Washington Redskins Marching Band, and all the other marching bands across the country and abroad, keep up the good work. You are of a special breed.
Thanks for your time.
Robin Russell
For more on Robin Russell, go to home.earthlink.net/~rrussell007/.