Peter Wilkinson of The Saints
Looking For New England: Confessions Of A Drummer On The Road With The Saints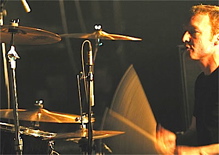 Greetings, tub-thumpers. The good people at Modern Drummer magazine have asked me to write a few words about our upcoming tour of the East Coast and Texas.
Apart from the odd string of dates dotted over the last couple of years, it's been too long since The Saints toured the US. But having just limbered up from dates in Greece, we are ready to kick off in Cleveland this Thursday night.
Working our way East from there, we arrive back in New York City for two shows on October 31, including a special appearance at Little Steven's Underground Garage Presents Halloween A Go-Go, at the Hawaiian Tropic Zone in Times Square. Advertisement
Along the way we will be promoting our new record, Imperious Delirium, on Wildflower Records. The album was recorded in Amsterdam, where the band is currently based.
Fans of early Saints material should find something to smile about with the new record. Chris Bailey is in as fine a voice as ever and has grabbed his recent lead guitar role with both hands. Caspar Wijnberg is holding it all down firmly on bass while yours truly, as I know you know, is doing all the real work from the back!
For those of you who might make it to any of the shows, expect some real back-to-basics rock 'n' roll along with some carefully chosen material from the rich catalog that Chris has produced over the years since Stranded first leapt off the turntable.
I'll be checking in again at the end of the tour to give you all the sordid details of our trip through the big country. In the meantime, peace and love from The Saints—and keep on bangin' on. Advertisement
Peter