Drummers, Feature Stories, Update
Ozomatli
Mario Calire, Jiro Yamaguchi, Justin "El Nino" Poree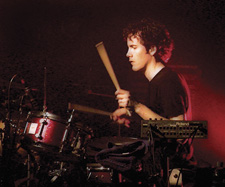 Ozomatli, the nine-piece multi-cultural LA rap-rock band that features a drummer and two percussionists, recently released, Don't Mess With The Dragon, about which percussionist Jiro Yamaguchi proudly says, "I think it's some of our best work yet. This is our fourth album, and when we recorded our first record, we'd been playing the music for almost two years, so it was very easy to make. With our second record, we didn't have as much time to write and create the songs, so it was more of a challenge. Now jump to the fourth record, and we've had a lot of experience in the studio, and we've grown as musicians.
"We've traveled to a lot of different places," Jiro continues, "and we've experienced music from all over the world–Cuba, Turkey, India, Nepal, as well as the United States, Mexico, and Europe–so we've met a lot of musicians along the way and there are a lot of influences in this band. Everyone comes from a different background in the group. We all have a lot of diversity on our iPods. I like this record because there are a lot of different things."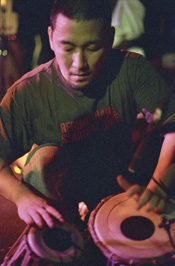 Drummer Mario Calire, who left The Wallflowers in 2003 after seven and a half years, says that each bandmember in Ozomatli has his own place in the music. "We don't step on each others' toes, which would be easy to do. I think I facilitate that by picking my spots and the rest of the time just being really supportive and playing what's essential without being boring. It's really about finding a balance of what energy is needed and how you can transmit the most amount of energy with the least amount of notes.
"Jiro is the jack of all trades," Calire continues, "because he can play the Indian percussion and timbales and congas. He doesn't tend to solo on the Latin percussion; his specialty is more the Indian or Eastern percussion. Justin is more of the soloist on Latin percussion."
Says Justin "El Nino" Poree, "Our band is rhythmically oriented, and for me, it's always been very open. Whatever I want to bring to the table, I can. I do a lot of production in terms of sequencing, and I also bring a Latin flavor–I play timbales, congas, and a lot of different instruments from around the world–so I try to bring that to the band. Oh, and I rap, too."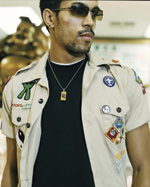 Calire is clearly happy to be playing with the band, citing as some of his favorite tunes "Magnolia Soul," their homage to New Orleans with its second-line section, and "After Party," a funk and soul song. "For a drummer, this band is a lot of fun," he suggests, "because there are a lot of different feels and grooves in the catalog. We touch on many styles and there are many influences on what we do, so it's easy to stay interested in what you're doing.
"The drums are really integral to what we're doing, and they're very foundational to what everyone else does," Mario continues. "I use some of the skills I learned playing pop-rock, which is to keep it simple, and then I get to fuse that with all the other styles I've been interested in. I think I've found a happy balance of supporting what everyone else is doing and still getting to be really active."
Robyn Flans