Drummer Blog: Billy Atwell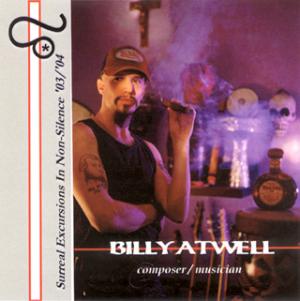 Hey MD community! Billy Atwell here checking in from scenic NJ at the hub of NYC. I'm happy to have been asked to contribute to the MD blog page. There's some great drummers with great stories and advice here, that's for sure. Hopefully you'll get some use out of my first platform.
If there is one thing I feel pretty confident discussing, it's the concept of adaptability. In terms of drum history I went from being a tri-tom field drummer in high school to playing a Brufordesque Simmons kit in a prog-core quartet Jello Biafra called "the 'Rush' of hardcore." Wasting all those formative years of drum corps on playing odd-time, hyper-kinetic, left-wing punk rock seemed like the only hope for me. It was also a distinctly West Virginian experience, but I digress.
From there I freelanced doing everything from reggae gigs in RI to playing country in questionable west TX/NM bars. Landing in NYC in '91, I played in a plethora of Lower East Side bands and went so far as to play in Gospel-inspired musicals off Broadway (i.e., the 2000 revival of Stephen Schwartz's Godspell). I even got to tour Eastern Europe a few times. On one tour I flew out of a town in Norway called Hell to play above the Arctic Circle. "Welcome to Hell. Have a nice flight!" Advertisement
While the drumming served as a great vehicle for gaining experience and networking, I had also been honing my multi-instrumentalist skills stemming from years of guitar playing. Now, why my infatuation with KISS and Gene Simmons got me started on guitar rather than bass is beyond me. Concurrently the only logical prospect of my want to rock and roll all night and party every day in the elementary school band program was drums. Let's hear it for Peter Criss!
Anyhow, the residual comprehension of chords and melodic theory from the 6-string landed me opportunities to score student and independent films and even debut a remix project at Lincoln Center through the Juilliard School's dance department. It's one thing to see a bunch of peroxide blonds flailing front row at a cover gig. It's another to see an ocean of testosterone moshing and stage diving like sharks in a feeding frenzy from the drum riser at CBGB's. But with all rhythm-based excursions I've done, there are none that compare to witnessing modern dance and choreography on that scale. If you really want to see what the human form can do to sound, get into THAT scene. Mind-blowing.
Again, "adaptability."
Subsequently the curse or gift of hearing The Big Picture (and having a reasonable amount of facility to pull it off) encouraged me to hone my recording skills towards my present flagship: AMP Audio of Hoboken, NJ. It is there that I find challenges working one-on-one with singer/songwriters. What with the advent of sampling, loops, and programming, the budgets for drummers has been going downhill—FAST. Every day studios are downsizing or locking their doors. Every day someone is hyping on craigslist that they've got skillz and beetz and all sorts of sample-based produce to sell. Sony Studios closing to become office real estate really redefines the term "death knell," eh? Better learn to adapt, kid! Advertisement
Regarding the "live" drummer/loop argument, it's simply a creative choice, like orchestrating clarinet versus tuba. Apples and oranges. Music has changed, and finding the right sound is the real adventure, at least to me. I have had an ally with sound and zero loyalty to any particular instrument. I'm not even a purist about what the mic' brings into the computer. Once it's digital I'll pet the proverbial cat backwards if that's what the song needs.
Clearly this is no excuse to let my buzz rolls and double-stroke combinations go to hell in a hand basket. I still play every weekend with a fat and happy cover band up and down the East Coast. Gotta maintain. Yet globally I've always wanted a career applying my creativity towards music. To some extent it may be blasphemy that I work under similar dynamics programming drum beats or creating time without miking up the kit and having a go at it. I befriended my Boss drum machines years back, and they've served me well. I am taking advantage of compromised real estate (i.e., an 8′ x 12′ room and a spare bedroom) to create recordings that hold their own. Some of my clients have never even seen me hold a drumstick.
"Drummer"? For life.
"Music producer and film composer"? Most certainly.
"Adaptability."
Word.
BAIII
For more on Billy Atwell and his various projects, go to www.billyatwell.com, www.ampaudio.net, or www.cdbaby.com/cd/billyatwell.