Justin Hanson from So They Say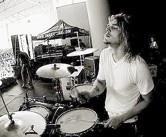 Hey, MD readers, I'm Justin Hanson, and I play drums for So They Say. We're an alternative rock band based out of St. Louis, Missouri. We got together 2004 while I was still in high school, and we started touring in 2005 while also releasing an E.P. on Fearless. We ended up working with Matt Squire on our first record, Antidote For Irony, which was released in 2006. Now we're about to release our second record, Life In Surveillance. This time we worked with Matt Hyde, and we made a record that we're really proud of.
Recording Life In Surveillance was a great opportunity to play more of what I enjoy as an artist and drummer. Matt has such great ideas, and my drum selection this time around was just outrageous. My friend Dave Gersch came in and hooked me up with a Tama Bell Brass snare, a 1930s vintage Ludwig, and a Ludwig Black Beauty. We worked with a cool vintage Ludwig bass drum as well. Overall it was a real fun experience.
As a drummer I feel strongly that when you're writing a record, it's important to try to serve the song while stylistically defining yourself. Some of my favorite drummers are John Bonham, Danny Carey, Josh Freese, Abe Cunningham, and Billy Cobham. Listening to those guys' records and watching them play live definitely helped shape me as a player. I love being able to create music and record albums and tour on them. I've wanted to do it my whole life, and I feel really fortunate to be able to go out and rock. So come out and catch a show! Advertisement
For more on Justin and So They Say, go to www.myspace.com/sotheysay.