Bill Bruford: Our Prog Forefather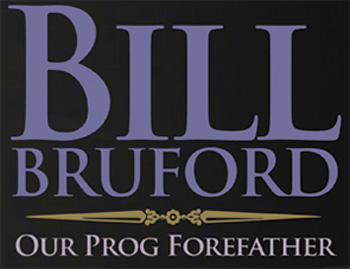 by Ken Micallef
Progressive rock's evolution from its nascent days in London's university halls and local clubs to stadium-filling global phenomenon has its roots in the tumultuous melting pot of 1960s rock and psychedelia. Upon the release of The Beatles' groundbreaking 1967 epic, Sgt. Pepper's Lonely Heart's Club Band, groups like Soft Machine and Pink Floyd, followed later by Yes, King Crimson, Jethro Tull, Genesis, and Emerson, Lake & Palmer, realized that anything was possible.
This spirit of discovery and instrumental exploration spread throughout Europe, resulting in progressive bands of every stripe: Magma (France), Focus (Holland), Premiata Forneria Marconi (PFM, Italy), Can, Jane, and Eloy (Germany), and back to England (Camel, Caravan, National Health, Gentle Giant, Hatfield And The North). Though decidedly British in origin, progressive rock fanned the flaming ears of adventurous listeners the world over.
Thirty years past the genre's supposed "golden era," progressive rock continues to be "the most unloved but most popular music known to mankind," says none other than Bill Bruford, whose performances on Yes's Fragile and Close To The Edge and multiple King Crimson records qualify him as an elder guru of the genre. Advertisement
"Prog rock is extremely popular, but nobody likes it," Bruford explains from his home northwest of London. "A lot of the guys who grew up with it are now in positions of power at magazines and radio stations. They loved it. And though it is intensely unfashionable, these things always revert. Right now you can take university degree courses in progressive rock."
And as the reissue machine rolls out umpteen titles featuring Bruford (including CD and DVD releases from Genesis, Earthworks, and his own Bruford band), as well as seemingly endless vault material from every prog rock band to ever record (including ELP's Pictures At An Exhibition and Trilogy, and The Collectible King Crimson Volume Two: Live In Bath, 1981 & Live In Philadelphia 1982), one has to wonder where and how did the music begin? How did this mutt of rock, classical, and avant-garde get a foothold in a world previously ruled by heavy blues bashers like Black Sabbath and Cream?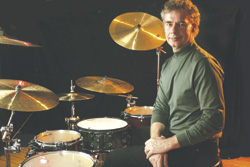 "If you say to people that rock music is made up of three chords," Bruford ponders, "there will always be guys, especially in the UK, who say, 'What if we added a fourth chord and put it into 5/4?' Those people fell into something called progressive rock. The British working class guys who assumed that rock 'n' roll was their property got very pissed off at these art school guys who brought in all the nuts and bolts of progressive rock and added classical music, vocal harmony, poetry, and art. The Black Sabbaths of the world were very pissed off, and then the punks came and trashed it. I was fortunate enough to grow up in an era where everything went on. It was great. People even cared what the drummer thought!" Advertisement
Before Virgil Donati and Simon Philips, before Neil Peart, Marco Minnemann, and Thomas Lang, Bill Bruford was innovating at the first flash of prog's big bang. Currently resting up between tours with Earthworks and the Borstlap/Bruford duo, Bill recalls prog's early years as ones of exhilarating possibility, and not a little confusion and chaos. Who better to interrogate about the history of prog rock: its meanings, its methods, and its possible future. Bill Bruford–definitely one of a kind.
MD: What sparked that original creative spark that became prog rock?
Bill: The Beatles. They broke down every barrier that ever existed. Suddenly you could do anything after The Beatles. You could write your own music, make it ninety yards long, put it in 7/4, whatever you wanted.
MD: How did that translate to the musicianship of yourself and someone like [Yes bassist] Chris Squire?
Bill: We took our time writing and studying music, and we wanted to get better at it. We thought we were electric symphony musicians. We wanted to make extraordinary confections of music. We were part Beach Boys, part Leonard Bernstein, part Sibelius. Advertisement
MD: That was a decidedly British way of looking at things.
Bill: It was entirely a United Kingdom phenomenon. And also a white southeastern United Kingdom idea associated with middle class guys.
MD: What was prog rock's contribution to music in general?
Bill: It had a prime era from '68 to '75. Maybe prog rock's contribution was to get us all to redefine what rock 'n' roll is. The incoming punks thought they knew what rock 'n' roll was–three chords, only louder and faster.
MD: I bet it also changed production values.
Bill: Prior to progressive rock was the birth of the stereophonic album, where you could record a whole side of music for twenty minutes. That had to be in place for prog to happen. Stereo production values, 24-track recording techniques, tape editing: This all became the order of the day. All the new keyboards and synths as well–it was a huge technological change. And the music was crying out to use all that stuff.
MD: [Yes keyboardist] Rick Wakeman was a Royal Academy trained musician. Did that raise the bar of everyone in Yes?
Bill: Absolutely. Suddenly you had a guy who could make all kind of modulation tricks and fancy harmony stuff, which made things sound much better. We were no longer an amateur band. [Yes vocalist] Jon Anderson surrounded himself with technicians who knew how to make something out of those melodies he invented. Advertisement
MD: What big changes did prog bring to drumming?
Bill: It raised the bar. The drummer had to become not so much an improviser, but certainly an orchestrator of rhythm parts. There would be a whole measure of silence, then activity, some snare drum stuff, and it was all over the drumset. It wasn't necessarily the keeping of a steady beat from the beginning to the end of a popular song, which had hitherto been the case.
Ringo Starr's drums were beginning to color the music a bit with that gated and compressed cymbals and muted toms. We were all aware of that. When King Crimson appeared, nobody knew that "rock musicians" could play like that: playing rapid tutti passages together, or playing the same thing exactly the same but at half the dynamic volume. Nobody knew rock musicians could have that kind of technical control, so it shocked the hell out of everybody.
MD: Today we have popular drummers with incredible technique, but sometimes they don't even play in a band. In Yes, King Crimson, and later in your band Bruford, it seemed that the chops were there to serve the creative ideas behind the music. Advertisement
Bill: This is a hidden problem in the drum community. It's a kind of taboo subject. There are these over-qualified, hyper-kinetic, and hyper-athletic guys, and the nearest music they can have to accommodate this violent physical skill is thrash metal or something. That's okay, but it's as if that music has to be built around the style of the musicians. It should be the other way. You hear the music in your mind first and then you find the technique to play it.
Muir taught me that you exist to serve the music, the music does not exist to serve you. Until you can hear the music in which your drumming is applicable, why get started? Why would you acquire the fastest snare drum roll in the west for the hell of it? I'd rather read a good book.
To read the rest of this interview with Bill Bruford, pick-up the October 2007 issue of Modern Drummer.