Jason Bittner: Man or Machine?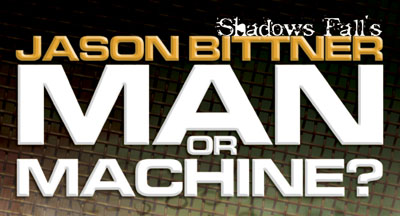 by Ken Micallef
In the wee morning hours of 2004, Jason Bittner put on his slippers, leashed the hounds, and left his Albany, New York home to pick up the latest issue of Modern Drummer. "The fans have spoken!" is what Bittner thought upon recognizing the winner of MD's Up & Coming drummer category, as voted by the readers. He had topped the poll, and, obviously, couldn't be more pleased. A year later, the fans would speak again, awarding him Best Recorded Performance and Best Metal Drummer. Jason is a humble man, and all of this attention was getting the best of him. Then, in 2006, the popular Shadows Fall drummer took the Best Metal honors again. Can you say happy as a heart attack?
"I've been fortunate to become respected in the drum community, which is really flattering," Bittner says, recalling his poll-topping status. "The readers poll is something that I hold dear. And with it comes a level of introspection, wondering just what I've done to make these kids enjoy what I do. It also adds a lot of pressure. I felt that I really had to step it up for our next album."
The answer to Jason Bittner's introspection, gratitude, and determination is Threads Of Life, the new Shadows Fall album, their major-label debut. Following such impressive efforts as The Art Of Balance, The War Within, and Fallout From The War, Shadows Fall's latest shows the nu-metal genre coming of age. The band has broadened their scope without sacrificing essential ingredients like speed, power, profundity, and some truly incredibly drumming. Advertisement
A former computer operator and left-handed drummer who plays a righty kit, Jason Bittner is living the dream. He hangs out with Charlie Benante, Mike Portnoy, and comedian Andrew "Dice" Clay. He's a busy clinician, and when he has time teaches privately to students enamored of his machine-gun, double-bass attack, two-handed ride cymbal approach, and four-stroke-ruff drum tattoos. And most importantly, he's a member of one of the fastest-rising bands in the world, Shadows Fall.
Beyond typical nu-metal essentials like "Terminator" double bass drums, alien aggression beats, and head-rattling tempos, Bittner understands the power of the pulse. His work on Threads Of Life is a lesson in metal groove, two words that once bordered on the oxymoronic. A trained drummer who studied jazz and Latin at Boston's Berklee College of Music in 1988 (and who played in jazz and marching bands in high school), Bittner brings a sense of humanity and soul to Shadows Fall's carnivorous metal mayhem, referencing his heroes–Stewart Copeland, Charlie Benante, and Gene Hoglan–to give life to music that is sometimes the antithesis of simple heartwarming sustenance. But make no mistake, Bittner still blasts.
As seen in MD's Festival 2005 DVD, Jason Bittner plays so much drums it's hard to know where to begin. His double bass drumming is revered to the point that some have claimed it's all a machine. His double-handed riding technique, along with his penchant for splash cymbals and titanic four-stroke ruffs, makes his metal palatable for prog rock and jazz lovers alike. But Bittner, a veteran whose stints with Stigmata and Burning Human have made him as much an object of affection as derision (on some Internet chat rooms), doesn't stop at playing in Shadows Fall. This year the drummer releases his first book, a hardcore CD with Burning Human, and a double drumming appearance on Mike Portnoy's new DVD, In Constant Motion. Advertisement
Speaking with Bittner from his home in Albany, New York, the thirty-something drummer is grateful to be recognized for his contributions to the art. Responding to questions while tidying up his practice space for a lesson with Andrew Dice Clay, his love of drumming and music is obvious. The vagaries of heavy metal stardom may rise and fall, but thanks to the readers of MD, Jason Bittner's head is perpetually in the clouds.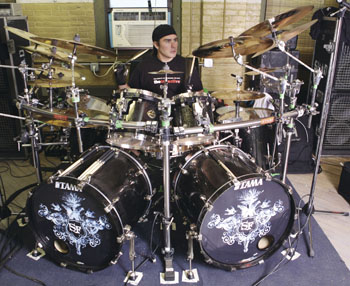 MD: The new Shadows Fall album, Threads Of Life, shows musical growth for the band, and your drumming is more fluid and in command than ever. What prompted the growth spurt on both counts?
Jason: I am very skeptical about my playing. I'm always wondering, "Is this good enough? Can I top that? Will the fans like it"? I'm constantly driving myself crazy with it. I was really confused with what I wanted to do with my drumming on this album.
The Art Of Balance [2003] got me some exposure. On The War Within I was more comfortable and the guys were writing songs tailored to my drumming. I calculated my parts to where I had the fills memorized. I played everything but the kitchen sink on Fallout From The War–that became my drum album. I played my fastest double bass yet. So I wondered, "What am I going to do to make Threads different"? Advertisement
We wanted to bring in more melody and concentrate more on the songs. It wasn't me thinking about playing faster double bass to top the last album. The fastest song is 195 bpm, which isn't my fastest. But I think my drumming is more professional. Our producer, Nick Raskulinecz [Foo Fighters, Rush, Velvet Revolver], asked me to think more about the songs, not the drum parts. And that's how I improved; I took a step back and thought, How are the drums going to sit in this song?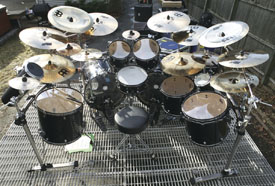 MD: You are as conversant with your hands as you are with your feet. Your "Double Bass Crash Course" (MD Festival 2005 DVD) covers all the numbers, and it's logical. But how do you direct someone to turn that into something musical and not merely an exercise?
Jason: That comes with experience, applying it to your own situation. I'm giving you the tools, but you have to explore your own musical boundaries. Everything in the Crash Course is very simple, some basic exercises that are easy to figure out. It's just repetition. When I get into the syncopated grooves, the 16th notes, and the different footings, I'm not thinking of those in a musical way, but as a dexterity exercise. Advertisement
I have to practice double bass constantly to keep my chops up. What threw me off was playing broken patterns and realizing I couldn't do them with only a right-foot lead. You have to mix the footings up. It's trial & error, and it's about developing other exercises to allow you to play double bass with more ease.
MD: You play heel-up, but your heels are closer to the ground than many drummers who use that approach. You play with the balls of your feet. As the tempo rises, do your heels go higher off the ground for more speed?
Jason: In the last couple years, my heels have come down. I still play heel up, but lately I've been working with Flo Mounier's Extreme Metal Drumming 101 DVD. He is very fast. I work on his speed exercises. Advertisement
Flo has you playing a tempo for a minute, non-stop, and you do it heel-up and then heel-down. I noticed on the slower tempos that there was a difference between how it sounded when I played each way, but when I got faster I didn't feel much of a difference. And when I play faster, I can let the pedal do the work. The power also shifts from my legs to my ankles. So my heel is pretty close to the ground most of the time.
Read the rest of the interview with Jason in the May 2007 issue of Modern Drummer available at your local music store, online, or where ever fine magazines are sold.