My Chemical Romance's Bob Bryar: The Long Road To Success

by Waleed Rashidi
As the drummer for one of the hottest acts working today, you might think that Bob Bryar is a "flash in the pan" success story. But he's had to go through a lot to get to where he is today.
For Bob Bryar, joining My Chemical Romance wasn't just a life-changing decision–it was a life-saving decision. Since signing on as the drummer of the New Jersey–based pop-punk band in 2004, Bryar has shed a remarkable one hundred and twenty pounds. A better diet, coupled with a boost in self-esteem and the calories burned with every headlining show, rehearsal, and recording session, helped the one-time three-hundred-pound tour manager and soundman get in shape not only physically, but also mentally.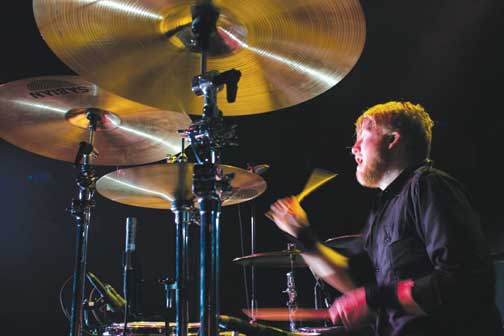 "I was kind of depressed because I wasn't doing what I wanted to do," Bryar recalls. "I was watching other drummers live out their dreams and play drums every night. Meanwhile, I was the guy behind the board making their drums sound good. So when I got into My Chemical Romance…it sounds kind of cheesy, but it gave me a sense of hope, something to look forward to, and I started to take care of myself."
Such care extended to Bryar's drumming, which is best reflected on 2006's The Black Parade, his first performance on a My Chemical Romance album. Produced by Rob Cavallo (Goo Goo Dolls, Green Day), The Black Parade finds Bryar spreading his creativity, albeit with a little self-imposed restraint. Advertisement
"The one thing I learned from this process was that the stuff I used to play–I grew up listening to my favorite drummer, Dave Weckl–I'd tend to overplay," Bryar admits. "This kind of music isn't about everybody playing as much as they can. It's about feeling from listening to it. And that's one thing I learned very quickly."
Bryar's head-of-the-class studio smarts also appear on stage, where the Chicago-based drummer consistently impresses behind his unique drumkit. "We put everything we have into every show, and we play so hard, it's like, we don't even know if we're going to play the next show," Bryar says. "We don't even think about it."
MD: You're not the original drummer for My Chemical Romance, but you've definitely put in some valuable time with the band.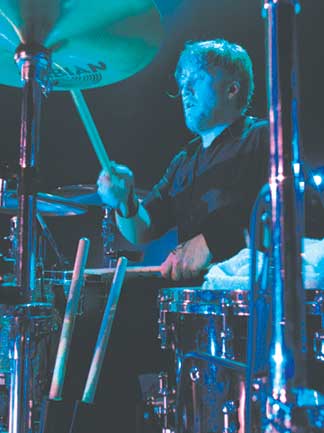 Bob: It's been about two and a half years now. The point when I came into the band was a really unsure time for them. I didn't do the previous record. I came in pretty much the day after that one was done. The band was having a lot of internal problems. Also, nobody really knew if it was going to be successful or how the public would take it. So when I came in, it was a van tour and we were playing to ten kids a night–and that happened for a few months. But then when we did the first video, things started to take off a little bit and it looked like it might work. It just grew from there. Advertisement

MD: You were originally a soundman. Where did your playing experience start?
Bob: The quick story is that I've played drums ever since I was four years old. I was really into playing jazz and orchestral percussion. I was going to go to school to study orchestral percussion, but I thought about it and it didn't seem like something I could do for the long run and still feel happy with it. So I started to join bands and play rock music. That's when I started to imitate Dave Weckl and Neil Peart. But I couldn't find a band that would drop everything and go out on tour, which is what I wanted to do. I wanted to be in a band that would write songs, buy a van, and sell everything we owned to tour the country every day of the year. And it wouldn't matter who we played with or where we played.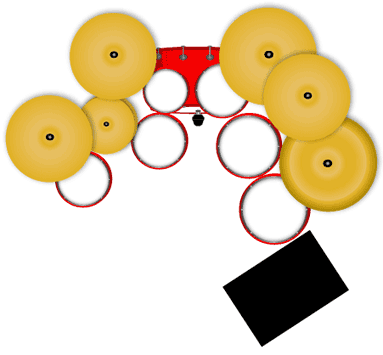 Eventually I gave up, went to school in Florida, and ended up getting my degree in recording engineering. From there I started working as the house soundman at the House Of Blues in Chicago. I was there for a couple of years. I then went on tour as a drum tech and soundman. And then I started tour-managing bands. I just moved up the ladder, to the point where I was doing really well in that field. I had no problem getting work, and I was making good money.
But I'd still watch the drummer, and I'd be like, I want to be playing drums. It was so frustrating, because in between the soundcheck and the show, I'd stand and play on a practice pad in the corner. Advertisement
I didn't touch the drums for a long time. Then I met the guys in My Chemical Romance, and we just clicked. I started out doing sound for them. But then they were like, "Come play drums in our band." I quit my tour-managing/soundman gig the next day.
See the April issue of Modern Drummer for the rest of the interview.