Rocky Gray of Evanescence
by Waleed Rashidi
Rock stardom may be a cool thing, but to Rocky Gray, it's the music–and playing his own parts–that matters.
All it took was one wildly propulsive radio single to plaster drummer Rocky Gray's performances all over the musical map. His band, the Little Rock–based alternative rock act Evanescence, entered with its commercial radio knock-out nearly four years ago via an epic hit, "Bring Me To Life," on its Wind-Up debut, Fallen. Though Gray didn't perform on the recording–session ace Josh Freese was the album's drummer–his ubiquitous presence behind the drumkit on network television shows and in print helped drive the band to staggering notoriety. The six-times platinum album also found Gray–already a veteran musician from the Little Rock music scene–on the road for well over two years with Evanescence.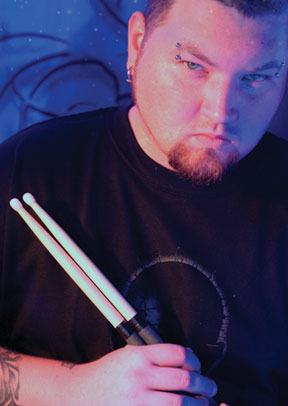 After over a year off and some studio time, Gray has returned with Evanescence's follow-up, The Open Door. The band's first album without primary songwriter and guitarist Ben Moody, who exited the band in 2003, The Open Door marks another significant first, as it's Gray's major recording debut. The album's first single, "Call Me When You're Sober," finds the drummer laying a punishing backbeat atop a groove that effortlessly slides behind the commanding vocals of frontwoman Amy Lee.
But Gray isn't all brawn behind his Tama kit. He stays incredibly mindful of guitarists John LeCompt and Terry Balsamo while infusing healthy dynamics, thanks in part to producer Dave Fortman, who had also produced Fallen. Advertisement
"It's KISS's fault: When I saw them live, it was all over," Gray says about his introduction to drumming. "In 1984, I saw KISS and The Plasmatics in St. Louis, and that was pretty much it. Eric Carr was there with his big kit, and that was just the bomb for me."
Nearly twenty-three years later, Gray looks to make several percussive explosions of his own. And when he's perched behind his bandmates on stage, there's not a chance of avoiding any awesome musical shrapnel.
MD: What was growing up in Little Rock like for you as a professional musician?
Rocky: There was a big music scene here in the late '90s and the early 2000s. It's slowed down now, but when it was big, it was good for everybody. I was playing in five or six bands. But as soon as it got big, it started trailing off pretty quickly. Advertisement
Living Sacrifice and Evanescence are probably the biggest things to have come out of here. As many good bands that there are, I think a lot of people find that it's very hard to make it from around here. If you want to make it from this area, you have to get into the van and tour all over the place. A lot of these bands now are younger guys, and they're going to find out that the weekend van tour takes a toll on you. But the guys who will make it are the guys who stick with it.
MD: When did you join Evanescence?
Rocky: I was doing some session work here in Little Rock years ago. Evanescence, before they had even done their Origin record [in 2000]–this was before Fallen–were getting some songs together. And I ended up working with Ben and Amy at the studio. Ever since then, I've been working with Ben off and on. Five years ago I came in and became pretty much permanent.
MD: And they put you on board right after Fallen had come out?
Rocky: Yeah, they needed to get a touring band together. They were out in LA, so it was a lot easier for them to hire someone like Josh Freese to come into the studio and record his things in two days, as opposed to me coming in and trying to do my thing. After they were done with Fallen, they called me up and said, "Let's go." Advertisement
MD: Tell me about getting your parts together for The Open Door.
Rocky: Amy and Terry would get demos together for me and send them out to Little Rock. I'd listen to them, and on a lot of the songs, it wasn't obvious where the drums should go. So when we got into the studio, everything was still being arranged. It was pretty cool putting my parts in, because it was the first time anybody had heard a drum part on a given song, so everybody was really excited about that.
MD: You'd been playing the parts off the Fallen songs for a while, so The Open Door is your chance to start fresh with your own parts. Was there anything you wanted to do differently from Fallen?
Rocky: I knew from the get-go that this would be a completely different type of record. So anything that anybody had done with them before wasn't even in my mind. I knew I could put one hundred percent of me into the song. It was real easy. Terry is a completely different guitar player than Ben. He plays more of a metal style–not that Ben wasn't metal at all–but it was real easy to lock in with his guitar parts.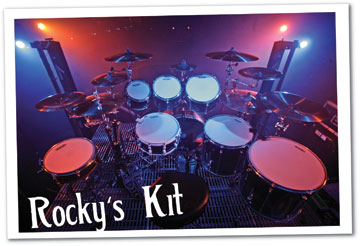 MD:
What was it like working with Dave Fortman?
Rocky: It was awesome. He's a great drummer as well; we spent a lot of time on the drums. And Dave had a lot of cool ideas for fills and things like that. Thankfully I was able to pop off anything he wanted to hear. Like, if I'd do one thing, and he wanted to hear three more takes with something completely different on each, I could do it. I think he really enjoyed taking advantage of having other options. So yeah, we bounced ideas back and forth on every song. It was so much fun, it almost wasn't work. Advertisement
MD: Anything specific you told Dave about your drums for this album session?
Rocky: I pretty much left it up to him. He had just finished doing the Mudvayne record, which sounded incredible. There wasn't anything I could say that Dave didn't already know. I let him handle it.
But as far as my playing on the record, I put up a note on a music stand that said, "W.W.L.D."–what would [Metallica drummer] Lars [Ulrich] do–especially on the Black album. I went in with the mentality of keeping it powerful and not going crazy or ridiculous; just keep it powerful with the kick and snare. And I think that helped me a lot. Lars went from playing all that awesome, crazy stuff on …And Justice For All to laying back and hitting the snare as hard as he could on the Black album. That kind of helped me answer, "Where should I go with this"?