The Who's Zak Starkey: Channeling Keith-And More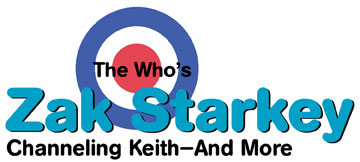 by Ken Micallef
"I am not a rock 'n' roll star," insists Zak Starkey. "I'm not famous, I suppose. But I am a very successful musician." Deadpan, funny, and self-deprecating, as this quote shows, Zak Starkey is famous by both association and skill set. But his famous name is trumped by his superb drumming.
As the forty-year-old son of Ringo Starr, most would think that Zak Starkey had been handed stardom on a silver platter. He plays drums with two of the most popular bands in the world, names the late, great Keith Moon as one of his best childhood friends, and is so busy he can be impossible to reach, as when Modern Drummer tried in vain to contact the globetrotting musician after he'd left his cell phone on someone else's private jet.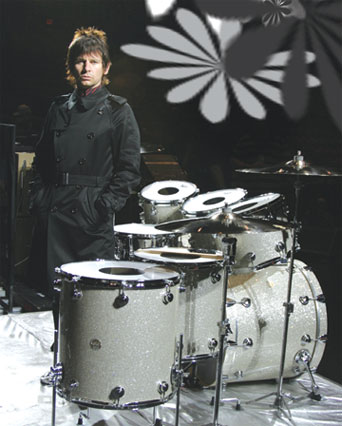 But before he landed gigs with The Who and Oasis, Zak Starkey played with ten years' worth of unknowns and also-rans, dragging his kit all over England like any other ambitious drummer. Slogging away in the studio and on the road, Starkey honored his small-time obligations like any one else, until just over ten years ago, when late, legendary Who bassist John Entwistle heard him at a local pub and immediately invited him to join his band. Advertisement
Not surprisingly, Zak's drumming is the best fit in The Who since Keith Moon pillaged and pounded the skins during the band's '60s/'70s glory days. On The Who Live: The Blues To The Bush CD and The Who Live At The Royal Albert Hall DVD, Starkey integrates within The Who as no one since the mad "Moon the loon" himself.
The other drummers who followed Moon in that exalted drum chair–great players indeed–displayed a keen knowledge of Keith's kinetic drum fills and expansive time feel. But Zak's combination of organic cohesion and natural fluidity is closer to Moon's than anyone. Indeed, Pete Townshend himself has called Zak "the karmic Keith Moon."
More than chops or technique, Zak brings a dynamic sense of grand flash and fortitude balanced with a massive groove and an absolutely swinging fill conception. His seemingly innate ability to improvise with Townshend and Entwistle (now replaced by Pino Palladino) recalls Moon on such Who classics as "The Real Me." And his roaring full-set fills on "Pinball Wizard," "Won't Get Fooled Again," "Baba O'Riley," and the whole of Quadrophenia are nearly perfect and always inspiring. Advertisement
Is this Starkey simply a basher? On Oasis's latest Don't Believe The Truth, he's consummately tasteful, playing big-beat, tribal-folk rhythms rather than simple 2 and 4, complementing the band's Beatle-ish melodies with thinking man's grooves. Starkey matches this feat with alternate patterns of thought on such albums as John Entwistle's The Rock, Johnny Marr & The Healers' Boomslang, and Steve Marriott's One More Time For The Old Tosser, as well as his touring work with Ringo's All-Starr Bands. Like his dad, Zak can adjust to fit every gig, always playing with the right feel and a touch of his dad's creative wit.
Currently on tour with The Who in support of their new album, The Endless Wire, Starkey continues to listen to his favorite old blues and rock 'n' roll records, play guitar, and practice the rudiments while writing music for his own glam band, Penguins. Bridging the past with the present, Zak Starkey is a drummer, an artist, a wizard–and a true star.
MD: Did most of your early drumming chops come from playing along to Who records?
Zak: Keith Moon was my first big influence, definitely. I wanted to play the drums because of Keith. When I was very young there was music all around me in my parents' house. You would go into the living room and find stacks and stacks of LPs. I would spend my days listening to records. My dad took me to see T. Rex when I was six. That was it for me; I wanted to be Marc Bolan. Then I got into David Bowie. I loved all of those '70s glam bands from England, like Slade and Sweet. Then when I was eight, I discovered The Who's Meaty Beaty Big And Bouncy. That turned everything on its head. It was so different and it sounded so alive. It was bouncy. Advertisement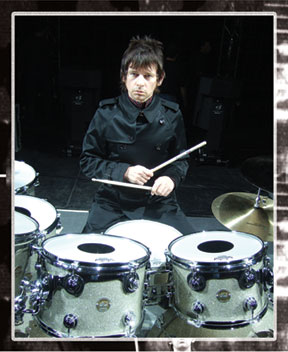 MD: Speaking of Keith Moon, as a child, you were good friends with him. Did you and Keith talk drums?
Zak: Keith was like an uncle, really. He was one of my dad's best friends. When my brother, sister, and I used to stay with my dad there, we would occasionally spend a few days at Keith's house. Keith was the babysitter. We would just hang out and talk about anything, really–girls, surfing, bands, drums. He was a really fantastic guy to hang out with. He wasn't crazy in any way, except for that look in his eye. I was hanging out with my hero.
MD: Once you started playing drums, did he give you advice?
Zak: I never actually sat at a set of drums with Keith. We used to talk about the drums. I asked him how he played the ride cymbal part in "Glow Girl" from Odds & Sods. It's an incredibly fast ride cymbal. He said what he did was put up one cymbal and a piece of cork where the wing nut would go, then another cymbal on top of that, but upside down. And he played between the two. That's the only advice he gave me, and I think he may have lied. The recording sounds like an overdub to me.
MD: Did he tell you anything that you were able to use later when you played with The Who?
Zak: I don't think so. When I first played with The Who we did Quadrophenia. There were certain things that had to be in there, certain fills that had to be exactly the same because they are so Quadrophenia, if you know what I mean. They are memorable fills. There aren't memorable parts, though, because everything Keith played kept changing. If you listen to "The Real Me," you're not quite playing the same thing every time, ever. Every bar comes around again, but what he played was never the exact same thing. Advertisement
MD: I heard that Keith Moon gave you a drumset when you were twelve.
Zak: Yes, the famous white and gold Premier kit. That set was sold by Sothebys [for 12,000 English pounds].
MD: Can you describe that set?
Zak: It was a double bass drumkit with eleven toms. I was twelve then and we lived in a village called Winkfield, Berkshire. The big Premier set was very safe. It was like having a wall all around you. No one could see me, but everyone could hear me–including our neighbors, who were trying to stop me from playing drums. I could reach all the drums, and within a year I was playing gigs with that kit.
For the rest of the interview with Zak Starkey, pick-up the January issue of Modern Drummer at a bookstore or newsstand near you.