Stephen Perkins: A Drummer's Life Less Ordinary
by Ken Micallef
With several projects going at the moment–including two bands, a performance DVD, and several clinic appearances–it's clear that no one is more committed to drumming than Stephen Perkins.
An enchanted sprite flailing the drums like a demented genie? A court jester playing with sticks and stones? Or a rock 'n' roll daredevil climbing the peaks of self-expression and self-realization, drums tied to his compact frame like a Sherpa carrying water for the master?
As the drummer with both mega-selling rock bands and street hungry organic/improv units, Stephen Perkins has occupied these personas and more, his never-ending quest to refine his musical gifts serving as an inspirational spark plug to the many musicians who surround him.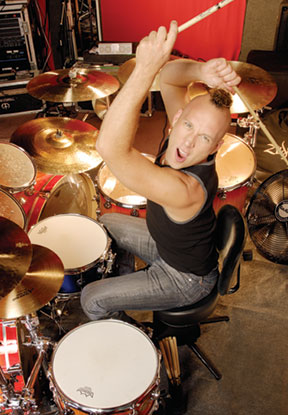 Coming to prominence with Jane's Addiction in the late '80s, Perkins supplied Goliath slam and loose-limbed grooves to their razor-coarse alt-rock epics, his anything goes approach the perfect mirror for a band of LA hedonists. "Been Caught Stealing," "Mountain Song," "Ain't No Right," and "Had A Dad" were galvanic Jane's rockers that marked Perkins' arrival as a potent drummer to be reckoned with. Later, with Jane's offshoot Porno For Pyros, Perkins morphed rock with world rhythms and hand percussion, his inventively organized setup reflecting the many passions that boiled close to the surface but still under his skin.
Perkins' own project, Banyan, found the now thirty-nine-year-old firebrand playing the drum freak. The group, which includes bassist Mike Watt and guitarist Nels Cline, has recorded three albums that showcase the drummer's organic approach to rock, world, jazz, punk, and experimental music. Banyan's latest, Live At Perkins' Palace, covers Stephen's many fascinations, from steaming late-period Miles Davis–styled jams ("Mad As A Hornet"), free-floating Arabian improvs ("Om Om Om"), spectral space rock ("Only You Will Know"), and percussion extravaganzas ("El Sexxo"). Throughout, Perkins' drumming is perpetually raw, fiery, and beautiful. Advertisement
And even with all of his superstar gigs, Perkins has found time to keep a foot in the studio scene, contributing rhythm magic to recordings of every stripe. In 1999 he joined Tommy Lee in Methods Of Mayhem, playing an electronic drumset to a click for a yearlong tour. His session and live credits also include work with Rage Against The Machine, No Doubt, Nine Inch Nails, Infectious Grooves, Red Hot Chili Peppers, Milla Jovovich, Jerry Cantrell, Rancid, Jewel, Sheryl Crow, Rob Wasserman, Peter Murphy, Love And Rockets, Hell Ride, and No Material. Perkins also travels these great United States showcasing his drum skills in clinics for the drum faithful and in therapeutic drum circles for those less fortunate, bringing his Go-Jo Bags to retreats all over Southern California.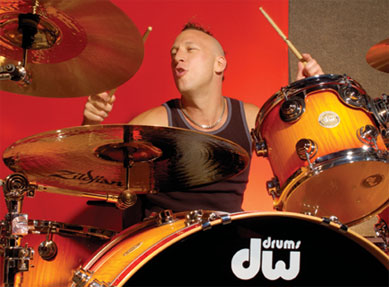 Perkins' latest mountain-climbing event is Panic Channel, a corporate rock quartet that revisits the Jane's Addiction mold. Featuring his old chums Dave Navarro and Chris Chaney, along with vocalist Steve Isaacs, the band has a sound that's at once titanic and hook-driven–quintessential LA radio rock for cruising and schmoozing. You can almost hear Clear Channel panting to put Panic Channel's first single, "Why Cry," in heavy rotation.
While Panic Channel makes the rounds of late-night television and stadium tours and Banyan hits small clubs from Peoria to Poughkeepsie, perhaps the easiest place to capture Stephen Perkins is on his Drum Workshop DVD, Stephen Perkins: A Drummer's Life. Shot in the studio at his Tarzana, California home (Perkins' Palace), the DVD covers every angle of the drummer's musical existence. Perkins' zest for life practically jumps out of the screen, whether he's jamming on Jane's Addiction and Porno For Pyros favorites with guitarist Wes Borland (Limp Bizkit) and bassist Tony Franklin (The Firm), playing hand percussion in the California desert, trashing his kit with Hell Ride or Banyan, or simply banging percussion in his extremely well-outfitted backyard studio. Advertisement
Speaking with MD after returning from a Banyan performance at the Ten Thousand Lakes Festival in Minneapolis, Perkins discussed the magical, mystical, healing power of rhythm, and why sometimes the best thing to do is just hit the drums.
MD: Your Drum Workshop DVD, Stephen Perkins: A Drummer's Life, really relates the fun of being a drummer. Whether performing with a trio, playing hand drums in the desert, goofing with your dogs, or gently rolling over a cymbal tree in your home studio, the DVD is more about inspiration than playing the perfect paradiddle.
Stephen: Exactly. There are a lot of drummers who can tell you how to play a paradiddle. But I have something else to offer. Take the technique seriously, but that's only twelve hours of the day. For the other twelve hours, go live your life so you have something to say when you're behind the drumset. That's the focus of the video. Advertisement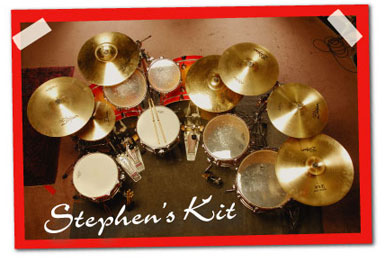 MD: You retain that spirit of just loving to play the drums, but not necessarily loving drum technique.
Stephen: My favorite drummers are the guys with real personality in their playing. Some of the best chops guys aren't my favorites. I would rather listen to someone like Keith Moon, who you know just by his drum fills that his personality is left of center. Or with Neil Peart, you imagine he must be very intelligent, well read, and really organized–you can hear all of that in his drumming. I'm kind of a bubbly, hyper guy and I think that comes out in my playing.
MD: In Banyan, and all your bands, your trademark is a rolling forward motion. It feels like you're tumbling over an African plane. What's the source of that?
Stephen: Thanks for putting your finger on it. I guess it's an African influence; it's circular, and more about communication and awakening people for a bounce rather than trying to figure out where the kick and snare should fit against a bass line. When you pull all of the other instruments away and it's just the drums alone, there's a momentum of up and down, peaks and valleys. One guy can play the same beat as another, but how does it feel?
When you see Abe Laboriel Jr. play, his feel is so good, I somehow relax my body and feel this large circle; it could be the shape of an egg or the shape of a big bouncing ball. I visualize that roll and try to think of a pattern that will keep the body moving like a dancer. I'm trying to awaken that molten lava inside of me. It's slow and liquid, but it's constantly moving. When I'm playing, I try to tap into that. I try to relax and forget about the rules, like how I'm holding the sticks. What's the reason we're playing this song? Is it scary, sexy, or what? Take all these ideas, but never lose that lava, that movement. Advertisement
The cardinal sin for me is to play a drum fill that causes people to stop moving. For me, music is below the waist. It really shouldn't be above the neck. You've got drummers coming out of New York City who are above the neck and they can blow your minds. But that's not me.
MD: How has your drumming changed since the latter days of Porno For Pyros and the first Banyan record up to today?
Stephen: I feel that there's some really powerful, primal drumming coming from me now. But somehow the placement and knowledge of when to use it is clearer to me. I know when to pull the trigger.
Check out other posts about Stephen Perkins here.