Gutbucket's Paul Chuffo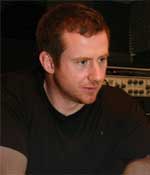 If you're unfamiliar with the Brooklyn instrumental quartet Gutbucket and you glance at the stage before a performance, you might think you're about to hear some jazz. An alto sax, an upright bass, a hollow-body guitar, and a three-piece drumkit with a tiny kick drum do create such an impression. But then the band shows up and launches into its first number, and you're treated to a thrashing, squealing romp, full of shifting time signatures and punk-rock attitude. Suddenly you're not expecting much ding-da-ding after all.
"Through college I played in a bunch of jazz things," says drummer Paul Chuffo, "but I was always out playing at CBGB too." Chuffo and company unify their wide-ranging interests on the new LP Sludge Test, which is loud, fast, a little twisted, and yet somehow jazzy in its chords and melodies. And there are lots of tricky Zappa-like unison figures–had Zappa listened to klezmer as well as classical. "We try to write tunes that are incredibly challenging but also have that high-energy kick," Chuffo says.
Gutbucket has a lot of fun while negotiating the brisk fives and sevens. During a recent set, the band further delights mesmerized fans by: A) running screaming into the crowd in the middle of a number, B) having a suited crony pass out wafer cookies like communion, and C) releasing dozens of multicolored balloons over the audience. This is no somber prog outfit. Advertisement
The group was formed in 1999 by former ex-Caminos Chuffo, guitarist Ty Citerman, and saxophonist Ken Thomson, plus Eric Rockwin on bass. Their first two albums were diverse affairs, but Gutbucket streamlined its sound for Sludge Test. "We decided to put out a rock record," Chuffo says, "to gather the nastiest stuff we had and make it a cohesive kick to the stomach."
Michael Parillo