Stewart Copeland: Staring Down the Future

by Ken Micallef
In Stewart Copeland's newly released DVD documentary, Everyone Stares: The Police Inside Out, there's a moment when the drummer's trademark over-the-top intensity nearly gets the best of his band. Playing one of their '80s hits at an unnamed outdoor amphitheater somewhere in Europe, the Super 8 camera Copeland used to document the rise and eventual dissolution of The Police catches the drummer in full flight, his arms flailing in one of his classic, displaced reggae bashing grooves. As Copeland aims his pulse like a burning rocket, guitarist Andy Summers steps back from the front of the stage, furrows his brow, and mouths an entreaty ignored by drummers the world over: "Too fast!"

Everyone Stares is full of similar moments of spontaneity, Copeland and his bandmates, Andy Summers and Sting, riding the rock 'n' roll dream from dirty UK punk clubs to American auditoriums to football stadiums in every corner of the globe. Using his Sanyo Super 8 camera, Copeland documented every phase of The Police's million-selling career, filming jet travel, recording sessions, backstage banter, worshipful fans, and, of course, plenty of live performances showing Copeland's amazing drumming, an original blend of stylized reggae and punk rhythms, splash cymbal and Octoban color, and technical virtuosity.
When The Police came to the attention of US rock radio back in 1979, Copeland's elastic off-kilter beat (with bell attack and tom thud surging through), heard to tremendous effect in their fist hit, "Roxanne," was a hardcore jolt to the senses. Combining Sting's pop song craft with Copeland's sizzling juggernaut rhythms and Andy Summer's jazz-flecked guitar, The Police became the biggest-selling band of the '80s through such hits as "Message In A Bottle," "Don't Stand So Close To Me," "Every Little Thing She Does Is Magic," and "Every Breath You Take." The Police eventually became as famous for their hits as for their appetite for infighting and anger. Advertisement
The Police dissolved in the mid-'80s, leaving Sting to become a new age, Tantric-espousing, solo superstar, Summers a guitar hero, and Copeland a successful soundtrack composer. What? That's right. Stewart Copeland eventually played drums with the ill-fated Animal Logic, then Oysterhead (with members of Phish and Primus). But his enduring success came as a composer of soundtracks (Wall Street, Highlander, Talk Radio), operas and ballets (King Lear, Casque Of Amontillado), and television programs (The Equalizer, Desperate Housewives, Babylon 5).
But with a recent flurry of activity culminating in the release of Copeland's first solo album in many years, the Grammy nominated Orchestralli (which includes its own DVD documentary) and his Italian-only supergroup, Gizmo, about to hit the road, Everyone Stares: The Police Inside Out arrives with perfect timing and gives the legendary drummer plenty to talk about. Of course, drummers still love Copeland: They voted him into MD's Hall Of Fame last year.
Speaking with the fifty-three-year-old Copeland at his Brentwood, California studio about good times past and present, the drummer/composer/father of "fifty kids" is typically erudite and humorous. Preparing for a tour with Gizmo and a Bonnaroo performance with Oysterhead, Copeland discusses drumming technique, his love for "borrowed chest hair" music, the origin of his remarkable style (and how to develop your own), wiffle midgets, and his search for the "magic drum." Advertisement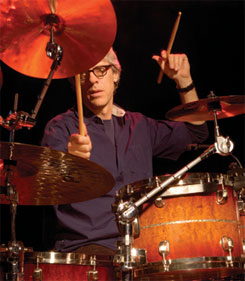 MD: In viewing all this video that you hadn't watched in twenty years, what surprised you most about that drummer in The Police?
Stewart: Well, how cheerful it all was. And how much my two colleagues seemed to be enjoying the whole experience. Even towards the end, they're still goofing off and clowning around for the camera. The camaraderie, which I remember as being most of the time we spent together, has been overshadowed in the years since by all the talk of how we fought all the time–which we did. We indulged in gratuitous emotional violence, partly as a form of recreation. But mostly we spent our time chuckling together.
MD: Back in the day, you used to rush to the point that it became your trademark of sorts. Is that more under control today?
Stewart: Because of technology, MIDI, metronomes, Pro Tools, and so on, I've been in a world of quantized rhythm as a film composer for the last twenty years. During that time–for about ten years at least–I wasn't playing drums. It was Oysterhead that got me going again. Now I'm going at drumming like a real animal. I polish my drums. I read Modern Drummer. I fiddle with my wiffle midgets. I agonize over repositioning my splash cymbals. And I have much more passion for drums than I ever did before.
MD: So being in that world of MIDI and click tracks has helped your time?
Stewart: I've played to a click a lot more, and I work with clicks all the time. The idea of steady time has been drilled into me and into my subconscious. When I was twenty-four and blasting away with The Police, there was no such thing as constant time, and I did rush every fill. And the choruses were faster, as I certainly could hear when I did the derangements. But no, I don't rush in quite the same way. I have learned how to surge without drastically altering the bpm. Advertisement
MD: Did your over-the-edge time feel ever drive Andy and Sting nuts?
Stewart: No, it drove earlier bands nuts. In Curved Air, there was this moment when we were in the studio playing back overdubs. "Okay, roll back to the beginning." The beginning was much slower than the ending. They all looked daggers at me and said, "You amateur! What's the matter with you!"
The Police was all about energy, excitement, and uplift, and neither Sting nor Andy ever looked twice at me when, of course, the end of the track was faster than the beginning. But overall, Sting did have a problem with the tempi, which were always too fast even at the beginning of the track. But he never had a problem with them speeding up. In his view, they were too fast to begin with.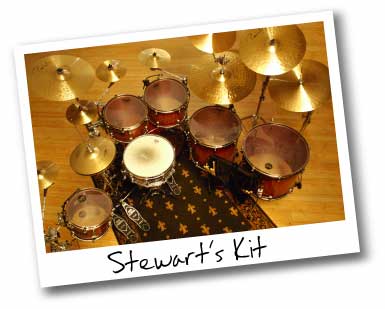 MD: You have one of the most identifiable drumming styles in the history of the drumset. How does one develop and create his or her own sound and style?
Stewart: By growing up in a foreign land. I grew up in the Middle East, in Lebanon, which is between Syria and Israel. The local music there is very different from American music. That's what I heard all day, every day. There would be one hour of pop music on Voice Of America, and that was my only exposure to anything other than Arabic music. Advertisement
I went to the American Community School in Beirut. By the way, Osama Bin Laden went there as well. But I heard American music that American kids brought over, and I played in bands playing American music. But all day, every day, I was surrounded by Arabic music. I was fifteen and in an English boarding school, but deep in my consciousness was this other ethnicity, this other cultural root. When I heard reggae for the first time, it actually connected with my Arab rhythmic sensibility–leaving holes in the beat. That's where it came from for me, at least that's my pet theory.