Prairie Prince: An Interview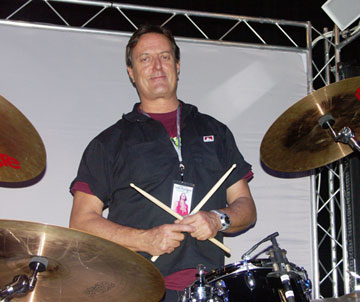 by Billy Amendola
Prairie Prince was born on May 7, 1950 in Charlotte, North Carolina and has been a founding member of art-rock band The Tubes since 1969. He was also a major player in getting the band Journey off the ground, and over the years he's worked with Brian Eno, Jefferson Airplane, George Harrison, Richard Marx, and Todd Rundgren.
Besides drumming, Prairie's other passion is visual art. In fact, he's designed album cover art, stage sets, and drumkit finishes for as long as he's played the drums. These days he can be seen on tour with The New Cars, which includes his good pal Todd Rundgren, Utopia rhythm-section mate Kasim Sulton, and original Cars members Elliot Easton and Greg Hawkes.
The band's first single, "Not Tonight," released this past March, sounds uncannily like the original group. The New Cars: It's Alive is out now and includes classic Cars songs recorded live, plus never-before-released studio tracks. Prairie and the band just wrapped up part one of their summer tour with Blondie, which was cut short due to an injury suffered by guitarist Elliot Easton. Advertisement
MD: I dig the new tune, "Not Tonight."

Prairie: It's pretty cool. Unfortunately I didn't play on it. That was before I signed on to be the drummer in the band. That's Kenny Aronoff doing a good job beating the hell out of those skins. We do a live version for the new record, which I did play on. Todd Rundgren mixed it, and it also includes two of his songs, "I See The Light" and "Open My Eyes," along with about a dozen Cars songs, including "Not Tonight."

MD: So how did this all come about?

Prairie: I've been playing with Todd for years, so he basically recommended me when they were looking for a drummer. I think they originally asked Clem Burke to do it, but since Blondie hasn't gone into retirement yet, they needed him for their tour. And then we wound up touring together. So I was glad that I was able to make myself available to do it. I play with a bunch of other bands as well, but when Todd calls me I always drop everything to go with him.

MD: So there was no audition needed?

Prairie: Well, they made me come down and play with them. [laughs] But they said, "This is not an audition." Elliot Easton and Greg Hawkes—the two original members, who I had never met—were there, so it was sort of an audition. Kasim Sulton, the bass player with Utopia, was there, and Todd I've played with for the last ten or fifteen years.
Advertisement
MD: Todd's an amazing talent.

Prairie: There is a live DVD of Todd's that's really great. It's called The Live Liars Tour.

MD: So were you a fan of The Cars?

Prairie: I was always a fan of The Cars—who wouldn't be? They had so many irresistible songs that you heard constantly day and night for twenty years, and still do. The Tubes were kind of in the same vein—eclectic rock with some synthesized sounds. And we were touring around the same time, late '70s and all through the '80s.

MD: Before you went to play with them, did you listen back to the records and learn the parts?

Prairie: I had to do that, for sure. I realized that the drumming parts were pretty simple, but very effective. In rehearsals I've tried to add some flourishes here and there, but they just don't work. So I kind of stick to what was originally recorded. The keyboard parts with Greg and the guitar parts with Elliot have such defined parts that fit nicely with the drums. David Robinson was a pretty cool drummer. I don't know him, but I'm hoping to get to meet him so that we can discuss things and see where he's at on this whole thing. I haven't really found out what his opinion was on this re-formation of the band.

MD: Do you know if he was asked?

Prairie: It's a little touchy. Basically when we went to this media press conference, we were told by Elliot and Greg that they had had discussions with both David [Robinson] and Ric Ocasek, and they had kind of been going back and forth for a couple years trying to decide if they all wanted to re-form, and Ric and David were sort of on the fence about. Then after maybe two years they decided they didn't want to do it. Apparently Ric gave Elliot and Greg his blessing to find someone to replace him. I don't think he realized that Todd Rundgren was going to replace him. [laughs] Maybe now he wishes he reconsidered or something, but I'm not sure exactly. [laughs] But when Greg was talking to me about all this, I said to him, "Tell David if he ever wants to come do a double drummer thing or play on a certain gig, I certainly wouldn't mind." I think it would be cool. So we'll see what happens with that. Hopefully I'll get to meet him.
Advertisement
MD: How did you meet Todd?

Prairie: I've known him for thirty years now. I met him through a mutual friend when I was in The Tubes and he was interested in the band. We finally came around and asked him to be our producer, and he started producing us in '78, something like that. He also produced one for us in the mid-'80s. Then I started working with him on his records.

MD: Where does your name come from?

Prairie: It's actually derived from my middle name, Lenprere, which is a French-based name. My ancestor was Charles Lenprere Prince, and that's my father's name as well, so I'm a junior. When he was a little boy his nanny nicknamed him Prairie from that middle name. God knows why—she was from the Deep South in North Carolina. She said, "I don't understand Lenprere so I'm going to call him Prairie." When I was born they named me Charles Lenprere Prince Jr., but they've called me by my middle name, Prairie, since birth. It's not something I made up. People ask, "Did you come from the desert"? Actually, I grew up in Arizona.

MD: I read that your dad played the drums.

Prairie: My dad actually played snare drum in his school band. I don't think he played a full set of drums ever, but he was a great tap dancer. I definitely got my rhythm from him.

MD: When did you start playing?

Prairie: When I was about three years old. I used to beat on the washing machine with my hands. Then I got bongos when I was about five or six. I got a snare drum when I was in third or fourth grade, and I was in the school band. I finally developed and got a full set of drums when I was in maybe seventh, eighth grade, right when The Beatles came out.
Advertisement
MD: Who was the first drummer you noticed and said, "Wow, that guy is good"?

Prairie: My earliest influences were Gene Krupa and Buddy Rich. Then I kind of got into soul music. I saw Stevie Wonder when he was thirteen, playing bongos, and I remember loving that so much. Then I got into surf music in the early '60s, listening to Dick Dale and Sandy Nelson. Later in life I actually played with Dick Dale, on three of his records. It was pretty cool. I told him that he was one of my earliest influences.
Anyway, after that I started getting into The Beatles, The Rolling Stones, and all the music of the mid-'60s. I would just play along with all those cats.

MD: I read once that you played with Nicky Hopkins.

Prairie: Yes, in 1972 or '73. It was his solo record The Tin Man Was A Dreamer. We recorded it in England at Apple Studios.

MD: How was that experience?

Prairie: It was really amazing! I was twenty-two or something like that. We had Mick Taylor and George Harrison on guitars, [percussionist] Ray Copper, and Klaus Voorman on bass. I lived with Nicky and his wife in England for about six months, and we went to Apple Studios every day. The Beatles had broken up by then, but they were still coming in and out. It was pretty cool. I got to play with George Harrison. That was one of my first star-struck situations, working with all those greats. I went back and did another record with him a few years later called Long Journey Home. I recently did an interview with a man who is writing a biography about Nicky Hopkins, so hopefully something will be coming out soon.

MD: Let's talk a bit about your work as a visual artist. How did you get into painting?

Prairie: Painting is my other profession. I pretty much split my time between drumming and painting, set design, and all kinds of artwork production. I went to the Art Institute in San Francisco, and I got my masters in painting in 1973. My partner, [former Tubes keyboardist] Michael Cotten, and I have been doing set designs for years. [Prairie designed the very cool-looking stage design for the recent New Cars tour.] I've painted guitars and drumsets and just about anything you can think of. I did some huge murals around the world. You can check them out on my Web site.
Advertisement
MD: How did the drumset painting come about?

Prairie: The drumkits started happening with Yamaha. I've endorsed Yamaha drums for thirty years. I did a promotional thing one time for Maxim magazine, which involved a drumkit giveaway. Then I just started doing more sets. I've done two for Godsmack, and I've done some for private clients. I'm doing one right now for a real estate broker in Tokyo that's got all kind of Japanese images all over it. I've got two or three myself. I might do one for The New Cars, though I'm not sure exactly what it's going to be yet. But I'll be using my Absolute Birch set, which has a 24″ kick, a 13″ rack, 14″ and 16″ floor toms, a 5″x14 snare, and a set of bongos. I've also endorsed Paiste cymbals for thirty-five years. I have a 24″ ride, 17″, 18″, and 20″ crashes, and 15″ hi-hats, all from the 2002 series.

MD: A 24″ ride?

Prairie: Yeah [laughs], I got that from John Bonham, that's what he used. Sometimes I go with the 22″ Full Signature series, because that 24″ can really get to your wrist after a two-hour concert.

MD: It's pretty heavy, huh?

Prairie: Yeah. It doesn't pop back too easily. It's like hitting an anvil.

MD: So what do you do to keep in shape before you go on tour?

Prairie: I live out at the beach in San Francisco, so I jog every day in the sand. That's really the best overall workout—I also mountain-bike, and I take rollerblades on the road with me. It's a little dangerous, but I get my iPod and rollerblades and skate around the city. I've been doing it for years.
Advertisement
MD: How about drum-wise? Do you warm up before you play?

Prairie: Sure. I always have a pair of sticks with me and do some rudiments on my tennis shoe. That's about it. I'll do some push-ups and some yoga. I'm a good boy. [laughs]

MD: Any new Tubes recordings in the works?

Prairie: The Tubes are kind of in a state of flux at the moment. We have four of the original seven members, and we've still been touring around. We've been doing some recording, but nothing official. We don't have an official record company, per se. We have a documentary pending. [Check out thetubesproject.com.] And we've had several products out in the last couple years, including a live Tubes DVD called Wild In London, which came out last year. We've been together for so long, we're like an old married family. We go in and out. I play with Jefferson Airplane as well, with Paul Kantner and Marty Balin. I've got two or three bands going pretty much 365 days a year, so I've got several guys who fill in for me when I can't do one or the other.
MD: So you still enjoy touring.

Prairie: I do enjoy touring; I've got to say. I'm a gypsy at heart. But I also love to be on the beach and relax and be a beach bum.

MD: You've played with New Cars bassist Kasim Sultan in Todd's band Utopia. Besides being a great bass player, he's a great vocalist.

Prairie: Oh yeah! I think the bass player makes a drummer—especially in a live situation. I've played with some great bass players, and I always play differently with different bass players. I've played with Rick Anderson from The Tubes for forty years. Another great bass player I play with is Bobby Vega, who's played with everybody under the sun: Bo Diddley, Etta James, Santana, Sly & The Family Stone. He's the most unbelievable, funky bass player. And of course there's Jack Cassady with Jefferson Airplane, who's amazing. Another great bass player was Ross Valory, who I started the band Journey with, along with [keyboadist] Gregg Rollie, [guitarist] Neil Schon, and this singer named George Tichner. This was before Steve Perry. I never made it to their first album, but we wrote all the songs on the demo that got them their first record deal. So I'm on the demo for the first album. I'm also on a live recording of their very first shows opening for Santana in '73.

MD: Let's talk a little more about The Tubes.

Prairie: I've been playing with Roger Steen, our guitar player, since '65. We all grew up together in Phoenix and moved up to San Francisco in '69, so that I could go to the Art Institute. They just followed me up here, and we've been together ever since.
Advertisement
MD: Was Fee Waybil in the band since the beginning?

Prairie: Fee was actually our roadie. We wanted to get more theatrical, and he was a theater and drama major in college, so we just started dressing him up in outfits. That became our scene, the lead singer who changes his costumes four hundred times during the show. Then we added dancing girls and it became this giant monster thing.

MD: I remember the tour behind your hit "She's A Beauty." The dancers.

Prairie: Actually, one of those dancers, Michelle Gray, is Todd Rundgren's wife. When Utopia and The Tubes toured together in '83 or '84, that was it, they fell in love and got married right after that, and we never saw her again. [laughs] She joined his band. They have a thirteen-year-old boy, and live in Hawaii now.

MD: So you go way back with Todd.

Prairie: Yeah, that's why it's going to be great. I just hope I can hold onto my other bands, because I love them all. My wife, Diana Mangano—we're not officially married, but we have lived together over ten years—she's the singer of The Jefferson Airplane. She sings all the Grace Slick material. I'm going to miss part of that tour. They have the drummer from Starship, Donny Baldwin, to fill in for me. And my sub in The Tubes is a great drummer named Lou Molino. All these cats are lenient with me. They say, "Okay, we'll take over for you while you're gone," and I say, "Well, save my space!" At this age you never know what band's going to drop in and out. [laughs]
Advertisement
MD: Any final advice for drummers?

Prairie: Follow your heart. The drums are the root of all music, and we have to spread the word because we are the foundation of music. If we can help cure the world of its problems and of diseases by music—bang on the drum all day, as Todd would say. That's what I've got to say. Drums for life!
For more on Prairie, please visit prairieprince.com.