Manu Katche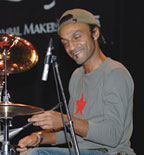 It's been at least fifteen years since Manfred Eicher, founder of the German record label ECM, pulled his sedan over to the shoulder of the Autobahn, smitten by the drumming coming from the radio. He paused until the DJ called out the tune and artist.
The next day, the famed producer of dreamy Euro jazz purchased rocker Robbie Robertson's first solo album and listened once more to the track "Somewhere Down The Crazy River." Then, after checking the liner notes, he phoned one of his longtime artists, Jan Garbarek, with the name of a drummer to consider for the famed Norwegian saxophonist's next album. That release, I Took Up The Runes, was Manu Katche's entry into the ECM fold, and it's finally led this year to his own album on the label, Neighbours.
As it turns out, the stylish and articulate master of stadium rock with Sting and Peter Gabriel sits well in the milieu of legato jazz. On Neighbors, label mates Garbarek and legendary Polish trumpeter Tomasz Stanko joined Manu, creating instrumental music that, although defined by jazz sensibilities, will appeal to pop fans.
Manu reveals a delightful looseness on Neighbours. Instead of resorting to his trademark tom passes like on Gabriel's "In Your Eyes," he's more apt to set up a chorus with a fluttering press roll. Manu admits, "I didn't try to be 'Manu Katch? the drummer.' I acted more like a melodic instrumentalist."
Although the French drummer recently turned up in Idaho, where he joined a Nashville session team recording with Christian artist David Lubben, most of Manu's work is closer to his Paris home. "I'm not touring around the world with big star acts," he explains, "so I'm available, and people have the opportunity to do projects with me. But I'm finally doing my own stuff and I'm still learning. As long as you learn, you enjoy."
T. Bruce Wittet