Harold Jones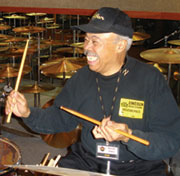 Harold Jones' golf game is reportedly a lot better now than the last time he was in Tony Bennett's band. But that's just one of the changes the drummer has been through in the thirty years he's been away from Bennett. Jones has appeared on Grammy-winning albums like B.B. King's Live At The Apollo, spent a decade on tour with Natalie Cole after working on her Unforgettable With Love album, and he even made Swing When You're Winning, a standards album with Britain's biggest pop star, Robbie Williams.
"That was the first time I'd seen that many young girls outside a recording studio," Jones recalls of the sessions at Capitol in Los Angeles. "And I thought it was a beautiful thing, him doing standards. Anything we can do to pass the music on, I think is good."
Jones insists that the Bennett gig isn't too different from what it was years ago. Many of the same songs make the set list, and the bandleader's style toward the drummer hasn't changed. "Tony's kind of like Basie: He'd never tell you what to do. But if you don't get it after a while, he might ask you, 'Why don't you try this?'" Advertisement
The drummer certainly knows something about the Count. Jones spent a solid five years with the Basie orchestra in the late '60s and early '70s, earmarked by the recording of the classic Basie: Straight Ahead. The leader boasted of his young drummer in the album's liner notes, telling Leonard Feather that, "A great drummer can mean everything to a band. Harold has really pulled us together."
After picking up a lifetime of lessons from Basie, Jones has matured into a consummate sideman. "I don't try to shove everything into a song that I can," he shares. "I try not to step on anybody." Jones left out one important aspect of his playing: He swings like crazy.
When asked why he brought Jones back into his band after thirty years, Tony Bennett was brief and to the point. "Louie Bellson once told me that he had asked Count Basie who he thought the best drummer was. And Count Basie said, 'Harold Jones.'" Advertisement
Chris Kornelis