A Few Minutes With Rick Marotta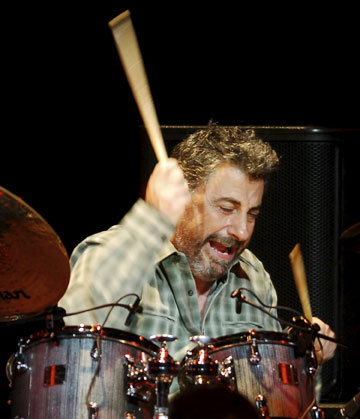 By Billy Amendola
Rick Marotta is no stranger to MD readers. And he's certainly familiar to anyone who's had the pleasure to see him play or crack jokes while hosting Yamaha's Groove All Star show.
A rock-solid session musician since the '70s, Rick Marotta can be heard on hit records by James Taylor, Donny Hathaway, Carly Simon, Hall & Oates, Paul Simon, David Sanborn, Linda Ronstadt, Tom Scott, Boz Scaggs, Toni Childs, and Steely Dan, among many others. One of his very first sessions was with percussion great Ralph McDonald and guitarist/producer David Spinozza—dear friends of Rick who are also members of the Groove All Star band. ("The Yamaha Groove All Star show is magical," Spinozza enthuses, as MacDonald adds, "It's about getting together with all your peers and making some of the greatest music one can ever hear in one evening.")
MD Online spoke to Rick Marotta about the Groove All Star show, writing for hit TV sitcoms, young drumming master Keith Carlock, and playing with John Lennon.
MD: Let's talk about how Groove Night first started, and how it has evolved into the Groove All Stars event.
Rick: Yamaha's artist relations rep, Joe Testa, came to me saying, "We have this idea: Yamaha would like to do a night of drums, and we'd like you to host it. We're going to get ten drummers to come out and play solos, and you'll be the MC."
So I said to him, not only would I not host it, I wouldn't go to it. [laughs] He said, "Why"? and I said, "Who wants to hear a bunch of drummers solo all night long"? Sure, there are some kids who just sit home and play drums in their garage all day, every day, but that's where they're going to play for the rest of their lives, so is that really what you want to convey? Advertisement
I remember them rolling their eyes and looking at me like, "Yeah? Well, what would you do"? And I remember thinking on the fly, and I said, "You know what? I play with this great band in town, why don't we put together a house band and play covers? You have drummers come in and play a groove, and there are no drum solos allowed. How's that"? They started laughing. So it went back and forth for a while, and eventually they came back and said, "We want to try this idea." So we did it.
The first one was during the NAMM show, at SIR in Los Angeles, and it was really scary, but it was successful, and it really caught on. The drummers embraced it immediately. I don't remember one guy coming and saying, "Where's my drum solo"? I do remember a couple of guys sneaking in a four-bar or two-bar break where they were like, "Oh yeah, I can't solo! Here's my solo!" [laughs]
MD: Hagi from Yamaha was also involved correct?
Rick: Yes, he definitely had influence. The original idea of putting a drummer on stage came from Yahama, but the idea of grooves was something Joe and I discussed. And Hagi was great about it. But I've got to tell you, this would not have happened without Joe Testa. Granted, there's support from all over. The people at Zildjian are incredible—as are Remo, Paiste, Sabian…they are all very supportive with what we're doing, and were very grateful. Advertisement
MD: It's a great show, and a very entertaining part of it is you as MC. You do a wonderful job.
Rick: Thank you. Here's the downside of the show for me. I don't even know how the show is. I've got fifty things going on. Every time someone's playing I'm looking at the next guy's bio and trying to figure out what I'm going to say, and I'm writing jokes on the fly. So it's a lot of pressure. But over the years there have been times when I've walked off stage cracking myself up.
For some reason, this year I was more nervous than the years before. But it was great to see Andy Newmark, and the little bit I did hear I really enjoyed. And for me playing with Steve [Gadd] was such a highlight. Its joy to be around him because we go back so far. And when we play together, it's like, who can outdo the other guy? [laughs] And he always beats me. I can't win with him.
MD: In what direction would you like to see the show go?
Rick: I'd like to see the show go international and have everyone see it.
MD: Let's talk about what's involved in doing music for TV.
Rick: It can be hard. Everybody wants that job because it seems all fun and games, and it looks easy, but it's really tough. Though, I've got to say, once you get on a roll, it can be pretty good. Getting a show up and starting is difficult. For instance, last year I did four pilots, and only one of them went thirteen episodes. But that's the way it normally goes every year: A bunch of pilots are done, and sometimes nothing gets picked up. Advertisement
MD: If you create the music for a show, and that show doesn't fly, can you use that music for other things?
Rick: It depends. I'm in a position now where I can, because I'm very fortunate I've met people along the line who knew me as a drummer and gave me a shot as a composer. When I used to do a pilot, I would write something different for every one—which is brain-wracking—but now I've got this backlog of music, so if a pilot comes along I'll just put in something that I own, just to get through the presentation stage.
Now if you do that and one gets picked up, you can start from scratch. But at least you've already created the one show. If you create for four different shows and none of them get picked up, it's exhausting. For example, right now I'm working on a pilot, and I put in music that I already had. And just this morning I got a call and they want me to come up with something else, so I start writing from scratch. And it's got to be delivered within the next couple of days. They wanted it today but I really couldn't do it.
MD: How does the process work?
Rick: I'll start writing, and then I'll bring in the musicians and record—if I don't do it myself. Then I'll bring in someone to mix it. Now, if the show goes on the air, the hard part is getting it picked up. If you're fortunate to get a show on the air for five years, like Yes Dear or Everybody Loves Raymond—that was a nine-year run—well, that's great! Advertisement
MD: Are you working on anything now?
Rick: Yes, I'm scoring Searching For McFish, an independent film directed by Donny Most, who used to be on Happy Days. And I'm doing one pilot right now.
MD: Besides drums, do you play other instruments?
Rick: I play just enough keyboards to make mistakes and be nauseating. [laughs]
MD: But enough to get the ideas across.
Rick: Oh yeah. I do most of my writing on keyboards, a little on guitar. And I learned something important a long time ago: When you get in the studio with guys who are successful, map out what you hear, and then have them play what's appropriate, quickly helping them interpret things.
MD: Let's go back a bit. You started playing when you were nineteen. What attracted you to the drums?
Rick: I was a dancer, and my parents were dancers, so it was the rhythm. I remember I used to go see my friend play, and I would just dance. And when his drummer got drafted I asked him if I could use his kit and set them up in my house. About two months later I had his job.
MD: So it was a natural thing for you. Were you completely self-taught?
Rick: Yes. I grew up with Andy Newmark, in fact I knew Andy before I started drums. So I grew up learning from him. And then I learned more about music being in a band with David Spinozza, because he wrote charts and I didn't know how to read. So that's how I learned to read music. I never really thought of it before, but there are a lot of guys today who are really great musicians but can't read a note of music—and it really doesn't matter. Advertisement
MD: So how did you develop such perfect time? Did you practice with a click or play along to records?
Rick: The thing about my time, I was just very lucky. It was just one of those things that was second-nature. I remember when I first started playing early on. You practice the same thing over and over, and then when you're very comfortable and relaxed, you can feel that your inner clock works, and then you throw away the metronome. A really good exercise was not behind the drums, it was just with a pair of sticks on a pillow. And that's great for strengthening your arms and hands. My thing was also practicing playing grooves at very slow tempos.
MD: Any favorite recordings you've done?
Rick: Steely Dan's "Peg" was one of the best tracks I ever played on. And working with [Steely Dan founders] Donald Fagen and Walter Becker, who I love so much, was great. Another great session was a James Taylor record called Dad Loves His Work. I also love some of the stuff I did with Toni Childs.
MD: What was your first experience in the studio like?
Rick: My first experience in the studio was when Spinozza called me to do an R&B record. And I remember I played on the bell of the cymbal and everyone went, "Wow…how'd you do that"? [laughs] Advertisement
MD: Any favorite drummers you're digging at the moment?
Rick: Oh, yeah. I went to see Donald Fagan with Keith Carlock, and that guy is unbelievable! He is a new hero for me. I knew from the very first time I heard him play a few years ago how good his feel is. Keith comes from a different place. He plays music. He doesn't make the drums the starring instrument. He makes the drums a special part of the music—on anything he does—and he has a great pocket. I was really inspired watching him. And Michael Bland is a solid player. Again, what I love about him is when he does the All Star gig, he comes up with a great tune to play. [Michael performed Led Zeppelin's "Custard Pie."] And of course, Steve Gadd and Vinnie Colaiuta are always good. Vinnie is a real player; he can do virtually anything. And I think he really developed with Sting.
MD: How was it working with Jim Keltner on John Lennon's Mind Games record?
Rick: I played on a couple of tracks together with Jim, which was pretty cool. Jim's one of my favorites. He was a big influence on me.
As a matter of fact, John thought I worked for the cartage company because I was wearing an SIR T-shirt. [laughs] He was a very, very nice guy. And as I got to know him, I respected him more. It never mattered to me that he was in The Beatles, because they weren't an influence of mine growing up. The biggest influence for me was Jimi Hendrix. I saw Hendrix when I was about fifteen or sixteen years old and thought, is unbelievable. Jimi was completely unique. That was what was great to me, along with R&B music—James Brown, Otis Redding, and Sam & Dave.
MD: Any advice for someone wanting to get into being a studio drummer?
Rick: You've got to make sure that you know more about music than just drums. If have you an understanding of music, it will help you play any instrument, and that's what you need to know.
For more about Yamaha's Groove All Stars show, check out the July '06 issue of Modern Drummer magazine.