Mickey Curry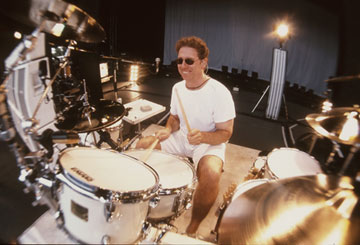 Not many people get to do exactly what they love and get paid for it – much less with two of the biggest artists in the world. Mickey Curry toured and recorded with Hall & Oates at the peak of their career, laying down a solid backbeat with perfect feel and emotion. He's done the same with pop superstar Bryan Adams for the past twenty years.
Mickey was born on June 10, 1956, and his dream of banging the skins began when he saw Ringo Starr on TV in 1964. "I was living at my grandmother's house," Mickey recalls. "The Beatles were on Ed Sullivan, but my grandmother really didn't want me to watch. So she watched it with my parents, while my brothers and I – I've got six brothers – we're all fighting to look through the little keyhole in the doorway. We could just see the corner of the TV, but that did it for me. I was gone. I just thought, Wow! That's the coolest thing.?
Mickey came from a large and musical family, and it wasn't long before he was asking his parents for drum lessons. "Everyone in my family plays an instrument, so I just picked up sticks," Mickey explains. "I thought it was cool having that little rubber practice pad and the Haskell Harr drum book. Then my music teacher, Ned Tarantino, told my parents that they should buy me drums because he thought I had a natural aptitude for it. Ned was a great guy – he died a few years ago, and I really miss him. He was also the first jazz cat I ever knew. He had a little goatee with red hair, and he used to wear a beret all the time. And he could really play. So with his encouragement, my father went out and got me a drumkit.?
Mickey's been on that kit ever since. Most successful players have a career in the studio, or if they're lucky enough, maybe join a band and tour behind some hit records. Mickey is one of those rare players who've successfully done both throughout his career. And for anyone who knows him personally, it's really no surprise, because Mickey is one of the most humble, lovable people you'd ever want to meet.
MD: Sounds like you had music all the time in your house growing up.

Mickey: Oh, yeah. There were seven boys in my family, and everyone played something. My oldest brother played piano, my brother George played guitar, my brother Gary plays guitar, and Todd plays saxophone. There were also some local guys who I picked up stuff from, just watching them in the garage. And they always listened to great records. They had all the early Motown records.
Advertisement
MD: Would you play along to records?

Mickey: Yes, I used to play along to 45s: Motown, early Stax, Sam & Dave, Aretha?. Now that I'm older I'm fascinated when I find out who's playing drums on those records. These guys are my heroes. There was also a lot of rock music like the Animals, Herman's Hermits, and of course The Beatles. And I'd turn on the radio and play along to it. That was how I learned to play the kit.

MD: Did your parents play also?

Mickey: Not really, but my father was very musical. He's one of those guys who could sit down at the drumkit and start playing this funny sort of bebop thing. And he'd sit at a piano and plunk something out, or pick up a guitar or harmonica.

MD: Did you ever go the route of super-chops drumming?

Mickey: When I was a kid I used to play along to Billy Cobham records. I'd pick up one fill on an entire record and I'd go, "Man, I can do Billy Cobham." [laughs] I just don't have the discipline for the chops thing. Probably because of those early days listening to R&B, my whole thing was just about groove and feel, and you do that by keeping time and just feeling it. All my real hero drummers played that way – Pistol Allen and Benny Benjamin, Bernard Purdie, Roger Hawkins down in Memphis, Al Jackson?. They're all unbelievable! And the other thing was the fact that because I love that stuff so much, and I could play it, it got me into a lot of bands. I was like fourteen, fifteen years old and auditioning for guys who were playing in bars and clubs, and I was getting gigs. I'd have to sneak in half the places, or it was, "He can play but he can't have any beer."
Advertisement
MD: When was the first time you went into the studio?

Mickey: When I was fifteen. There was a little studio here in Connecticut, and I went in there to do some commercial stuff, little demos for these local ads. The guy liked me, so they called me back a few times. And I dug it. The studio was really happening. The only problem was that I was having a hard time with the click track. It was very time-specific recording; a piece would be exactly thirty seconds. And this was way before they could fix anything after the fact.

MD: When did you learn the importance of the click?

Mickey: After high school. I took lessons with a guy named Nick Forte. He's a jazz guy who taught me a lot about how important keeping time is. We had a metronome [in the lesson room], and that helped me out tremendously.
MD: What was your first big session?

Mickey: There was a band called The Scratch Band that I was in for five years. We played all up and down New England. I learned a lot in that band because our manager owned a studio, and we recorded there all the time. We were also playing in clubs and bars.
Advertisement
MD: How long after that did you hook up with Hall & Oates?

Mickey: Less than a year after that. I quit The Scratch Band because even though there was a lot of money coming in, I wasn't getting any. I didn't want to just play in bars for the rest of my life, and fortunately Peter Lubin at Mercury Records, who'd seen me play with The Scratch Band, asked if I'd be interested in recording with a band in the city. It was a band called Tom Dickie & The Desires, and it was at Electric Lady studios, so I freaked. Anyway, I did that record, and the band's manager was [famous record company exec] Tommy Mottola, who asked me, "Would you like to leave your drums up and record on a Hall & Oates record next week?"

MD: Were you familiar with them?

Mickey: Oh, yeah, I was a huge fan because Bernard Purdie played on their album Abandoned Luncheonette. He's on "She's Gone," one of my favorites. So I said, "Yeah, I'd love to." Then while I was recording with them, [legendary producer] Bob Clearmountain called me. I had done a record a few months earlier for guitarist G.E. Smith, who used to be in The Scratch Band as well. He had left about a year and a half before I did, and now he was working with everybody.

MD: wasn't he in Hall & Oates at that time?

Mickey: Yes. So G.E. and I got to work together again. He had actually called me when I quit The Scratch Band and said, "I'm doing a solo record, come into New York." So we recorded that at the Power Station. That was a couple of months before the Hall & Oates session. I was also doing some demo stuff with other people in New York around that time, and it was just great. I drive my VW to the train station in New Haven, take the two-hour ride into Manhattan, work, and get back home at two in the morning.
Advertisement
MD: How did you meet Bryan?

Mickey: Bob Clearmountain, who had worked on G.E.'s record with us, called and said, "I've got this kid from Canada. I'm going to produce his record, and I want you to play drums on it." So a couple of weeks after I finished the Hall & Oates tracks, I was back up at the Power Station working with Bryan Adams on the You Want It, You Got It album. That summer I went on the road with G.E., and by the fall I was back out on the road with Hall & Oates. Even though I was with Hall & Oates between 1981 and 1987, when we were off the road, I would be able to go to Vancouver and record with Bryan. I got to work on all of his records in one capacity or another.
Around mid-'86, Darryl Hall was supposed to go do some solo stuff, so Hall & Oates split up and I was sort of scrambling for work. I was doing a lot of session work, but I didn't know what I was going to do next. My brother died that year too, so things were kind of wacky personally. But I had gone up to Vancouver that fall to record Into The Fire with Bryan, and that's when he said, "Come on the road with us." I'm very lucky that it worked out that way.

MD: It may have been partly due to luck, but it's also your personality. People dig playing with you and they want you in their band.

Mickey: Thank you. You've got to be nice to people and give them what they want, and you've got to be positive. Once the attitude starts, you're screwed. If you're an asshole, nobody's going to work with you. You're not making your own record, you're working for someone else. So you've got to give them what they want, whether you particularly like it or not. You've got to trust the producer and you've got to trust the artist. These are the people who know what they want.
Advertisement
MD: You also recorded with The Cult. How did that come about?

Mickey: That happened through producer Bob Rock, who is from Vancouver. When I first started working with Bryan, we were always recording at a place called Little Mountain in Vancouver, and Bob was there all the time. He was in a band called The Payolas. I worked with Bob on a bunch of bands, like Honeymoon Suite, and I got to know him really well. So when he was going to produce The Cult's Sonic Temple album, he said, "I'd love you to play drums on it."

MD: Were you familiar with them?

Mickey: I knew a little about them, but not much, so I went out and got the first two albums. This was before Matt Sorum was in the band. As a matter of fact, I remember when Matt auditioned for them, because it was when we were recording the second record I did with them, Ceremony. We were recording in LA and they were going out at night auditioning drummers for the tour, because as much as I would have loved to, I couldn't tour with them. I was pretty busy. Anyway, I went to the first audition night, and Matt was the first guy I saw play. I went, "Listen to this guy – as a matter of fact, get him in and let him finish the album." [laughs] He was so good and so nice. I'm a huge fan. That's when they hired him.

MD: You also did a Carly Simon record.

Mickey: I did Let The Rivers Run. And I did a song that she co-wrote with Bryan that he also produced. I did the video for the title track, which was a big song for her. It was on the Working Girl soundtrack. She got an award for that. I remember that we did the video on the Staten Island ferry at six in the morning. We had the drums set up out on the back deck, and it was freezing. It starts to rain, and I'm wearing a suit and tie with an overcoat, and I'm sitting at the drums trying to play that track. Thank God we got it in a couple of takes, because that was really tough. [laughs]
Advertisement
MD: How was working with Elvis Costello?

Mickey: Elvis is fantastic. He's one of those guys who are constantly misunderstood. He was pinned as such a bad boy. I was a huge fan back when his first record came out in '77. The Scratch Band opened for him in New Haven on the first tour he ever did in America, and we've been pals ever since.

MD: So with Elvis, or basically with any session, what's the procedure when you go in the studio?

Mickey: I sort of write myself a chart. I note whether I'm in during an intro or the first verse, where they want a big fill, where they might want some weird pattern, and then I'll just sort of write out the pattern. I write myself these little notes. When you go in fresh, you've got a lot of energy and you're sort of right on the edge all the time, because you're not really sure where the song is going. I think that guys like Elvis feel that energy, as opposed to just hearing the part you're playing. They're getting a vibe off it, not necessarily listening to the notes.

MD: How does Bryan show you a song for the first time?

Mickey: He usually has demos with either drum programs or just some sounds keeping time. And he's usually got the song pretty well mapped out. There are certain specific things he likes – like a certain fill or pattern. But there's a lot of freedom as well. He trusts me to come up with stuff. A lot of the newer material, when he writes songs and demos them up, he's taking some drum tracks from something we did ten years ago. He might take eight bars of it and move it. So it's all me playing. When I hear that, I know what he's going for and I can do that for him in the studio. With Pro Tools now, it's so much easier to record, at least for me.
Advertisement
MD: So you like Pro Tools?

Mickey: Yeah. I like it because you can go in, get a good feel, and if you screw up it's okay, because you only need to do a few passes of any particular song. You're not doing thirty takes of something, trying to find one that feels right. What does bother me about Pro Tools is that a lot of guys overuse it. Like, I'll go in and play, and by the time they're done Pro Tooling the drum track, it sounds like the demo again.

MD: How was Bryan's new record, Room Service, recorded?

Mickey: The drums were put on after a lot of the other parts were recorded, so I was playing along to sequenced parts. He loves Pro Tools too, so he uses it quite a lot. I'd been used to this sort of thing from the Hall & Oates days, because they were the first guys I knew about that would use a Roland 808 or drum machine and I would play over it. You know: put big live drums over the drum machine. We did that on everything.

MD: How did you feel about drum machines at that time?

Mickey: I didn't dig the fact that there were certain songs they opted for only using the 808. That was part of what the sound was, and they had big hits with those songs. But I sort of dug being able to do it, you know, just go in and just drop in for the middle eight, or drop in and out with the Linn machine. I used to love that.
Advertisement
MD: Jimmy Bralower was programming a lot back then, right?

Mickey: Jimmy Bralower was the programmer. And I loved him. He's on a million records. We used to call him "Dr. Bralower." They'd do a bunch of tracks with him, then I would come in for a few days and put drums on things they thought needed to be beefed up a bit, or where they wanted a change in sound or tone or texture. Things like "Adult Education," "Private Eyes," and "Maneater" all came out of that.

MD: This goes back to your being able to play along comfortably to a click.

Mickey: Exactly. I can't say I depend on it now, but I'd rather have one because then I can play in and out of it. You just play with it like it's another instrument. Then there are certain guys who I love because they don't do that. Keith Moon obviously never played to a click. He probably didn't have to because he was just so phenomenal at what he did.

MD: Who are some of your other drum heroes?

Mickey: Ringo, Levon Helm from The Band, Jim Gordon, Carmine Appice, Dino Danelli, Jim Keltner. Jim is one of my absolute favorite guys, there's nobody better at what he does. Then there's Danny Seraphine from Chicago. When I was a teenager he was the guy for me. They were one of the all-time greats in the early days. Even now: Tris Imboden is a great drummer. Advertisement
Growing up, I always wanted to be a session guy. I started buying any record that Jeff Porcaro's name was on. He's one of those guys, like Keltner, where every note was perfect. Lately I've been listening to Miles Davis's Kind Of Blue album. Jimmy Cobb – what a great drummer he was on that record. That first song, "So What," when he comes in with a rivet cymbal – you just melt. Then there's Billy Cobham and Tony Williams. When you watch a guy like Tony Williams, you can't figure out what he's doing. Elvin Jones was like that. Back in the late '80s, Charlie Drayton, Jim Keltner, and I went to the Catalina Club in LA to watch him play. Every once in a while Keltner would put his head down and go, "Oh, man."

MD: Do you practice when you're off the road?

Mickey: Yes. I have drums here at home, and I make sure I pick up a pair of sticks all the time and bang around a little bit. And we always make sure we get a little soundcheck where we end up doing Jimi Hendrix or Led Zeppelin or something, where I'm dying after twenty minutes. I don't know how [Jimi Hendrix Experience drummer] Mitch Mitchell did it. [laughs]

MD: What is your practice routine like?

Mickey: A lot of rudiments, just sort of getting around the kit, practicing not catching the rims, and getting up on the cymbals. It's funny, the older I get the closer I'm making my kit. Everything gets a little bit closer.
Advertisement
MD: And I notice you sit really low.

Mickey: Yeah. I've always done that. You know what's funny, I've talked to other people about this, and a lot of the Yamaha drummers sit low. I don't know what that's about. But it's been comfortable that way for me. A lot of guys sit on my seat and they ask, "How do you sit this far back?" I think I'm sort of on the edge of the seat. But it's comfortable and I get around the kit that way. I'm also finding that lately I'm bringing my gear in a lot closer – like the ride cymbal is in a little more, and the crash cymbals are a bit lower. And I'm tilting the floor toms a little more.

MD: Do you exercise when you're on the road?

Mickey: I just try to stay healthy. I walk a lot, I watch what I eat, and I try to get good sleep. I don't drink or smoke, I don't do drugs, and I eat healthy.

MD: I read that you're a vegetarian.

Mickey: Yeah, about eight years now.

MD: Does it make you feel different?

Mickey: Yeah, I feel like I'm a lot less aggressive. And I've got a lot more energy. I don't have anything against anybody eating meat, it's just not for me. And I feel better since I stopped.

MD: Finally, what advice do you have for drummers going into the studio?

Mickey: You've got to pay attention to what they want. So many guys now, especially some younger players can play anything. But the biggest mistake – and I learned this the hard way – is trying to play everything you know. But you've got to play the song. And listen to the songwriter or producer. Those are the ones in charge. Be confident, without being cocky. Advertisement