Zac Hanson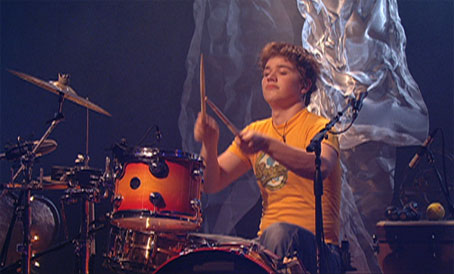 Storming out of Tulsa, Oklahoma with their major-label debut, Middle Of Nowhere, featuring the "Can't get it out of my head" hit "MMMBop," drummer Zac Hanson and his brothers Isaac and Taylor became the biggest-selling teen idols of 1997. Zac, only eleven years old at the time, found himself a superstar overnight.
by Billy Amendola
Now nineteen and the CEO of the band's label, 3CG, Zac speaks to MD online about what it's like for him eight years later. The brothers' latest CD is Underneath, and, unlike it predecessor, it lists only Zac behind the kit.
A few years ago I saw Zac perform live. Speaking with him shortly after, I found him to be very serious about his playing and his music. So it came as no surprise that on Underneath Zac sounds as solid as a seasoned session drummer. The band is currently on a national tour; we caught up with the drummer in Las Vegas. Advertisement
MD: You're credited as the only drummer playing on your new album.

Zac: Yes. Luis Conte played percussion. He drips rhythm. It's like he walks in and everybody suddenly gets a backbeat just because he's there. [laughs] I was holding the same shaker Luis was, but for some reason it sounded thirty times better when he played it. And how he got that little triplet in there that he adds – that flick of the wrist or movement of a finger?.

MD: Prior to that, did you play on your first two records?

Zac: I didn't play that much on our first record, but I did play on most of the second one, This Time Around. I was an eleven-year-old who was playing for three years at that point. I'm sure you know that Abe Laboriel Jr. played on some tracks.

MD: Were you in the studio when Abe cut those tracks?

Zac: Yes. I was the one who asked him to come in, because I'm such a fan of his drumming. I felt, "You know what? I'm not going to do as good a job on this song." Abe is so talented as a drummer, and his feel – he knows how to play music while drumming. He knows how not to play, yet he can play anything. Advertisement
One of my favorite moments was just sitting down with him, with two drumsets, just playing and talking shop for a while. I don't consider myself a drummer's drummer. I've never wanted to be the guy who could play the most notes, I just wanted to be Ringo Starr, a guy who adds great parts to the songs. I don't know if I've done it yet, but that's what I strive to do. Abe is a great example of a drummer who can play with such a solid backbeat and still be musical and throw in a trill or whatever when he needs to – without overplaying. That's always the key. It's like some drummers get so good, they don't know how to play stupid any more.

MD: Explain what you mean by "playing stupid."

Zac: I just mean playing simple beats. Look at the great drummers who play on records. They're the ones who can play the simple beats, perfectly. You don't get paid more for more notes.

MD: What did you learn from Abe?

Zac: I learned from just listening to his drumming. On our second record the songs that he did play on, I had to re-create live. So when I went back and listened to what he'd done, I incorporated his ideas into my playing.

MD: Let's go back to the beginning. Who and what made you want to play drums?

Zac: I guess it sort of came naturally to me. I always had an affinity for banging on stuff. I've always been the more secluded brother, so sitting at the back of the stage and going about my business made sense to me as a person. And then once I started playing drums, it was just something that naturally fit well. And I really enjoyed it once I started doing it – there's no stopping once you start.
Advertisement
MD: Did you then take formal lessons?

Zac: I took drum lessons for about a month, mostly from a teacher in town who was a rock drummer in a local band. He started me off with some basic beats. I didn't start by doing paradiddles and rudiments, I started off only playing beats.

MD: Do you think that that's what made you think more musically in your playing?

Zac: Definitely! I'm very thankful that I started off that way, because I think it put the right idea in my head about where I'm supposed to be as a drummer – where drums should sit in a piece of music, my piece of the puzzle.

MD: So, next thing you know you is, you're eleven years old and an overnight superstar. The pressure had to be tremendous.

Zac: So many people think they know who you are and what you're supposed to be. I think we're all very lucky to be three guys instead of one – and especially to be brothers. There was no disconnect. I've heard producers and songwriters we've worked with say, "You know, those guys are sometimes hard to work with because they all agree on everything." [laughs] We have a very common vision for where we are as a band and where we're going. Though, we're all songwriters, and we're all writing songs separately with different people, and we come out with three completely different styles. But when we come together we have a very strong vision for where we're going. Advertisement
I don't think there's anything worse than not growing as a songwriter. Music is a constantly evolving thing, because it's a representation of a human being. Whatever it's about, it's got to feel natural, it's got to feel honest. I find music is really there to help people express emotions that they can't express themselves.

MD: Going back to the drums, on the new record, how did you cut the tracks? Was it heavily ProTooled?

Zac: No, definitely not. There were even a couple tracks cut live, like "Underneath." "When You're Gone" was cut mostly live.
It's unfortunate, but a lot of music is ProTooled to death. They've defined exact tempos of where songs should be. But that's not necessarily the only way it should be. The click should just be a guide. Sometimes speeding up in a section makes it feel better. The song "This Time Around," on our last record, speeds up in the choruses – I think it's like three bpm or so – because it needed that feeling, And that's natural. It's just about getting the emotion, even on drums. After that it doesn't matter if you speed up or slow down slightly. But if you are playing it with conviction, then everyone will be ready to follow you.

MD: Are you into tuning your own drums?

Zac: I do that more as I build my skills as a drummer. On some songs my drums are tuned by guys like the Drum Doctor, Ross Garfield. We rented a few of his kits.

MD: Did you use different kits on this record?

Zac: For about half the record I used a solid-wood Ayotte kit. On the other half I used a set of DWs. The snare was a Ludwig Black Beauty. Ayotte has got the wood rims on all their drums, and it's just a really natural wood feeling and sound. We dampened them up a bunch with paper towels and whatever else we could find, to get that really dead '70s-type drum sound. When it's appropriate that's one of my favorite sounds. There's just something really cool about drums that go boomf. It's understated.
Advertisement
MD: Cymbals?

Zac: Zildjian. Mostly Z series rock cymbals.

MD: Sticks?

Zac: I don't have an endorsement with anyone right now. I used Johnny Rabb for years, which I loved! Then they went out of business. So, right now I'm sort of searching. There's a guy who is making carbon fiber sticks, and they're pretty cool. The main advantage is for touring – the carbon fiber take so long to break. I've been playing with the same pair for five shows now.

MD: Do you use electronics?

Zac: I don't really like them. There's too much spring. I feel like I'm playing on a trampoline. There's nothing like the way real drums feel and sound.

MD: Do you practice?

Zac: I try to. For the last year or so we've been on the road so much. We did an acoustic tour last year all across the country. And even in that acoustic setting I was still playing quite a bit of hand drumming, tambourine, shaker?. Whenever I'm not on the road for a week, it's mostly like, "Let me sleep for fifteen hours a day." But when I'm not on the road I do try to practice an hour or two a day. I do my best to keep a pair of sticks around to keep those muscles loose.

MD: So you practice more for the physicality of it.

Zac: Yes, all the muscles in your hands and forearms have to get so tough to play three-hour, full-on rock 'n' roll shows. When you stop for three months and then go back out, if you're not toned, you're going to pull something.
Advertisement
MD: Let's talk a little bit about the business. You're the CEO of your independent label, 3CG. Is there a meaning behind that name?

Zac: Yes there is. It stands for three-car garage. That's where we come from as a band, we're a garage band. So it's saying, Let's bring music back to the passion, the love of doing music. I'm always going to play music, whether it's a block party or clubs or stadiums or wherever, because it's in my blood. If I needed to flip burgers and then play on the weekends, that's what I'd do, because music is a part of who I am.
I have so much passion for music that I'm willing to take music, which is a 24/7 job, and then on top of that be the CEO of a record label – which is a full-time job by itself. I'm willing to do that because there is so much great music out there that isn't being heard with the state of the music industry as a whole. In fact, much of our generation is being defined by music that they don't really enjoy or identify with or even listen to. Radio doesn't really represent the music that people want to hear. People need to speak up.
Musicians have such an ability to connect immediately with their fans in a way that they never had before. The ability to create a connection with your audience and a personal involvement in your music is there with the immediate access of the Internet. Music will never go away because it's part of the fabric of our existence as people. Let's bring passion back to music. In addition to being an artist trying to do that myself, I look forward to the opportunity I'll have in the future to sign bands who are equally passionate about their music – people who are out there putting themselves on the line, writing music that means something and doesn't just float through people's ears.
Advertisement
MD: Do you play any other instruments besides drums?

Zac: I play guitar and keys.

MD: What advice would you have for young musicians who want to do what you do?

Zac: Well, music in general is more work than you realize, so be ready to play anywhere, anytime. When we were first starting up, we heard there was a music attorney who had come into town for a conference. So we got up at 6:00 in the morning, drove down to this guy's hotel, called his room up, and said, "You don't know us but we know you. Come down so we can sing for you." And he said, "Okay, for you to do this means you've got the passion and you're willing to sacrifice anything to do music." You've got to go out there and talk to anyone and everyone who knows anything about music.
The other thing I would say is, don't drum just for drumming. I was at a party and there was a bunch of musicians there and we all picked up instruments and started jamming. And then this young drummer started playing and little by little everyone left. The other musicians playing slowly stopped playing and sort of moved on. Why? Because he made it not enjoyable for the people listening or for the guys playing, because he was too focused on playing drums rather than on the music.
That's why I love Larry Mullen as a drummer. Larry doesn't do anything conventionally. He adds such a unique sound to U2. There's no other band with a rhythm section like U2. You hear the drums on a U2 song and you know it's them before anybody else comes in. It's a recognizable sound. Now, he doesn't sing or write the songs, but he might as well, because what he does as a drummer makes their music what it is.
Advertisement
MD: Do you watch any drum DVDs?

Zac: My favorite thing is sitting down with this drummer friend of mine who has skills on drums that I don't have, and just play along with him. We face the kicks at each other, and see what we come up with. Maybe I'll hear something he'll do and say, "Hey, I'd like to try and play that," or add an offbeat here. As far as DVDs, I watch live shows.

MD: Like?

Zac: U2's Rattle And Hum. Lately I've been watching the Prince DVD Live In Las Vegas, with John Blackwell. John is great. We did a House of Blues gig in LA, and John was there. He came up to me and told me, "Hey, you're pretty good." And I went, "Wow, that's pretty cool!" I thought it was awesome.

MD: What are some of your favorite groups?

Zac: One band that I loved in the '90s was The Spin Doctors, with Aaron Comess on drums. Then there's Ringo and The Beatles, Bonham and Zeppelin, Larry with U2. I also love mellow stuff like Nick Drake. Travis is a great band. David Gray is a killer songwriter. Some old country stuff, the band Whiskey Town, which is no long together. Ryan Adams was in that band before he became a solo artist. Wilco's another great band. There's an independent artist named David Garzea who can play anything – drums, keys, guitar. Most people don't have what he has. And there's this young drummer from Nebraska named Ryland Steen, whose drumming I love. He was in this power trio called Square with the lead guitarist from Maroon 5.
Advertisement
MD: What would you like to say to the Hanson non-believers?

Zac: We don't worry about the people who just don't get it. We focus on the fans, because those are the ones who matter. You can't focus on the critics. Hey, if you don't like Hanson, that's okay. But when I go out on stage, I'm giving everything I've got.

MD: So how does it feel being a pop star when you're eleven as compared to being a star at nineteen?

Zac: I don't know if I'm too goody-two-shoes, or my love of music is just – I've never really wanted that super-stardom. I don't look at it like, "Oh look, dude. I'm so great. All these people love me. Look at all the chicks I can get and the money I've made." I just think, how many musicians get the opportunity to speak to millions of people around the world? To go to Indonesia and have 15,000 people show up for a random in-store performance? To go to Australia and have 21,000 people show up in the parking lot of a record store. I feel blessed. Maybe I'll make a difference in somebody's life – maybe I'll inspire someone the way that I was inspired to make music.