Web Exclusive Interview: Ringo Starr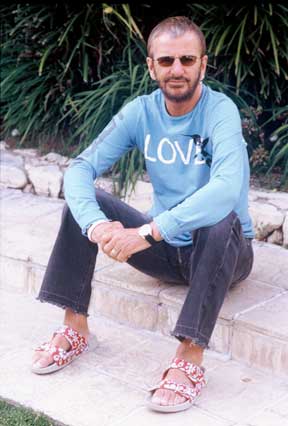 At an age where most would be settling back and reaping the rewards of their major accomplishments in life, Richard Starkey, better known to the world as Ringo Starr, is not even thinking about slowing down. In fact, he's exactly where he wants to be at this stage of his life, happy just being a member of a band.
By Billy Amendola
Back in Liverpool, England in the early '60s, Ringo was already a star, playing drums in the biggest local group at that time, Rory Storm & The Hurricanes. This was before he joined The Beatles – a band that would not only change his life forever, but would go on to change the world. Most of us know the story; those who are too young to remember, please go back and study everything you can get your hands on about that era.
Ringo – a man of many talents – has dabbled in quite a bit of show biz in his sixty-five years on earth. Besides being one of the greatest drummers of all-time, he's played the role of rock star, actor, filmmaker, TV star, studio musician, artist, photographer, and the leader of his own bands with the All-Starrs and The Roundheads. MD Online caught up with Ringo – a man who truly and respectfully deserves the title "living legend" – for a quick conversation while he was in New York City promoting his latest solo recording on Koch Records, Choose Love. Advertisement
MD: Do you have any favorite drum tracks from your solo recordings?
Ringo: "Drumming Is My Madness" is one, because it was fun. It was Harry Nilsson, Jim Keltner and I. For the Ringorama CD, we specifically made it sort of drum-prominent, and I sort of played some really good stuff. [laughs] Though I never practice, I do feel I'm getting better. It's just how it is. The more you do it, the more comfortable you are with it. I've been touring with the All-Starrs, I'm touring now with The Roundheads, I'm making records – I'm sort of back in the business. I'm playing more, so I'm more comfortable. But the feel I have – many of you have asked me about my feel – that just comes from God. I truly believe that my heartbeat keeps the tempo, because I naturally have great time, as you all noticed, and that's not blowing my own horn. I just have great time, and that's the rhythm of my heart and my soul.
MD: Do you ever record with a click-track?
Ringo: Never do. Click tracks make me too tense. I'm useless with a click track. I'm just not from the click track school.
MD: What were some of your favorite drum tracks that you played live with the All-Starrs, and did you find any particularly challenging?
Ringo: My favorites – anything with Joe Walsh or with Todd Rundgren was great. If it was too challenging, then I would leave it to the other drummer. [laughs]
MD: How did you develop the two-handed snare/floor-tom rolls, like on "Tell Me Why" and "Help"?
Ringo: Well, it's the only way I can do it, I suppose. That's just how it worked out. I didn't develop anything really; I just did it that way. Advertisement
MD: What made you change your mind about "Give Me Back The Beat," a track from your new CD Choose Love, in terms of it not being a 'drum song?'
Ringo: On "Give Me Back The Beat," the idea was to have guest drummers. On every record we've had guest guitarists, guest singers, so I thought, Well, let's have guest drummers. I'll do a verse and Charlie [Watts] will do a chorus, then my son Zak, Jim [Keltner], whoever – all my favorites. But anyway, it just didn't work out. So listening to the playback of "Give Me Back The Beat," I just thought it needed a half-time feel. And so for the first time ever, I went back and actually did a secondary drum track, and it's all in one. It's not spliced and fixed, it's like, "Turn the track on and we'll do what we do." So it was very exciting really in a way to put two tracks on it, and they're both me. It would have been more interesting for me in many ways if it had been another drummer. But that's how it worked out.
MD: How do you prefer to record your drum tracks? Do you still like to get the 'live' element down by playing it through with the band, or do you track separately with music tracks? Also, nowadays, if you hear a mistake, will you do your drum track over, or would you take advantage of the new methods and just fix it in the mix?
Ringo: No matter what Mark [Hudson] says, I will not redo the drum tracks. On all the records, my drum tracks are live. I played them from start to finish, and that's what you get. And I have the band in the studio with me, all looking at me. No one is more than six feet away, and I'm live and they're direct. And that's one of the reasons you can hear a lot of talking and mumbling on my records. [laughs]
MD: A spiritual question: The track "Oh My Lord," also from the new record, got me thinking. I was having a conversation with Jim Keltner not too long ago, and he told me he prays every time before he plays his drums. Do you?
Ringo: No, I don't pray every time before I play my drums, but I do pray every morning and every night. Advertisement
MD: What's next?
Ringo: Well, right now I'm promoting the new CD, Choose Love. Then there's a project with [Spiderman creator] Stan Lee in progress. We've got the writer now, we like the outline, we'll get the story, I'll do the voice, and the animators will do their job. That should be out, hopefully, by the end of next year.
For more with Ringo, check out the November '05 issue of Modern Drummer. For more on what Ringo's up to, check out www.ringostarr.com.