Daniel Reyes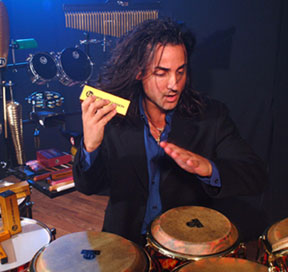 In between those gigs he'll squeeze in a performance with Ricky Martin, Stevie Nicks, or Jennifer Lopez, among other top acts. But Danny's brain is always thinking: How do I make my playing better? Equally important to him these days: How do I make the instruments I play better? Enter Danny the inventor.
Danny's latest invention, the RealFeel Mucho Pad put out by HQ Percussion, is a clever and useful "multi-sound" woodshedding accessory that is getting lots of positive attention of late. And his One Shot Shaker, made in collaboration with Latin Percussion, continues to be called "brilliant" by musicians and critics nationwide.
Born in New York City and raised in Puerto Rico and Las Vegas, Daniel is a third-generation musician in the famous de los Reyes family. His grandfather, Walfredo de los Reyes II, was one of the founding members of the successful Cuban orchestra Casino de la Playa. His father, Walfredo de los Reyes, is one of Cuba's most prominent and influential drummers. And his brother Walfredo Jr. is one of the most in-demand drummers on the scene today. Advertisement
We caught up with Danny at a rehearsal for this year's Grammy Awards, to be held on February 8, where he'll be part of the pulsating beat behind Earth Wind & Fire, Outkast, and Parliament Funkadelic. All in a day's work for this hot percussive commodity.
MD: You're on the road so much these days. Do you have time to practice?
Danny: All day long, if I can. Basically I have sticks in my hand all day, especially when we're touring by bus. I always have my Mucho Pad with me on the bus.
MD: Is that how the inspiration to come up with your own practice pad came about?
Danny: Yes. It was driving me crazy that I always had to use different surfaces to imitate different sounds. So I started thinking, Why can't it all be in one pad? I made it to simulate a little percussion workstation with cowbells – but it's not just for that.
MD: Right, because you can also use the cowbell pads as if they're a hi-hats or cymbals – or toms for that matter.
Danny: Exactly, because they can go from high to low, or you can turn them around so that they go down in pitch. And then you've got the rim, which is also very useful. I couldn't do that on a regular pad that was just one surface. In the past year, since I've been working on it, I've noticed a substantial improvement in my playing. Advertisement
MD: Do you play drumkit?
Danny: I started on drumset. Some of my earliest memories of lessons with my dad – not so much on drumkit, but on snare drum – are sitting down and doing Stick Control and learning proper technique. And then of course we always had a drum room with all sorts of drums and percussion, so I would always go sit on the drums.
Later on, I started playing conga drums with my dad, when some of his friends would come over the house and play, like Armando Peraza, Luis Conte, and Alex Acu'a. I really enjoyed hitting the drums with my bare hands and creating rhythms.
Hand percussion is something that either you like or you don't. A lot of drummers don't like it because it makes your fingers swell. I don't know. I'm a glutton for punishment. [laughs] Over time you build up calluses on your fingers and after awhile, my hands didn't hurt anymore. Advertisement
Since childhood I've been into working out all the time, and I learned that a little pain was not so bad. It's like the old saying, "no pain, no gain." Actually, it feels good to me, especially when you are playing for long periods of time. You go into this zone and it's just beyond pain.
MD: Did having drumset experience help make you a better percussionist?
Danny: Well, I wouldn't say "better," but definitely more flexible. Back then, my dad would give me conga lessons and he would also put me on the drum books like Four Way Coordination, which I'll never forget. I used to love that book and the Jim Chapin book. I especially liked the four-way coordination books.
Then I started applying that to percussion – especially when percussion pedals came out and you could hit cowbells and tambourines with your feet. My dad would do that all the time, add a hi-hat and play conga drums, mixing both drums and percussion. It became very natural for me to play percussion with my hands while incorporating my feet. Advertisement
MD: What would you say was one of the greatest lessons that your dad taught you?
Danny: Wow, there were so many?. He was into technique, I guess because he had studied with [legendary drum teacher] Murray Spivack. He would sit there and go: squeeze-release. That actually made a lot of sense because you're getting two hits from one.
MD: Can you explain that more?
Danny: Well, you squeeze the stick and then when you come back up, you release it in a way that you hit the surface again. So when you do that up to tempo, it's like you work half as hard. It just makes you relax. That's an ongoing lesson.
Another thing that my dad helped me learn back then was how you can see progress and skill level evolve. For instance, if I was playing four bars in the Syncopation book or the Louie Bellson book, and I couldn't do all four bars in a row, he would teach me, "Take the first bar and play it over and over, and then incorporate the second bar. Then play those two bars for a while, and then incorporate the third bar," and so forth. I've applied that throughout my life. Whenever there's anything that's a little bit difficult, I just break it down. That's a very valuable lesson. Advertisement
MD: Has growing up in a musical family hindered you at times, or has it always helped?
Danny: I just thought it was normal. It was practically every day that I saw my dad and my brother and friends play in that room. It wasn't just a music room, it was my playroom. I would take equipment apart, rebuild and refinish drums?. That was just part of growing up. I didn't realize how fortunate I was until I got older. My dad would introduce me to friends, and they just happened to be famous, like Allan Dawson, Roy Burns, or Louie Bellson.
MD: What did you learn from your brother Wally?
Danny: Wally is one of my favorite drummers. He's become so versatile and is very educated in a lot of different styles of music. He learned everything from all the different kinds of Afro-Cuban music to Colombian, Tex-Mex, reggae, ska'. He's really a well-rounded drummer. From a percussionist's viewpoint, when you play with somebody of that caliber, it's great because he's always listening to you. On top of all that, he plays percussion very well, and he gives me the respect and the room within the music to share. He also taught me the value to learn as many styles as possible.
One of the things that we grew up doing was playing together all the time, basically like little drum circles. That's one of the wonderful things about playing percussion, especially Cuban music: You incorporate five, six guys playing together. Advertisement
MD: And you learn how to keep out of the way so it doesn't get busy.
Danny: Yes. That's sometimes hard to explain to someone who's never done it, especially when they feel that they've always been the one who has to set the tempo or the feel.
It's really about communication. I've played with drummers who have not had that experience and it can be frustrating – but it's a challenge. Little by little, it's like, "C'mon, let's do this," or "Let's get together and practice together." Some have worked better than others, but it's always been good in the end. It's very important to me to make that communication happen.
This even applies to the situation I'm doing right now with Earth Wind & Fire. I needed to get together with John [Paris] and Phillip [Bailey] prior to going out on tour. We don't seem to have the time to do that once we are on the road. I would like to get together more often – not just for one particular show, but all the time. Because you might be miles apart from one another onstage, unable to hear each other right. But you should know what each other is playing. Because we've played together in a closed environment, onstage I can just look at John and Phil and know exactly what they're going to play, because I remember what they did while we were jamming at the house. And I won't have to ask the monitor guy to crank it up so loud that's it's ridiculous.
The more you rehearse together, the better you become as a unit. Bands that play together excel. But a lot of times it's tough because there are a lot of personal responsibilities that one has to meet outside of work. Advertisement
MD: Isn't that one of the difficulties of being a side musician, hired on the spot?
Danny: Most certainly. The only time you have to work out new things is on the road, but it's not the same as if it were a set band with more rehearsal time.
MD: And you don't want to burn out because you are playing that night.
Danny: That's true. I definitely don't want to burn out. Though, I'm constantly playing when I'm on the road, right up until show time. Of course my routine changes when I return home and throw personal responsibilities in the mix.
MD: Let's talk a little bit about the Don Henley gig.
Danny: Don is a wonderful person to work with. Working with his band is one of the best musical situations I've done so far in my career. Don is a perfectionist. I am too, so we work well together. We definitely come from different musical backgrounds, but we both know we like things done flawlessly. Everybody in the band was giving Don the best they could every day, so by the end of the tour, we were like a well-oiled machine. I'm very proud of the DVD of the Inside Job tour that we did. Rob Ladd was the drummer on that tour and he sounds wonderful.
MD: How was the Timothy White benefit show? [The late Timothy White was the editor of Billboard magazine.]
Danny: That whole thing came about because of Don. He was the one that got me on that gig.
MD: Who was the drummer that night?
Danny: Steve Jordan. Steve is one of my favorite drummers. But I had never met him before then. I was stoked because it made me feel really good that Don trusted me enough to play that show. If you recommend someone, they are an extension of you. So I had to come to bat. It was great. Besides Don Henley, we backed up Sting, Jimmy Buffet, James Taylor, Roger Waters, Sheryl Crow, Billy Joel, and Brian Wilson. I know they taped the show, but as we speak they haven't released it. Advertisement
MD: Another big show you did was that memorable '99 Grammy performance with Ricky Martin.
Danny: I also did the 2000 show. I put together the percussion section for that whole "Livin' la Vida Loca" section. We had the percussion players come down the aisles. We hired some great Brazilian players, along with my brother Walfredo, my cousin Rafael de los Reyes, Ron Powell and Walter Rodriguez. We didn't know what an impact it would have.
MD: Besides your dad, who were some of your influences?
Danny: As far as drums, the ones that immediately come to mind are Tony Williams, Billy Cobham, Narada Michael Walden, Vinnie Colaiuta, Simon Phillips, Dave Weckl and Steve Gadd. Back when I was young, my dad would have me listen and learn albums that Grady Tate, Philly Jones, Elvin Jones and Louie Bellson were on.
Louie was definitely a great influence, and he is a dear friend of my dad, so I would see him periodically. The same with Billy Cobham and Alex Acu'a. Alex would usually be on drums when we would get together at the house and jam. This was before he got the Weather Report gig. Advertisement
MD: How about percussion influences?
Danny: The list is endless – Armando Peraza is a great influence, Tito Puente, Tito Rodriguez, Marcelino Valdez, Los Papinos, Tata Guines, Changuito, Mongo Santamaria, Patato Valdez, Orestes Vilto – I can go on and on. And not only were they great musical influences, they are all great friends of my family.
MD: Were you listening to what was on the radio at the time?
Danny: My dad would try to educate us as much as possible when it came to listening to jazz and knowing songs. "Always learn songs," he used to say. He would put on big band albums – Count Basie, Duke Ellington – and he would play and make sure that we would get some of that influence.
In addition my mom would put on all the Latin music – whether it was Cuban, Puerto Rican, or whatever – and she'd play it pretty much all day. Of course, when we lived in Puerto Rico, that was on the radio. But from the moment we moved to the States, my friends and I would listen to everything that was new. At the time it was Chicago, The Who, The Stones, Blood, Sweat & Tears – and then R&B like Parliament and Earth Wind & Fire. We listened to a wide variety of music. Advertisement
My dad was also the house band drummer for the big hotels in Las Vegas. In those days, that meant being the drummer and percussionist, so you needed to know how to play timpani and drumset. So it could be that today you're backing up Connie Francis or Sammy Davis or Paul Anka, and tomorrow you could be backing up Milton Berle or George Burns, and then the next day you might be backing up a production show or a plate juggler. To be effective, you had to know all the different styles. I would go with my dad to watch the shows, and it was pretty amazing to see all the different situations he would play. Most drummers today stick to one style, and it's great to excel in one thing. But I didn't grow up with that mindset. And a lot of what I learned growing up applies to what I do now.
For instance, you can tell when someone has played drums behind a dancer or not. When someone is doing a dance routine, you've got to know what to do. These days there are many shows that have sequencers going on, so the dance routines are built on those sequences. But back then, if the dancer was generating more energy, you needed to go with that dancer, but you also had to take into consideration that you were leading a band. It was an interesting lesson.
One of the first gigs that I had as a professional musician was with dancer/singer Ben Vereen. Ben came from that school. There were no sequencers going on back then. Ben could do an uptempo Broadway dance routine and immediately go into a ballad, and you wouldn't hear him huff and puff. That's a hard thing to do. That is control. That's why nowadays a lot of shows have sequencers going on – mainly because now it's an even more intense show. Advertisement
MD: Do you like playing with sequencers?
Danny: Most bands nowadays have some sort of sequencer going on somewhere in the show. It could just be there to function as a timekeeper, with maybe some light percussion on it. Sometimes, though, there are vocal enhancements, horn enhancements, and sometimes percussion. I've put percussion on the sequences sometimes to make the sounds more full. The only drawback with sequences is that now you're on the clock, and that means you can't change it up.
MD: No room for spontaneity.
Danny: Exactly. It' the same thing every night. It can be hard especially when you come from the world where you want to create on the spot. But some people like the concept. I can see both viewpoints.
MD: Let's talk a little bit about the One Shot shaker.
Danny: The first One Shots that came out would be considered medium-loud. The new one has much bigger shots inside, so it's a lot louder. It sounds more like a shekere – maybe not as loud as a shekere, but louder than a maraca. So for a very loud band, especially in live situations, if you want to be heard, you're going to be with this model. Advertisement
MD: Is it larger?
Danny: No, it' the same size, but it's a different color – red. The first One Shot has been very successful, so we'll see how the new loud one does. Eventually I would like to do a soft one as well.
MD: Are there more new products coming?
Danny: Oh, absolutely. There's always something new in the works.
For more on Danny, visit his Web site at www.danieldelosreyes.com.