Trilok Gurtu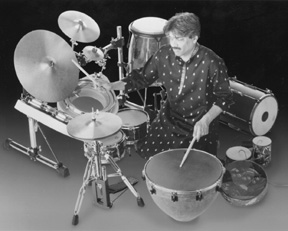 His style is often described as a blend of Indian music and jazz, but Trilok Gurtu denies that he's a jazz musician. "I like jazz, but I'm an Indian musician, just as John Coltrane liked Indian music but was a jazz musician," Gurtu says. "I've played with people like Pharoah Sanders and Don Cherry, but I'm not into playing standards.
"People call me a jazz musician because there's a lot of improvisation in my music. But Indian music is eighty percent improvised. Jazz is only about a hundred years old, while Indian music is thousands of years old. So you can take it further, because it is well figured out. What I do with my knowledge is put things together to create a contemporary sound."
That approach is obvious on Gurtu's recent album, Kathak. In addition to traditional Indian instruments such as tabla and sitar, Gurtu's band includes guitar, electric bass, and a wide array of percussion. The album also features guest rock guitarist Steve Lukather and vocalist Neneh Cherry, as well as Trilok's mother, Shobha Gurtu, a respected Indian classical singer. It's world music, without question. But more than that, it's Trilok Gurtu's music. Advertisement
"I've made my own scene," he agrees. "Once you develop a sound and find what you want to express, you can't categorize it. The drum 'n' bass people in England come to see me, Asian people come to see me, and I'm getting a lot of respect from Indian classical musicians, too. "If you just try to imitate what the fashion is," Trilok warns, "you won't last long. But once you have your own sound, you can always do something new with it."
Reflecting his music's growth, Gurtu's setup has evolved as well. He has recently added timpani, clay drums made by Frank Giorgini, and various electronic effects. He has also collaborated with Remo on the design of some drums, and Zildjian has introduced Trilok Gurtu signature drumsticks.
In the coming year, Gurtu plans to release an album on which he will collaborate with African musicians, and he hopes to spend more time touring in the US. "Everything is falling in place with my group," he says. "So I don't have to do other projects unless they're really happening musically." Advertisement