Travis Barker: Life After Blink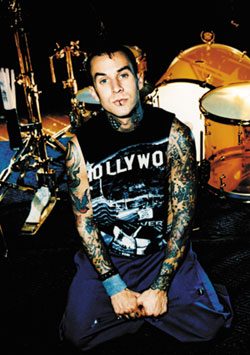 With Blink-182 on an "indefinite hiatus," master slammer Travis Barker has his sights set on his next release with another group'the sophomore album, titled Haunted Cities, from The Transplants. Collaborating again with Tim Armstrong (of Rancid fame) and vocalist Rob Aston, Barker's involvement in The Transplants unearths a more groove-oriented side to the drummer, which had previously been found on the band's debut disc, and to an extent, on Blink-182's 2003 full-length.
Tracked over the course of a few sessions (some which took place in Armstrong's basement), a majority of the record was assembled largely around spontaneous ideas. "We went into the studio with most of the record not being written," Barker admits. "We just kind of elaborated on ideas, coming up with parts that we really loved. The songs arose from there."
Some of the drum parts were tracked conventionally, yet with others Barker came up with interesting loops. "I would play eight measures," he says, "and we'd find a bar that felt really good and loop it. Most Transplants stuff does lend itself to more of an electronic, drum- bass feel than the other projects I've worked with." Advertisement
Barker primarily used his Orange County Drum & Percussion set with Zildjian Z series and various effect cymbals in the studio. But he also enlisted a set of Roland V-Drums and a 1966 Slingerland kit. "It's pretty cool," Barker notes of the Slingerlands. "I bought it during the recording. I wanted an old vintage kit. We recorded with it one day, and I fell in love with it, so I ended up buying it off the guy I borrowed it from."
In other Barker news, the drummer has been working with Blink-182 singer/bassist Mark Hoppus on a new project called Plus 44, which also features vocalist Carol Heller. They've been recording at Barker's house, and the music has been described as electronic-based. It should be out some time later this year.
If Barker's recordings aren't enough, fans have been able to get a more intimate look into the life of the drummer and his family via the recent MTV series Meet The Barkers. "It's basically a documentary of what I did in the last year and what happened, mostly positive, with me and my family," Barker says. "I feel like it's more of a documentary than a reality show, because most reality shows have story lines and all sorts of other stuff. This was genuinely sincere and organic. Yeah, I think it's been cool." Advertisement