Tommy Lee: Bigger Than Ever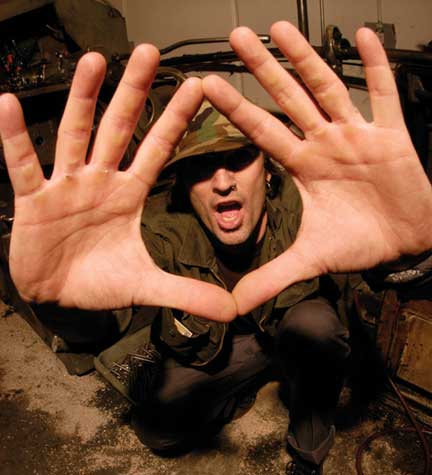 Tommy Lee rushes into the rehearsal hall where Motley Crue is preparing for their year-long reunion tour, which begins in February, to support their new best-of album, Red, White & Crue. (The disc contains new tracks recently recorded by the band.) Lee's just come directly from NBC, where he's editing a six-episode TV series that takes him to college, a show he describes as semi-scripted and semi-reality. Now he's on the phone with none other than Steven Tyler, discussing the Aerosmith lead singer's possible contribution to Lee's solo record that is in the works. And Lee's just finished a book tour promoting his New York Times bestseller Tommyland. Whoa!
Understandably, Tommy is exhausted. But the Crue drummer, at 42, whose previous life has included jail time and anger management sessions, is looking better than ever.
Motley Crue, with a history of multi-platinum albums and six Grammy wins, hasn't always found the road to be easy. Their success was often peppered with such self-destructive behavior as drunkenness (in 1985 lead singer Vince Neil was convicted of drunk driving and vehicular manslaughter when his car crashed and killed two passengers), drugs (1987's tour was disturbed by Nikki Sixx's near fatal drug overdose), incidents of lewd behavior, and lawsuits, as well as Lee's own very public domestic messes and scandals. It was an odd mix of huge musical success combined with personal difficulties. But through it all, few criticized Lee's drumming. In fact, like Ringo Starr in the '60s and Peter Criss in the '70s, Lee was a player who inspired a lot of young people to take up the drums.
It seems that now, finally, Tommy Lee is realizing his contribution to music and feeling positive about life. In fact, his mantra is, "What else could go right?" So with all these projects going on, Tommy recently sat down with MD?in the middle of completing his NBC show, rehearsing with the Crue, and recording tracks for his new solo album. Advertisement
"I'll sleep when I die," he says, smiling.
MD: Was your parting with Motley Crue on good or bad terms?
Tommy: When I left five years ago, Vince and I were on very bad terms. We had an altercation in an airport. I was on probation and he wanted to fight me, and I thought, If I get into a fight, I'm going back to jail for one year minimum, and I am definitely not going back. I had just gotten out. So I jumped on a plane and decided that I couldn't be in the band anymore, even though we were finishing up a tour at that time. Well, everybody called and said, 'dude, you've gotta come back, at least to finish the tour. There are only four more shows!' So I bit the bullet, did the four shows, and then bailed.
Now Vince and I are cordial to each other. We know what we have together, we know what we've created, and we know what we've accomplished. And we know that if we can stick together and are compassionate to each other, we can make it work. We just can't have any dramas. So here we go, we're gonna give it a shot.
MD: At this point you're just beginning to play together again. But what was it like with the other guys?
Tommy: It's been totally cool. Mick's health is getting better day by day. [The guitarist has a spinal disease and had a recent hip replacement operation.] I'm hoping that by the time the tour dates are announced, he'll be ready. I don't know if he'll ever be 100%. We're all hoping for 80%. But he's playing fine and each day he moves a little friskier. I've got my fingers crossed. I just want him to be well. Advertisement
MD: What have you had to do to prepare for getting in shape to tour?
Tommy: I'm trying to update some of the older songs to give them some fresh beats. That's important. Without wrecking it or taking away the original essence of what people liked, I'm just trying to give the tunes a little update.
MD: What does that entail from the way you played twenty years ago?
Tommy: Just stylistically, our music sounded a certain way, which was cool. But I want to modernize my parts a little bit. That might mean adding a few extra notes, or deleting some. I want my drum parts to be even funkier than they were, and at times maybe even a littler heavier.
MD: In your book, you described your music as pop with a rock edge. I hadn't really thought about it as being pop until I read that.
Tommy: When it's melodic, I consider it pop. Stuff that doesn't have melody is the super hard rock. When I think of a band like Sevendust, they're heavy as hell, but they have melodies, which to me doesn't make them a heavy metal band. No disrespect intended, but when I think of Slayer, there's really not a lot of melody going on. It's pretty agro. To me, that's heavy metal. Advertisement
One of my all-time favorite bands is Cheap Trick; amazing melodies, great beats, and a super rock feel. I think our direction is more along those lines. So going back to our material today, I'm just trying to update it so when Motley gets heavy, it gets real heavy. And when in the past it might have been a bit straight, I'll be trying to make it just a little bit funkier. Music has changed quite a bit since those records were made.
MD: There have been certain icons who have inspired the kids through the decades, like Ringo in the '60s and Peter Criss in the '70s. You were the guy in the '80s. What was it about you that the kids seemed to be attracted to?
Tommy: Well, I would always be bummed out when I'd go to a concert and, when it was time for the drum solo, the audience would go out to buy beer or a T-shirt, thinking, Ah, it's the drum solo. It didn't seem like very many drummers took the time to make it a show. Advertisement
So maybe for me, it's a two-part thing people liked: They dug the musical side'the parts and the power. But they also dug the showy stuff'the twirling of the sticks, the hitting of the drum and making the sticks bounce off and then catching them while still playing with one hand, or my whole kit twirling around upside down in a cage or flying out over the audience. I'm always trying to give the audience a reason to never leave their seats. I always wanted it to be, "Tommy's gonna do a drum solo. What's it gonna be this year?" I always try to involve the audience too, so they feel a part of it, whether they're all stomping their feet, clapping, or just tripping out.