Todd Nance of Widespread Panic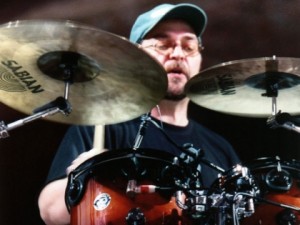 With Till The Medicine Takes, Widespread Panic move way beyond their reputation as merely a jam band. Not that they'll necessarily be jumping up the Billboard Top-40 charts any time soon. But the album does show a tighter grip on songwriting and a wider palette of sounds than the band has explored in the past.
So, what makes Widespread Panic work? Drummer Todd Nance thinks for just a second before answering, "The main thing is that nobody in the band sat around and tried to sound like somebody else. Our sound is derived from all forms of American music, but I don't think the band sounds like any other band. I think once you've heard Widespread Panic a few times you know what you're listening to. And even as different as this record is, I think people will recognize it as Widespread Panic."
So just how does Nance accomplish that behind the kit? Laughing, the drummer says, "Man, I have no clue. I just get in there, cross my fingers, and hope for the best."
To date Nance and percussionist Domingo "Sonny" Ortiz have found a formula that works exactly for the best. Both members joined Panic in 1986 and quickly found a way to work together. Though their live set and studio albums boast intricate layers of drumkit and percussion, neither say they talk much about who is going to do what. According to Ortiz, "I remember when we first started playing together. We didn't spend a great length of time talking about, Well, you're going to take eight bars and I'm going to take eight bars and solo, and then we're going to break it down…. We just said to ourselves, Let's play and see what happens." Advertisement
What happened, Ortiz continues, is that he and Nance became one. "I want to color things and complement what Todd and the rest of the boys are doing." As Domingo explains it, that was exactly the lesson he learned when he put away his drumkit and picked up his percussion rig. "There are three things you should do as a percussionist, and that's listen, complement, and don't overplay. That's been my philosophy ever since I started playing percussion."
While Ortiz got his original percussion inspiration from Tower Of Power's Brent Byars, Nance cites Steve Ferrone. ("Man, he's a groovin' mo-fo in my book.") And where Ortiz studied with master teachers, Nance learned how to play by feel in a marching band. But from those seemingly disparate backgrounds, the duo has come together to create one of the tightest drum teams in modern music.
David John Farinella