Stewart Copeland: An Interview
Following are excerpts and additional coverage from the Stewart Copeland feature in the November, 2001 issue of Modern Drummer.

A case can be made that Stewart Copeland is the single most influential drummer of the last twenty-plus years. A good case.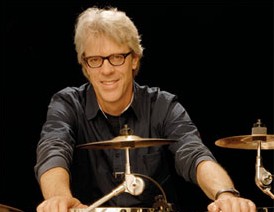 Stewart's drumming is as immediately identifiable as that of any drummer in history – including Buddy, Bonham, Moon, Beauford – and dare we say Tony Williams? Sure. You hear him, and you know.
Today's drummers bow at the altar of Copeland. Most of the biggest drummers of the past decade invariably list Copeland as a main influence. Carter Beauford, Taylor Hawkins, Adrian Young, Matt Cameron'these guys even sound like Stewart, and each of them are monsters playing in completely different styles of music.
Following his last band, Animal Logic, Stewart moved away from the drums, as his "day job" as a film and television composer occupied the bulk of his time and energy. I spoke with Trey Anastasio of Phish while preparing for this interview, and he relayed that before Stewart started playing drums again this past year, he didn't even know where his drums were. He had to dig them out of a closet. How wrong is that? Advertisement
The good news is that Stewart is back, playing, and obviously inspired again. His new project finds him collaborating with Anastasio and Primus bassist Les Claypool in Oysterhead, a band that has its roots in – believe it or not'the burgeoning jam-band scene. (Stewart's back in a three-piece!) Their new record, The Grand Pecking Order, is due out on October 2. He also made an appearance at the January 2001 NAMM show, where he performed on drums with Orchestralli – his ongoing orchestral project – playing music he composed.
MD: Your rebirth as a drummer is going to be interesting to a lot of folks. Tell us about how you got together with Trey and Les.
Stewart: It came about with Les calling me up and saying, "I got this guitar player, and I wanna go do a gig." I had sort of been waiting for that call, in a way, for years. After Animal Logic, I just didn't have the energy to start up a new group. So I went and schmoozed Sting for a while, and he's such a prick-tease [laughing]'that he led me on for a while, and then I went, "Yeah, right – not in this lifetime." So that isn't ever going to happen. We'll do a show one day, and it will be for charity or whatever – a one-off. My interest in that entire thing has just evaporated 100% upon the discovery of Les and Trey.
MD: That's interesting, because in recent interviews, you've seemed to be pretty enthusiastic about trying to get something together with Sting and Andy Summers.
Stewart: Well, yeah, because even having played with so many other musicians, there's only one place that I ever had that buzz, and that was with Sting and Andy. It's not coincidental that we conquered the world; the reason we conquered the world is because that buzz was there. And I haven't felt that buzz in fifteen years, since the Police, until I met up in Vermont [with Les and Trey]. Advertisement
MD: How excited were you about playing your drums again, tweaking them out for the first time in a long time?
Stewart: One day I get a call from Les Claypool, who I had barely heard about. I had heard the name Primus. They asked me to produce them. So I went down to check them out at SIR, where they had set up a rehearsal. And they said, "Can you bring your drums? We'd really like to jam!"
I just started getting into it. You know, I have my various orchestra gigs with Orchestralli, which was the other thing that sort of got me practicing.
Another thing that I always did as a kid, and sort of forgot about when I became a pro and became a show-off, was that it's all about listening. Playing any instrument is about listening. And that's maybe a different part of the story here, but that's my big lecture. It's all about listening.
Listening is where the cool stuff comes from. That's why Mick Fleetwood blows away so many drummers, because he listens, and because the throb of his playing is really effective. And that's what Charlie Watts does. And that listening thing, magically, turns all of your chops into gold. When you're thinking about your chops, and you're reaching to your quiver for your cool chop that you've worked up, it sounds like shit. It just doesn't work. It ain't music. But when you're just listening, and your focus is on all the other players and not on your own self at all, that's when the real stuff happens. Advertisement
MD: Back to Oysterhead. Both Les and Trey talked quite a bit about how you were passionate and adamant about getting the first or second take.
Stewart: In the back of my mind I know that other people will do third and fourth takes. But I just don't have the patience. Also, I think that there's a magic that you get from an early performance. It's the difference between Charlie Watts and some other guys, playing regular drum beats, that X-Factor. I think you only get that when things are fresh and new, and there's a bit of a hesitancy, and a bit of an exploratory feel. I think you loose that on takes three, four, five, six, seven, eight. You start getting more present and correct, and, okay, you hit that little change going into the bridge, but it's just dead.
MD: Are you going to work on Orchestralli to have a commercial outlet?
Stewart: No. It really is a strange one. That's what my solution to the "playing drums as a hobby" was until Oysterhead moved into view.
I'm going to continue to do Orchestralli. It never goes away – it's timeless. I just pull out a chart, call a couple rehearsals, and it's there. It's completely out of the ordinary, and a different style of playing as well. Really quiet.
MD: At the NAMM show Orchestralli performance you were still laying down big backbeats, though.
Stewart: I was not quite on top of it then. I knew it had to be about half that volume for the show to really work. I have achieved that, which takes finesse. But that finesse was not quite available to me then. I should have done a little bit more work. But to get it slick, really quiet'that takes the maximum amount of your technique. It's a lot easier to just wail. Advertisement
But what's cool is that, having composed it, I know the music really well, so I can hit every flick and inflection of the tune. And that gets back to listening. I am so into that piece of music that I don't have to think about what the drums are doing. I'm just in there with it.
MD: Speaking of listening, and Trey called you a better listener than any of the jazz drummers he's played with.
Stewart: Hah! Well, the problem with jazz musicians is that they're all crap!
MD: Yeah? Can we quote you on that?
Stewart: Oh, yes! It's an old favorite of mine. And I don't mean it, of course. I just enjoy saying it. But most jazz players are crap.
MD: Trey said that for a guy who doesn't listen to jazz?
Stewart: "and the reason I don't listen to jazz is not because jazz people are bad, or because I'm a jazzist, or something, but because I was raised to play jazz. I was brought up to be a jazz drummer. My dad's trumpet is sitting right there. But to me, jazz was safe, Sunday-lunch-with-the-family music. It was the opposite of rebellion. And my whole musical angst comes from rebelling against jazz. Occasionally I'll rub elbows with someone who calls themselves a jazz player – stanley Clarke, Tony Williams, Branford Marsalis. But apart from about ten guys who are friends of mine, the rest of them are all shit! With attitudes. That suck. They play music of the mind. Music is not of the mind, music is of the heart.
MD: And the classical music that you're writing for Orchestralli, is that music of the mind or heart?
Stewart: Ahhhh – you got me. It's a mental exercise, and my heart is gladdened by non-libidinal things. I was just soaring into a pontification, but you shot me right down there [laughing]. OK. Let me regroup here for a second. Advertisement
What I'm saying here is that even the philosophy of the music of Stewart the composer is different from the philosophy of Stewart the drummer. The basic credo is different. The composer guy is some other artsy-fartsy intellectual jerk! He's a jazz musician! [horrified laughter] Wow. What a strange realization.
MD: I hope this hasn't ruined your day.
Stewart: No! It's kind of an intriguing thought.
See the November, 2001 issue of Modern Drummer to read more of Stewart's comments on these subjects, as well as his reflections on his years with The Police, Sting, today's music, and more.