Simon Phillips & Virgil Donati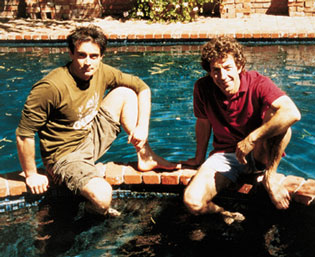 It was a typically sunny southern California day as I drove the winding hills of west Los Angeles en route to the home studio of drum legend Simon Phillips. Many thoughts entered my mind as I approached the beautifully landscaped hillside home of Mr. Phillips. I was thinking of how this British studio drumming phenom, in his teenage years, performed on countless top recordings. Simon had a bold new style that added a spark of drumming genius to rock, pop, metal, and fusion music of the '70s and '80s. Without a doubt, Simon brought a fresh new approach to the groove – and to double bass drumming'that fit perfectly into every style of music he performed.
Simon's success continued with his amazing "Space Boogie" track on Jeff Beck's classic recording There And Back, a performance that secured Phillip's already firm place in drumming history. Simon's work with other greats, such as Stanley Clarke, Jack Bruce, Pete Townshend, and The Who, only added to his legend. Not to slow the pace, the drummer started a successful solo career with 1989's Protocol, and began to get heavily involved in the recording of his own music. In fact, Simon's been engineering and producing music since the early '80s.
Currently Phillips continues his nearly decade-long drumming role in Toto. He also has a retro-fusion project, Doves Of Fire (covering Mahavishnu Orchestra tunes), as well as an acoustic jazz group. That band's recent release, Vantage Point, was mixed and produced by Simon at this home studio. With all of this to keep him busy, Simon still finds time to produce and engineer outside projects – which brings us back to our story. Advertisement
When you think of the new generation of double bass drummers who are pushing the limits of their abilities – and drumming in general – one name stands out: Virgil Donati. Virgil, known as "the thunder from down under" due to his being from Australia, has taken double bass drumming to heights never thought possible. If you've ever seen Donati perform, you know that not only has he taken double bass drumming to amazing new places, but he's pushed over-the-top drumming to a level that seems unreachable to the rest of us.
Donati is able to subdivide 4/4 and odd-time signatures with flawless (and at times visually entertaining) technique and create intense musical passages that strain the brain of even the most knowledgeable player. His current band, Planet X, is spearheading a new generation of progressive fusion music that is pushing the boundaries of this already complex genre.
So who better to produce and record the current king of progressive fusion drumming than one of the greatest double bass fusion drummers in history, someone who is also an experienced and proven recording engineer and producer? The idea made so much sense it was scary. So the date was set. Simon Phillips would engineer the Virgil Donati drum tracks for the new Planet X recording. Advertisement
In many ways, this was a historic moment. It's the first time Simon and Virgil have worked together. In fact, it's probably the first time two drummers of this caliber have collaborated in such a harmonious way to create the best possible drum recording.
As I made my way to the front door of Simon's house, I heard the rumbling of drums emanating from inside. From a distance, it sounded like your typical neighborhood garage band. But with a closer listen, it became clear that this clearly wasn't your neighbor's kid practicing his rock beats. I waited for the drumming to stop and then rang the doorbell. Simon answered with a smile, commenting on my impeccable timing of ringing the bell precisely after the last measure ended.
Simon, the consummate recording engineer, turns his entire home into a recording studio when he's working on a project. This includes placing ambient microphones in the kitchen and main hallway. The hardwood floors throughout the house supply the perfect acoustics for recording drums. And his control room is well stocked with all the right stuff for achieving the best drum sounds possible. Advertisement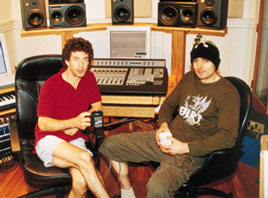 The day began with Virgil recording the complex track "Ground Zero," which he wrote on September 11, 2001, the day of the terrorist attacks. The song will be on the new Planet X release, Moon Babies (Inside Out Music). As Virgil began practicing the tune, Simon was already hearing ideas for the groove, in the way of using different sound sources for certain sections.
Simon had placed clear Remo Ambassador heads (single-ply) on Virgil's toms, where Virgil would normally have used Emperors (two-ply). Simon was also suggesting other tuning techniques for the snare to give it just the right sound for the song. Another suggestion that Simon made was for Virgil to add a cowbell to his setup, to be used in a particular section of the tune. Simon also suggested that Virgil move a snare accent to a tom in one section, to give it a bit of variation.
The most interesting suggestion Simon had for Virgil on the tune was to play a repeating 4/4 pattern over a 5/8 section, because it created some cool phrasing and tension between the drums and what the other instruments were playing. This was an immediate challenge for Virgil, but he was ready to give it his all. After a few minutes of practicing and feeling out the new changes, Virgil had the complex variation under control, and he nailed the track. All Simon could do was shake his head and laugh in astonishment. Advertisement
Throughout the course of the day, Simon asked Virgil to try several other changes in song arrangement, cymbal selection, and drum tuning. Virgil graciously obliged all of Simon's requests. In all of the complexities that Virgil had to rearrange on the spot, there was no task he couldn't pull off within a few takes.
Watching the meticulous veteran coaching the young gun, using all of his years of experience to guide the eager, well-prepared player to push his remarkable abilities, was a sight to behold. This was truly an amazing moment in drumming history.
As the two masters settled in for a well-deserved lunch break, we discussed this historic collaboration.
MD: Virgil, what's it been like working with Simon as a producer/engineer?
Virgil: It's the first time I've ever worked with a drummer in the producer/engineer chair, and it's been a great experience for me. Having Simon here has made my life a lot easier, because I know he has great ears and he understands what I'm trying to do. He understands the music, the time signatures, and all of the complexities of this type of project. Simon also has the insight and experience in regards to what will and will not work. So I know that any suggestion I get from the control room is going to be totally valid and worth trying. Advertisement
I think Simon and I have good chemistry. It really helps to have a drummer like Simon who can make suggestions with a lot of these drum parts, which are under-rehearsed to begin with. We're really creating new drum parts together, and it's challenging, but a lot of fun.
MD: Simon, what's it like recording Virgil?
Simon: Being in the engineer/producer chair, it's always a pleasure to work with someone who can really play. That's probably the hardest and most frightening thing about being in the engineer/producer chair, because there are so many people who just don't have experience playing in the studio. It's like pulling teeth sometimes. So to work with a musician like Virgil is wonderful.
Dealing with this kind of music is also refreshing. I hadn't had a chance to listen to it before the sessions, so I'm learning as I go. When I'm setting up the monitor mix, I'm actually listening and learning the songs. Advertisement
With this type of complex music, when I'm first hearing it, I'm almost lost as to what's going on. But as the day goes on it makes a lot more sense, especially after I hear what Virgil is playing to it. When listening to music, every musician hears it from a different perspective. So when I hear what Virgil is playing to each track, it puts the music in perspective for me. Then I simply take what I'm hearing and approach it based on what the music is suggesting to me.
If I hear a keyboard part doing something interesting, I'll say, Why don't we try putting something to this? And with Virgil it's great, because I'll suggest playing something that with most drummers would put us into another day of recording. With some musicians, when you make a suggestion to change the arrangement or change the bass and bass drum pattern, right there you've lost two hours as they work it out. With Virgil, it's one pass. And you've got to realize that with the complexity of some of this music, even I underestimate what's really going on.
In general I'm trying to listen from a different point of view, listening to what's going to work sonically in the overall picture. When I'm thinking that some parts are going to be hard to make sound good in the mix, I'll make suggestions from there as well. But then suddenly I'll realize what Virgil's playing and think, Wow, I'm so glad I don't have to play that right now, because I couldn't. [laughs] This experience has been very educational for me, and a lot of fun. Advertisement
Virgil: I would have to say that what makes this really special for me is that something like this has really never been done before. The fact that two contemporary drumset players are working together in the studio, with one doing the recording and the other doing the playing, is really a great experiment – especially in this genre of music, where there are so many subtleties and complexities going on. To have two drummers working together and creating interesting parts on the spot is a unique situation.
For more info on the new Planet X record, as well as what Virgil and Simon are up to, check out www.xplanetx.com, www.virgildonati.com , and www.simon-phillips.com .
Mike Haid